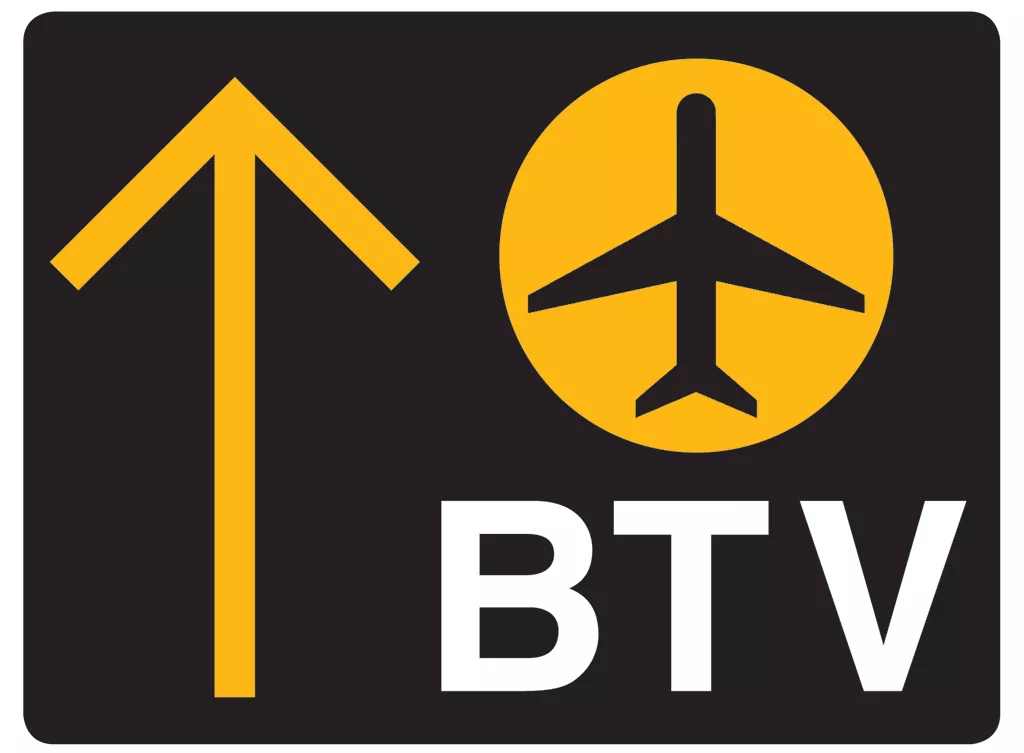 Recently, a reader asked Seven Days why Burlington is often referred to as BTV in official announcements and names of community programs, such as planBTV, the Community and Economic Development Office's long-term planning and revitalization effort.
"Is this a result of BTV's use as Burlington International's airport code, or was BTV in use before that?" the query read. "And why not BVT?" WTF?
First, the easy part. The Queen City's unofficial moniker does derive from the airport's three-letter location identifier, assigned years ago by the Federal Aviation Administration. To be precise, every publicly accessible airport in the world has a four-character alphanumeric identifier called its International Civil Aviation Organization, or ICAO, airport code. However, because all U.S. civilian ICAO airport codes start with the letter K, that letter is generally left off your boarding pass and baggage-claim tickets.
So why was Burlington International, Vermont's largest and busiest airport (which is owned by the City of Burlington but located in South Burlington), assigned the code BTV and not BVT, as logic would suggest? This is especially puzzling, as BVT isn't already used by another airport. Suffice it to say, anyone looking for logic in a bureaucratic decision should brace for an arduous search — and in this case, a fruitless one.
Here's a little history. According to an oft-cited article by pilot Dave English published in the December 1994 issue of Air Line Pilot magazine, airport codes first arose in the 1930s. The early ones simply copied the two-letter designations used by the National Weather Service, which typically sets up weather-data stations at airfields.
But as commercial aviation expanded in the 1930s, the federal government switched to the three-letter system, which offered thousands more possible combinations. To prevent confusion with the old, two-letter monikers, some airports simply added an X to their original two-letter abbreviations, and those codes stuck. Hence LAX (Los Angeles International), PDX (Portland International) and PHX (Phoenix International).
Today, many of the three-letter codes still make sense. They include Boston (BOS), Atlanta (ATL), DFW (Dallas-Fort Worth), Salt Lake City (SLC), New York's LaGuardia (LGA) and Miami International (MIA). Others, such as Chicago's O'Hare (ORD), are puzzling until you learn the airport's history: Prior to 1949, O'Hare was named Orchard Field. A similar explanation underlies Orlando, Fla.'s airport, MCO, which was McCoy Air Force Base until it was converted to civilian use.
By all reports, Burlington International's three-letter code has always been BTV — leaving the placement of "V" a mystery. But what explains some of the three-letter location identifiers at Vermont's other publicly accessible airports? Jim Thompson, the state aviation operations manager for Vermont's 10 state-owned airports, can only wish us good luck trying to suss out an explanation.
Some of Vermont's small airport codes are logical, including the Morrisville-Stowe State Airport (MVL), the Franklin County State Airport in Highgate (FSO), and Caledonia County Airport in Lyndnville (CDA).
But what's the deal with the Newport State Airport (EFK), Middlebury State Airport (6B0) or the William H. Morse State Airport in Bennington (DDH)? The last one might as well stand for "Dunno. Don't have a clue."
"I don't know why they came about that way," Thompson admits. "There's really no rhyme or reason behind how [FAA officials] do these things."
Besides BTV, the Southern Vermont Regional Airport in Rutland is the state's only other airfield offering commercial passenger service — three flights daily to Boston. While its three-letter code — RUT — makes sense, it isn't doing much to bolster that city's once-rough-and-tumble public image. City planners aren't likely to unveil a "planRUT" any time soon.
And don't even think about trying to alter a city's three-letter airport code to something more logical, flattering or tourism-friendly.
"At one point we petitioned the FAA to change Newport's code to NEK, for Northeast Kingdom. They basically said no," says Thompson, pointing out that the designator wasn't even in use. "But we tried."
Things could be worse for Rutland. Its moniker is far preferable to that of the Sioux Gateway Airport in Sioux City, Iowa (SUX), Brazil's Poços de Caldas Airport (POO), Perm International Airport in Russia (PEE) or Butler Memorial Airport in Missouri (BUM).
Like Vermont's 802 area code, Burlington's BTV abbreviation has taken on an identity all its own. As former Seven Days employee Tyler Machado reported back in 2011, members of Burlington's Twitterati got into a 140-character snit with state-run television stations in Bahrain, Botswana and other countries that start with the letter B when those parties usurped the Twitter hashtag #BTV. Then, about a year later, Burlington's #BTV got hijacked (hashjacked?) by Bloomberg TV's social-media crew, causing much noise, confusion and gnashing of tweets. Twitter-savvy Rutlanders, for their part, should tread lightly with the #RUT moniker for fear of pissing off deer, moose and elk hunters who currently use the #RUT hashtag.
If Rutlanders ever get serious about asking the FAA to drop RUT for something more uplifting, they should keep in mind that the RVT code is already taken — by Ravensthorpe Airport in Australia. However, RVG — for Rut Vegas! — is still up for grabs.