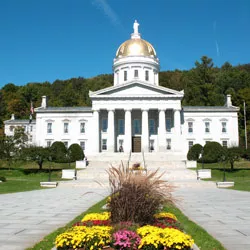 The Statehouse (not the governor's mansion)
Over the past couple of weeks, most of the nation's 23 newly elected governors have been sworn into office. They've selected their staffs, set up their offices and taken a few turns on the dance floor at their inaugural balls.
And, in many cases, they've moved into their respective governor's mansions. But not Vermont's commander-in-chief. Instead of settling into posh, state-owned digs, Gov. Peter Shumlin hit the classifieds, looking for a place to rent in Montpelier.
That's because Vermont is one of only five states without an official place for the gov to rest his (or her) head. While fellow new arrivals such as Maine governor Paul LePage and New York governor Andrew Cuomo are provided with swank homes, Shumlin took up residence in a rental house not far from the capitol. So, WTF is up with that? Why doesn't Vermont have its own gubernatorial mansion?
The answer is not entirely clear. Mark Hudson, executive director of the Vermont Historical Society, speculates that the lack of a formal residence is due to the state's famous frugality. Also, he says, in the past, the seat of government was often located in the governor's hometown when the legislature was not in session, eliminating the need to move to Montpelier.
Vermont state archivist Greg Sanford also surmises the state's penny-pinching history has something to do with it. And, he suggests, perhaps politics played a role. He recalls former governor Richard Snelling intimating that it would be politically dangerous to push for a mansion.
If you want to know anything about Vermont's buildings, or lack thereof, state curator David Schutz is your guy. Like the other two authorities, he suspects Vermont's thriftiness is to blame for our lack of a governor's official residence. But the issue, though it does occasionally come up, "has never been studied," he says.
In his years as state curator, Schutz has been privy to three separate conversations during different administrations about the possibility of acquiring a governor's mansion. In most states that provide such dedicated housing, he says, the properties were bequeathed to the state for that specific use. It would not be terribly prudent for a state to purchase a grand property for the sole use of the governor and his or her family.
Schutz notes that none of these conversations has gone anywhere. "It falls through, of course, because no governors have ever expressed strong interest in making it happen," he says. Why not? Probably because no sitting governors ever wanted to appear to be angling for a stately manse during their service.
For the past 30 years, the issue of where our gov would live has been moot. Since Snelling entered office in 1977, all Vermont governors have been commuters. He, Madeleine Kunin and Howard Dean all drove from their homes in Burlington. Jim Douglas kept his residence in Middlebury and traveled 50 miles up and over the Appalachian Gap to Montpelier every day in a Chevy Impala.
Shumlin, of Putney, is the first governor since Thomas P. Salmon who needed to find housing in Montpelier. But don't think he's slumming it in some third-floor bed-sit. The new gov made arrangements to rent former governor Deane Davis' old home in the capital city. "It's kind of nice that Peter has digs associated with a former Vermont governor," Schutz says.
Shumlin will be picking up the rent for his new 4500-square-foot pad set on 18 acres on Dyer Avenue, two miles from the Statehouse. Until recently, that property had been on the market for $1.2 million. The state doesn't offer its governors a housing allowance, says Shumlin press secretary Bianca Slota, most likely because it's assumed they will live within driving distance of Montpelier.
In years past, before the legislative session spanned six months, governors who didn't have homes in Montpelier would stay in one of the city's hotels, including the grand, Greek-revival-style Pavilion. In the postwar years, until 1959, governors ditched the hotel and stayed in the Chester Wright House, a late-Georgian-style dwelling on State Street. This property was the closest Vermont has come to a governor's mansion.
If we lack a handsome abode in which to house our leaders, we do have an official governor's crash pad. In 1986, the Pavilion, which previously had been purchased by the state and used as the governor's workplace, underwent a makeover. In addition to constructing a "glassy penthouse" office for the gov, at Kunin's behest the state built a small apartment. The flat, which features a sitting room, a kitchenette, a shower, and a bedroom with a pull-out couch, was meant to be used when an emergency required the governor to stay in Montpelier rather than drive home.
Kunin was the first governor to take up residence in the remodeled offices, though she never used the apartment, Schutz says. It was Douglas who christened the tiny walkup, and it's likely he will stay the only governor to have used it, as long as Shumlin is in office.
For now, Vermont will remain without a governor's mansion. It's doubtful that Shumlin cares much. Our millionaire governor has a mansion of his own.