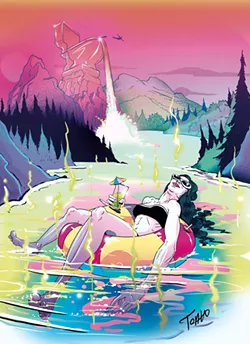 File this under Eww! Gross! Each year, Vermont's municipal wastewater treatment plants dump hundreds, sometimes thousands, of gallons of raw or partially treated sewage into public waterways. Some of those spills result from equipment failures, such as malfunctioning pumps or clogged sewer lines. Others routinely occur after heavy precipitation, when storm run-off overwhelms the system's handling capacity.
This July 1 saw two such discharges. In Burlington, an estimated 11,130 gallons of untreated sewage spilled into the Pine Street Barge Canal on Lake Champlain. That same day in Vergennes, 75,200 gallons of sewage and stormwater runoff were dumped into Potash Brook and Otter Creek. Operators of the Vergennes plant estimated that a fifth of the overflow — 15,040 gallons — was untreated sewage.
Those spills were just two of 23 discharges reported to the Vermont Department of Environmental Conservation in the past month — including four earlier ones in Vergennes alone. Talk about a momentous kickoff to Gov. Peter Shumlin's Lakes Appreciation Month.
Obviously, there's no accounting for bad weather. Accidents will happen, especially to the state's more outdated wastewater-treatment systems, some of which are overdue for upgrades.
But when shit happens, the public seems not to catch wind of it until days later, when the information is no longer of much value. By then we, our kids and our pets may have already fished, boated or (gulp!) swum in the equivalent of an unflushed toilet. WTF?
It's not like there aren't preexisting notification systems that could answer the call of "doody!" The National Weather Service and other federal, state and local agencies routinely issue public alerts about severe thunderstorms, tornadoes, poor air quality, flash flooding, citywide parking bans, high UV-index days and hazardous winter-driving conditions.
Indeed, thousands of Vermonters are already signed up with Vermont Emergency Management's service VT-Alert, which automatically sends emails and text messages to their smartphones about everything from earthquakes to radiological disasters — both of which are exponentially less common than sewage-spewing manholes. Yet there's no "Code Brown" alert when a 20,000-gallon shit storm is about to rain on your favorite swimming hole. Why not?
"Good question," says James Ehlers, executive director of the nonprofit Lake Champlain International, which routinely tracks sewage discharges. "Why is it that way? Because that's all the law requires."
Considering the potential health hazards such spills pose, one might expect the Vermont Department of Health to be the agency first or second in line to notify the public. But Ehlers contends that the VDH has essentially washed its hands of the matter.
"The Department of Health, to this day, has borne no responsibility ... in informing the public of the health threat associated with pathogens during a stormwater discharge," he says. "They'll talk on and on about Lyme disease and how to avoid contact with ticks. But where are the same preventative methods about avoiding polluted water?"
Indeed, state health officials offer a short answer to the question: not our job.
"Recreational water is not regulated by the health department. Local communities, including beach managers and owners, are responsible for determining when recreational swim water is unsafe for the public," writes state toxicologist Sarah Vose in an email.
"When there is a stormwater or sewage water discharge event, the Department of Environmental Conservation notifies the health department via an automated electronic system," she continues. "If [VDH] determines that an event could affect the water quality of a recreational area that we are aware of, we notify the town health officer or relevant local contacts to advise them of bacterial sampling protocols."
From that point, it generally takes at least 24 hours to obtain the results of the bacterial tests — after which beaches can be closed and warning signs posted.
Ehlers concedes that the DEC's reporting system is better than it once was. It took a fight by the Conservation Law Foundation to force Vermont's plant operators to disclose publicly when their wastewater systems soil the waters. Today, the law requires them to notify the DEC within 24 hours of such a discharge, or by the next business day.
Once such a notification arrives, it is posted to the state website within four hours, says Ernest Kelley, program manager of the DEC's wastewater-management program. That posting, in turn, automatically alerts the DEC commissioner, the secretary of natural resources and health department officials, among others.
While the report is considered public information, even Kelley admits that the DEC's website isn't very user-friendly. This reporter spent about 20 minutes looking for "reported sewer overflow incidents" before finding them there — five links deep.
But improvements are in the pipeline, Kelley insists. Two years ago, he says, someone floated the idea of developing a web-based system that automatically sends out notices, similar to VT-Alert. It would include links to Google Maps so citizens could geolocate affected waterways.
Kelley can't say when that new system will go live, though. Why not?
"I've kind of given up on our technology group here getting that work done, and I'm in the process of bringing in my own web designer to design it basically outside the [Department of Information and Innovation] system," he explains. "It's been in the works for quite a while and has gone nowhere."
In the meantime, if you spot ripples on the water's surface and suspect it's Champ, consider that the mysterious object might instead be, um, something man-made. If so, grab the kids and head for higher ground.