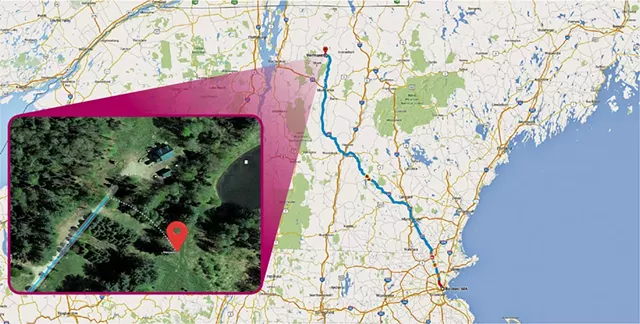 Courtesy of Google Maps/Google Earth
Google Maps directions from Boston, MA to "Vermont"
The internet is jam-packed with inexplicable stuff: Bronies, YouTube comments and Nyan Cat, to name a few. For an online quirk that's more mundane but also more locally relevant, look no further than Google Maps. Ask for driving directions from any American city to Vermont, without entering a specific address for the latter. Google Maps will direct you to a wooded area near the end of Fairwood Parkway in Morristown. WTF?

It's impossible to drive to a non-specific place, so when you enter a vague query, Google does a little computational approximation, selecting a point to "represent" Vermont. The logic behind the selection of that point, however, remains unclear.
By contrast, let's say you query Google Maps for directions to North Dakota. The site will steer you to the state's approximate geographical center — just northwest of a body of water called Turtle Lake. This "smack-dab in the middle" strategy makes spatial and logical sense.
Yet the Lamoille County town of Morristown, though roughly equidistant from Vermont's eastern and western borders, lies well north of the state's geographical center, which many Vermonters would place near Randolph.
Compounding this cartographical weirdness, Google Maps is very specific about the point it uses to represent Vermont. The site directs users to drive to a particular address, then get out of their cars and walk a short distance to arrive at "Vermont." The location has clearly not been chosen arbitrarily.
So what's going on here? Many of us use Google Maps as our go-to source for driving directions. Does an approximation like this one suggest that the Big Internet in the Sky is deliberately misleading us? Should Morristown brace itself for an onslaught of confused out-of-state travelers?
Bill Morris, a cartographer with Burlington data-centric marketing outfit Faraday, alerted Seven Days to this quirk. He discovered it after reading an article in the online Fusion Journal about another mapping service that ran into unexpected difficulties owing to its definition of the geographical center of the United States.
For years, MaxMind placed that center on a family farm in Potwin, Kan. Unfortunately for the residents of that farm, when someone tries to use MaxMind to find an internet no-goodnik and the service can't pinpoint a specific location, it instead shows the address located at what it thinks is the geographic center of the country. Until the Fusion writer explained the situation to the residents, they were at a loss as to why they'd been harassed and threatened both on- and offline.
Alerted to the problems its algorithms caused, MaxMind has since relocated the country's "center" to a nearby lake. Resident fish and toads are unlikely to notice any internet threats they may receive.
Morris explained that digital maps traffic in three kinds of information: points, lines and polygons. The last term refers to a bounded area on a map, such as the vaguely funnel-shaped outline of Vermont. Trouble can arise when mapping algorithms treat polygons as points.
This level of approximation poses no problems for many practical applications. Morris said GPS can pinpoint a location "down to six points of decimal precision, lat/long." That's enough to help you find your friend at Speeder & Earl's, even if your phone can't find her table by the window. "It doesn't really make much of a conceptual difference if you're here and your geolocation thinks you're over in that corner, because you're still in the building," Morris said.
Certain applications, however, commit rounding errors of far greater magnitude. An entire country can be reduced to a single dot or "centroid" on a digital map. Mapmakers generally calculate a centroid by drawing the smallest possible circle needed to enclose a given polygon, then determining the center of that circle.
Of course, there are other approaches. "You can think of the 'point' of Vermont being the place with the biggest population, being the place with the most Foursquare reviews, being the place that most people have gone to as tourists," said Morris. "And those are suggestions that, certainly, a company like Google is capable of offering. This is what interests me: Somebody made the conscious decision to put Vermont's centroid [in Morristown] for Google."
Morris sees no human or digital logic underlying Google's selection of the Morristown address to represent Vermont. He's posted a query about it to the popular programming site Stack Overflow, but, at press time, no explanations had emerged. Similar questions have been posted over the years on Google Maps' online forums, but the internet giant has not offered answers. Nor did its representatives reply to Seven Days' inquiries.
Drive out to the Morristown address nearest Google's "Vermont" pinpoint, and you'll be greeted by an ungainly yellow Lab and an aged mutt, both barky but friendly. They belong to Kristine and Brad Blaisdell, who live hard by the Internet Heart of Vermont. Brad is a landscaper; Kristine stays at home to care for their two kids.
When Seven Days stopped by to ask if the Blaisdells had ever received threats because of this digital glitch, Kristine, 31, was flummoxed. She had no idea their four-acre plot had achieved such prominence in Google's eyes and reported no contact from either Google or any "strange solicitors." "Nobody's ever come up and said, 'Hey, this is Vermont!'" she said.
Carrying 1-year-old daughter Delaney in her arms, Blaisdell threw on a pair of shoes and gamely walked the couple hundred feet to the exact point that Google uses to define "Vermont." It's a wooded area adjacent to a small clearing where the Blaisdells keep their firewood. It boasts no geographic markers, no unusual terrain, no evident internet-enabled beacons.
Blaisdell was amused by the whole situation. Far from fearing retribution from internet bad guys, she seemed delighted to learn that her property embodies a digital quirk. "We'll tell [our son] Colton he can build a fort here — Fort Vermont!" she said.
Blaisdell plans to show off her "fame" on Google Maps to friends. "It'll be our new party trick!" she exclaimed with a laugh.
Correction, May 14, 2016: This article has been edited to clarify the way in which MaxMind traced internet users to a Kansas farm.