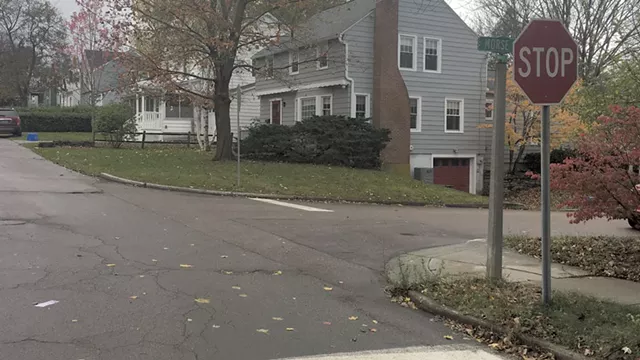 Sadie Williams
The intersection of Richardson and Morse streets
Sidewalks have been around since ancient Roman times. City dwellers take them for granted, but — with a nod to children's poet Shel Silverstein — there is a place where the sidewalk ends. One Burlington-based Seven Days reader, presumably expecting pedestrian walkways on both sides, wondered why some streets have just one sidewalk and some — wait for it — have none. WTF?
Case in point: four-block-long Richardson Street in the South End. One of its blocks has a sidewalk on each side, two have a sidewalk on just one side, and one block is bereft of any sidewalks at all.
The short explanation is relatively simple: Cities aren't built all at once. "As Burlington was developed," said Department of Public Works senior transportation planner Nicole Losch, "the city did not have a policy to include sidewalks. We now have a policy that aims to have a sidewalk on at least one side of every street and both sides of major streets. As new developments are built, sidewalks are included," she went on, "and the city is trying to retrofit the streets that were originally built without sidewalks."
However, Losch noted, getting to all of them will take some time. Burlington has 130 miles of existing sidewalks — which generally last 40 to 50 years — that must be maintained.
So far in 2017, the DPW has repaired three miles of sidewalks. Interested parties can see those on the Capital Projects Portal, a website developed to show the public what the department is working on now and its plans for the future.
Projects currently at the proposal or design phase include repairs to Lakeview Terrace, a portion of Manhattan Drive and Caroline Street. Earlier this year, DPW completed renovations on Kingsland Terrace, School Street and North Winooski Avenue, among others.
In 2018, the department hopes to step up the pace and repair at least five miles of sidewalk. The bump in activity is due in part to "deferred maintenance," meaning that the city has put off some needed repairs.
But these plans are for renovations, not new sidewalks. With all that concrete, how does the city decide which streets might get a new sidewalk first?
"Currently, we try to prioritize it based on the same system we use for sidewalk repairs," Losch said. "Neighborhoods that are close to parks, schools, shopping centers, transit [are first in line]."
Essentially, any area with heavier pedestrian activity is near the front of the queue.
According to the capital plan, the city has identified "seven miles of streets without any sidewalks that would be improved by adding a sidewalk on at least one side of all accepted streets."
But will residents agree with that assessment? It appears that, whether pro or con, people really care about sidewalks.
City Councilor Joan Shannon (D-South District) recalled two specific cases in which residents opposed new walkways: on Flynn Avenue and Cliff Street.
"There was no sidewalk on the north side [of Flynn Avenue]," Shannon said, "so, when [the city] announced the plans to put the sidewalks in, the neighbors who lived on that side of the street were very unhappy."
Why? "The complaint was that it was taking away their yard," Shannon said. But, she added, "The city has always had the right-of-way there."
Until recently, Cliff Street had no sidewalks on either side — a danger to pedestrians who braved the steep incline. "[It] was hard to understand how anybody could object to that one," Shannon said. "We had to dig out the embankment to put a sidewalk on the north side."
On streets where no sidewalk has existed, residents may indeed perceive a new walkway as usurping their private property. As Shannon noted, the city has right-of-way for public use within a certain distance from the street. That distance, however, varies from one street to the next.
"We don't have a consistent right-of-way," Losch conceded. "There are a few typical right-of-ways." But, she added, "Over Burlington's history, things have been built and evolved [such that] what may be on the books may not be what is functionally a right-of-way we can use. And every street does differ."
DPW public information manager Robert Goulding confirmed: "Rights-of-way may vary as planning needs have evolved over time, in addition to other possible constraints. Burlington is a diverse and dynamic city, and efforts are always being made to evaluate and meet the needs of how our residents are using their rights-of-way."
OK. But this raises a new question for pedestrians: If you reach the end of a sidewalk and continue walking on the grass, are you on private property?
"There's not a straight answer," Losch said. "It depends on where the right-of-way ends. Most of the time, if you're on a sidewalk and it ends [but] the street keeps going, so does the right-of-way."
In other words, you're not trespassing. Probably.