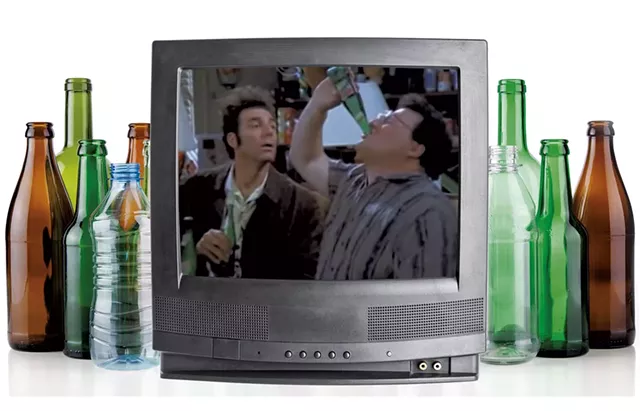 Photo Illustraion Kirsten Cheney
Still from "The Bottle Deposit" episode on "Seinfeld"
Summer's arrival heralded the official start of outdoor drinking season, when many Vermonters grab a cold six-pack of their favorite craft beer, mead or hard cider. But buyers of boozy beverages may discover that the deposits they pay at the register for those recyclable cans or bottles don't equal what they get back from the retailer or redemption center when they return the empties.
In fact, one reader wrote in recently to ask why he gets back 5 cents apiece on his empty beer cans and bottles but bupkes for those used for cider and mead. And yet, that same Vermont-made cider or mead container, which can't be redeemed in the Green Mountain State, is returnable in Maine and Hawaii for a nickel. WTF?
To make sense of such consumption-fueled confusion, we reached out to Rebecca Webber, an environmental analyst with the Vermont Department of Environmental Conservation and the administrative lead person on Vermont's beverage container and redemption law, aka the bottle bill.
As Webber explained, other states' bottle redemption laws cover different beverages. The Vermont statute, first enacted in 1973 to reduce roadside litter and increase recycling, covers "beer or other malt beverages and mineral waters, mixed wine drink, soda water and carbonated soft drinks in liquid form and intended for human consumption." In 1990, Vermont added liquor and spirits to the mix. However, Vermont's bottle bill has never included hard cider, mead, or nonalcoholic beverages such as juice, milk and water.
Other states have bottle bills that include additional beverages such as water, sports drinks, wine, mead and hard cider. If Vermont producers want to sell their products in those states, Webber explained, they have to comply with those states' laws, which includes properly labeling their containers. Rather than use state-specific packaging, she noted, manufacturers label their containers with deposit information for each state where their product is covered by a bottle law.
What about cans of Vermont-made hard cider that are imprinted with the 5-cent deposit symbol on top? According to Webber, Vermont retailers aren't supposed to charge a deposit on those beverages, as they're not included in Vermont's bottle bill and hence aren't redeemable in this state.
Does that mean you could buy hard cider in Vermont, where you pay no deposit, then drive to Maine and cash in your empties? Some readers may remember the two-part "Seinfeld" episode from 1996 in which two characters tried such a scheme. In that episode, aptly named "The Bottle Deposit," Newman the postal worker plots with Kramer to drive a U.S. mail truck full of empties from New York to Michigan, where cans and bottles are redeemable for 10 cents apiece rather than New York's 5 cents.
Theoretically, such a moneymaking ploy is doable — assuming that, like Newman and Kramer, you're willing to risk a criminal record for a mere pocketful of nickels. As Webber pointed out, deposits are redeemable only in the state where the beverage was purchased. Redeeming a container in Vermont that was purchased in New Hampshire, which has no bottle redemption program, is against the law because the consumer didn't pay a deposit or handling fee at the time of purchase. (More on handling fees below.)
Likewise, buying a hard cider in Vermont and bringing the container to Maine or Hawaii for redemption is fraud under Maine and Hawaii law — and voyaging to the latter is also a preposterously long trip for a nickel.
Now what's all this about handling fees? Here's where things get slightly more complicated. Under Vermont law, at the time of purchase, consumers pay a 5-cent deposit, along with a handling fee — presumably built into the total price of the product — of a 3.5 to 4 cents, depending upon how those containers can be sorted later for recycling. That handling fee ultimately goes to the retailer or redemption center to cover their cost of taking back all of those empties.
Estimates on the percentage of containers that actually get redeemed "vary widely," Webber added. Because the state tracks only what comes back, not what is sold, there are no hard figures on Vermont's bottle bill recycling rate. However, a 2013 state report estimated Vermont's return rate at 75 percent.
And who gets the 8.5 to 9 cents when a container doesn't get redeemed but ends up in a landfill or roadside ditch? For years the manufacturer/distributor kept that money — estimated at more than $2 million annually. However, thanks to S.285, a Vermont law passed last year that goes into effect in October, the handling fee will stay with the manufacturer/distributor, but the remaining 5-cent deposit will go to Vermont's Clean Water Fund. There, it'll be used for water quality projects such as restoring riparian areas, improving stormwater infrastructure, and helping farmers keep their pesticides and cow poop out of Vermont's waterways.
In short, if you're the lazy type who tosses your empties into the recycling bin or trash rather than running them back to the store, take some comfort in knowing that your 5-cent deposit is going to a worthy cause and that, in another sense, you've been redeemed.