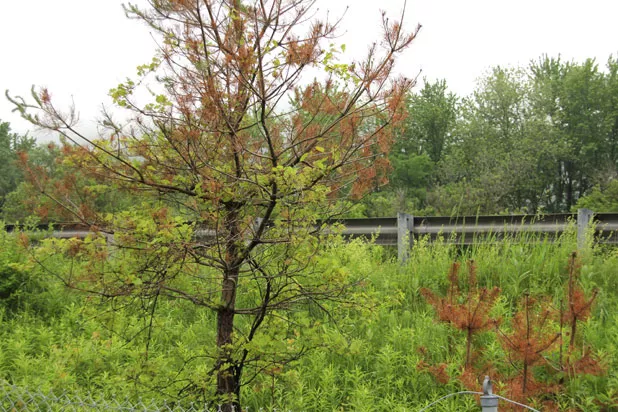 A brown conifer alongside Interstate 89
On any given stretch of my daily commute between Montpelier and Burlington, I am, for all intents and purposes, a zombie. I climb into my car in the morning, and 40 minutes later I arrive, never really knowing how I got there or what I passed along the way. But over the past few weeks, even my undead brain has taken note of the dingy brown pine trees standing in ragged rows along the highway.
In contrast to the nearly neon hues of the birch buds bursting out around them last month, those conifers were an especially arresting sight. To me they looked like hardened locals who'd ridden out one unforgiving winter after another. They made the fresh green of their deciduous neighbors look almost foolish. They also looked exhausted.
So, what's the deal? Are the pines badly damaged? Or do they just look bad? What causes their needles to brown, and why does it seem worse this spring than before?
Most Vermonters know the browning occurs every year as a result of road salt, which flies up off the highways and washes into the soil all winter long. Essentially, it dries out the trees, explains landscape coordinator for the Vermont Agency of Transportation Craig Dusablon. Typically 5 to 10 percent of trees along heavily traveled roads are affected, he says; the most susceptible are red and white pines. A chloride concentration of just 1 percent in those species can cause "extensive plant injury," he wrote in a 1992 VTrans report.
And it's not just the trees directly beside roadways. Damage occurs within 10 feet upslope and 40 feet downslope from the road, depending on a host of factors including precipitation, exhaust emission from passing vehicles, temperature, light, humidity, wind exposure and drainage.
What kind of injury are we talking? Well, it depends. Most trees damaged by the salt spray alone shed their brown needles and quickly grow new foliage in the spring. Pines shed their needles annually, just like deciduous trees, but without all the red-and-orange fanfare. Still, those pines affected by salt in the soil beneath them have a rougher time. The chloride ions may cause new needles to die, which "could be lethal to the entire plant if it happens for several consecutive years," writes Dusablon.
Ginger Anderson, chief of forest management for the state, says it may appear that more trees are suffering than usual this spring because the Vermont Agency of Transportation has been experimenting with new road-salting methods, namely, salt brine. The northwest corner of Vermont, along Interstate 89 from St. Albans to Bolton, has been the testing ground for the new method, and that may explain why some trees look so ragged.
In 2008, when the AOT launched the brine project, Vermont was spending more than $15 million each winter on road maintenance and an additional $4 million annually on the 75,000 tons of salt and 20,000 tons of sand it dumps on the roads. The agency was looking for ways to cut costs and reduce the environmental damage caused by salt and sand while making the winter roads safer for drivers. Jennifer Fitch, who runs the research program for the AOT, believes they are on to something with the salt brine. "We've found it to be really positive," she says.
What is salt brine, exactly? It's just a salt-and-water solution — 23 percent salt, 77 percent water. This is sprayed on roads by fancy STRATOS trucks, each of which can cover up to four lanes at once. Rather than leaving behind a narrow area of highly concentrated rock salt, as the traditional trucks do, these distribute the brine at high speed over a wide expanse.
The trouble with traditional rock salt and sand — besides the cost — is that, without enough moisture on the road, a lot of it just bounces right off. That may seem weird, since salt is typically spread on roads wet with snow. But a single rock-salt crystal is about a quarter of an inch thick. It takes a lot of snow to dissolve something that big. Salt in the brine is already dissolved, so it sticks to the road right away. Except, the agency found, at temperatures below 10 degrees, when the brine just refreezes.
The traditional method has environmental problems, too. Sand absorbs pollutants from the road and gets carried off into the soil and streams, where it causes erosion, pollutes the water and smothers fish-spawning beds. Salt also heads for streams, where it increases the water's chloride content, and, of course, to the soil, where it seeps into the roots of trees. Brine has less runoff, just a mist that rises and affects surrounding foliage.
According to Fitch, districts that experimented with the brine ended up using 33 percent less salt than they had in previous years, and officials thought they'd kept the roads just as safe for motorists, if not safer. "Over the last couple years, it's been so successful, [the AOT] is expanding the project," she says.
What does that mean for the sad-looking brown conifers? "Trees along the interstate have a hard life, anyway," says Anderson. "The salt doesn't help them." Still, she says, only the smallest and least vigorous of the trees experience serious damage. "My gut tells me it's a lot better to have a few dead pine needles than to have more salt in our waterways."
Outraged, or merely curious, about something? Send your burning question to wtf@sevendaysvt.com.