Lost in the hullabaloo during the recent manhunt for two escapees from the prison in Dannemora, N.Y., was this nugget: Police, desperate for leads, asked Adirondackers to check their game cameras to see if they had captured images of escapees David Sweat and Richard Matt.
Earlier this year, U.S. Border Patrol agents in Vermont told Seven Days that they were searching for a suspected drug smuggler photographed on a landowner's game camera crossing the Canadian-U.S. border. He was wearing night-vision goggles and toting a large duffel bag. The same smuggler, they said, had previously disabled another game camera.
In March, Vermont State Police released images from game cameras of a suspected burglar who had hit several homes in Fairfield and Bakersfield. And in 2013, two thieves who stole equipment from a Fairfield farm were busted when a game cam caught them in the act.
We feel compelled to ask: Why does everyone seem to have a game camera these days? WTF?
First off, an explanation for the uninitiated.
Game cameras, also known as wildlife cameras or trail cams, have been around for a long time. They are, as their name suggests, designed to capture images of approaching animals, their shutters triggered by movement. They can be concealed in trees, brush or, well, pretty much anywhere. You can buy a decent one for $150, though some retail for as low as $60.
While many game-camera users are hunters seeking quarry, the Vermont Fish & Wildlife Department has employed them for years to learn about wildlife movement and to gauge the strength of various herds, spokesman Tom Rogers said. Today, 40 game cameras are deployed along the Interstate 89 corridor between Bolton and Waterbury as part of an effort to reduce roadkill. (See story on page 39.)
For some people who aren't hunters, simply capturing images of animals has become a hobby.
"People come up to me at trade shows and say, 'Thanks so much, I got a 12-point buck,'" said Brian Chadwick, an avid deer hunter who sells game cameras out of his Orange, Vt., home. "Others say, 'Look at this picture of a fox.' 'Look at this doe.' 'Look at this cat.' One lady actually had pictures of her cat. They're just so excited to have a good picture."
Vermonters frequently send game-camera photos to Fish & Wildlife. Many of the images are purported to be catamounts — the infamous big cat species whose renewed presence in Vermont has not been officially confirmed, despite some ardent believers. Most of those animals turn out to be bobcats.
"The cameras have definitely proliferated," Rogers said. "They've become a neat way for people to interact with wildlife."
Chadwick said he knows people in Vermont who deploy 25 game cameras on their property. He has four.
Another selling point: Many people have turned the cameras into security devices, he said. Not only are they cheaper than security systems, but "they're portable. You can put them in the woods one day, and if you want to put it in your front yard the next day, you're ready to go."
Chadwick has a camera trained on his front lawn. His system sends images of any movement it captures to his cellphone — in real time. "If anyone comes around," he said, "I'd know they're there immediately."
This year, New Hampshire lawmakers banned the use of that type of game-camera system for hunting, saying it gives hunters an unfair advantage over wildlife.
The American Civil Liberties Union of Vermont has a different objection. The organization has long cautioned against the spread of surveillance technology. In 2006, for example, it criticized a proposal to install 16 surveillance cameras in tiny Bellows Falls as an unnecessary invasion of privacy. The plan was dropped after public outcry.
Game cameras pose some of the same concerns, Vermont ACLU executive director Allen Gilbert said, though he hastened to add that the objection is not to any particular instance of their use. "It's just surveillance," Gilbert said. "I don't think anything is different in terms of the concern we would have."
But Hubbardton resident Frank Siecienski thinks the cameras are providing the public with vital information.
Back in 2012, Siecienski discovered that one of his backyard apple trees had been stripped of limbs and fruit to a height of 10 feet. "I couldn't understand what it could be," he said. "I knew a deer couldn't reach that high, so I figured it was a moose or something."
He set up a game camera he had purchased after his home was burglarized.
A couple of days later, Siecienski captured a blurry image that he showed to Seven Days. It appears to be ... well, we couldn't say. Some suggest it's a close-up of an owl. But Siecienski thinks he knows exactly what it is — a seven-foot-tall, 600-pound bigfoot creature. He thinks it may be holding a baby bigfoot, too.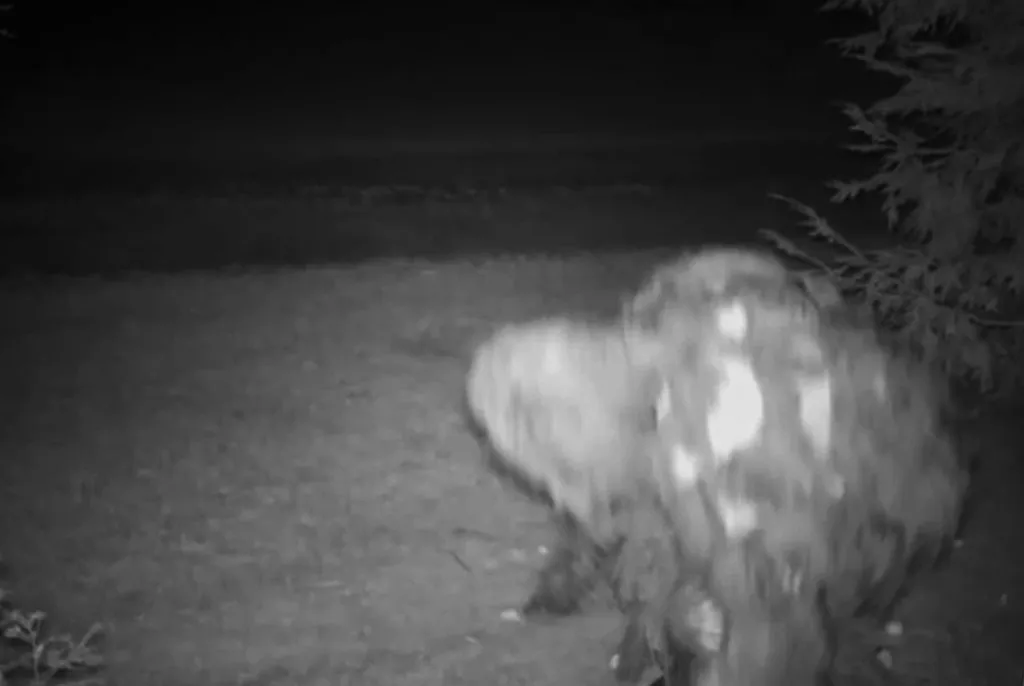 Courtesy Of Vermont Fish & Wildlife Department
Frank Siecienski's "bigfoot" photo
Siecienski posted the image on the internet. That led to his appearance on Vermont TV news shows and "Finding Bigfoot" on Animal Planet.
Bigfoot researchers have long focused on reports from the Route 4 corridor, running from central Vermont into Whitehall, N.Y. Siecienski spoke with many of them.
Since his 15 minutes of fame, Siecienski hasn't picked up any other suspicious images. Apparently bigfoot ain't considered elusive for nothing.
But, when the apples start to come in a few weeks, Siecienski plans to deploy his game cameras once again. He hopes to capture more images of ... whatever happens to pass through.