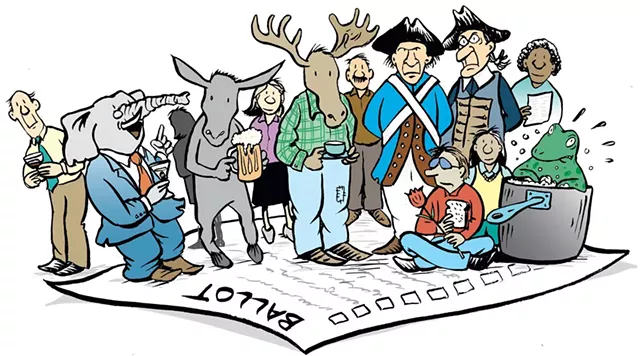 The first reaction many Vermont voters may have upon reviewing their general election ballots is to ask: Who the hell are all these people?
A lot more candidates than usual are running for office this year, especially at the top of the ticket. In 2016, seven candidates for president appeared on Vermont ballots. This year, Vermonters will choose from among 21 different presidential contenders.
Voters who don't want to give Republicans Donald Trump and Mike Pence four more years to make America even greater can choose Democrats Joe Biden and Kamala Harris — or independent Kanye West. The rapper made headlines when he filed paperwork to be added to the Vermont ballot just hours before the deadline. Less well known is independent candidate Kyle Kenley Kopitke, a Michigan resident with 111 Twitter followers who claims to want to protect Americans from 5G networks, chemtrails and the MMR vaccine, which prevents measles, mumps and rubella.
Another option: Gary Swing, a Colorado resident running on the Boiling Frog Party ticket. His solution to the climate crisis? People should stop having babies.
Two Vermonters are also among those vying for the top office in the land. Washington resident H. Brooke Paige is a perennial candidate who's run unsuccessfully for various statewide offices as both a Democrat and a Republican since 2012. Colchester office manager Christopher Lafontaine is a self-described "political geek" who knows he can't win but wants to take a stand against the two-party system. A former U.S. Department of State contractor, he also thinks the country needs to beef up its interstellar technologies.
"The Space Force sounds crazy. That's not to say it's a bad idea," Lafontaine told Seven Days recently.
What's behind this sudden spike in candidates for president in 2020? Blame it on the coronavirus pandemic.
In a normal year, candidates for public office need to demonstrate that they qualify for the ballot by getting enough people to sign petitions supporting their run — 50 signatures for state House races, 100 for state Senate, 500 for governor and lieutenant governor, and 1,000 for presidential candidates. That would have been a high bar for the Boiling Frog Party to hop over, because it has barely that many fans on Facebook, much less in Vermont.
But the legislature scrapped the signature requirements this year, worried that candidates going door-to-door — themselves included — might become COVID-19 super-spreaders.
To get on the Vermont ballot, candidates needed only to be registered voters. (Major-party candidates also had to pay a $2,000 fee, but others didn't.)
Eric Covey, chief of staff for Secretary of State Jim Condos, said the signature waiver "may have incentivized more people" to run for office, though he notes that the phenomenon is largely limited to the "abnormal number of independent candidates" in the presidential field.
"The trade-off for that was the protection of the public health during the height of a very contagious global pandemic," he said.
Many states have grappled with the signature-gathering requirement for candidates and ballot initiatives during the pandemic, with several waiving or amending their rules. Some states have experimented with allowing electronic signature gathering, in some cases prompting lawsuits.
Having a ballot chock-full of candidates with little or no shot at winning "does seem kind of silly," acknowledged Sen. Jeanette White (D-Windham), the chair of the Senate Committee on Government Operations, which deals with legislation related to election rules.
While it may be confusing to have so many largely unknown candidates on the ballot, White nevertheless feels that, when it comes to barriers to voting and running for public office, the fewer the better.
The Vermont Constitution sets the bar pretty low, White noted. It provides that "all voters, having a sufficient, evident, common interest with, and attachment to the community, have a right to elect officers, and be elected into office."
"It doesn't say that you have to have name recognition or a lot of money or anything else," she said.
That's good news for Paige. He knows he has even less chance of winning the presidency than he did of winning any of the 12 other Vermont primaries and general elections he's participated in since 2012.
In fact, he has zero chance, given that he's only on the ballot in Vermont. His is a protest candidacy. He and his cousin, Tom Witman of Georgia, have labeled their lost-cause party the GOP — Grumpy Old Patriots.
"I would legitimately like to win, but I know that I'm not going to," Paige said.
Instead, he said, he joined the race to make the point that no one like him should be allowed to run for president in the first place. "I have been required to do nothing to get on the ballot, and I think that's a problem," Paige said. "It's a rude insult to the election process."
Some may view Paige's habit of running for multiple offices similarly. In addition to president, Paige is also running as the Republican candidate for attorney general and secretary of state. And he's not the only one running for multiple offices: Perennial candidate Cris Ericson is on the ballot for five of them as a representative of the Progressive Party.
Party officials disavow Ericson's politics and denounce her campaigns as an opportunistic abuse of the state's waiver of the signature requirement.
Sen. Anthony Pollina (P/D-Washington), chair of the Progressive Party, called her candidacies "a joke." Josh Wronski, the party's executive director, told Seven Days the Chester resident is clearly not a Progressive and would never have received sufficient signatures to appear on the ballot in a normal year. "It's a little bit embarrassing," Wronski said, "but I would put it more on the annoying side of embarrassing."
The party, which aligns closely with Democrats, has intentionally not stood candidates for every possible race, but it may look to run a full slate of candidates in future elections to avoid the current confusion, Wronski said.
Covey pointed out that running for multiple offices is legal, though state law doesn't allow candidates to hold "incompatible" posts simultaneously. If someone were to run for and win two incompatible offices, they would need to choose which to accept.
Offices deemed incompatible are governor, lieutenant governor, justice of the Supreme Court, treasurer, senator, representative, surveyor general and sheriff.
Not all offices are on that list. Weird as it sounds, the governor could technically also be the auditor, and a member of the House of Representatives could legally serve as secretary of state.
In fact, a similar scenario could have come to pass this year. Rep. Linda Joy Sullivan (D-Dorset) challenged Auditor Doug Hoffer in the Democratic primary in August and lost. Had she won and defeated Ericson in the general election, she could have served as auditor while keeping her House seat.
Whether that would have been appropriate or not, White wouldn't say. The state has tightened restrictions on people who seek multiple offices, requiring them — in normal years — to submit petitions for each office they seek. She noted that when the pandemic is over, candidates will likely be required to collect signatures again.
"We need to take elections seriously," White said, "but also I don't know what kind of restrictions we would put on to make sure that people didn't run who weren't serious."