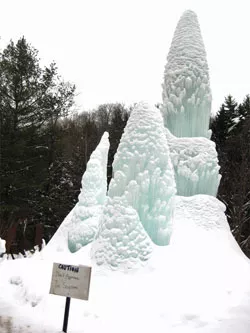 The Jeffersonville "ice dicks"
The drive from Burlington to Smugglers' Notch takes travelers past a number of iconic Vermont sights — sturdy covered bridges, huddling Holstein cows, towering ice dicks. Wait, what? Ice dicks?
OK, so maybe ice dicks aren't part of our tourism portfolio. But they're real. Ask anyone who has driven south on Route 108 toward the resort. About half a mile outside Jeffersonville's center stand three spires of ice. One of those shafts looks conspicuously like a phallus. Or, as one colleague put it, a phall-ice.
This is the third year I've noticed these huge stalks of frozen water in front of the three-and-a-half-story house on the east side of the road. Each year they get more massive. In early winter, the ice columns can often be seen shooting water from their tips. (Insert sexual pun here.) Every time I drive by on my way to Smuggs, I wonder what the eff is up with those things.
Naturally, it made sense to try to sleuth out the answer. So I grabbed my junior gumshoe hat and headed to Jeffersonville. First stop: Hanley's General Store. I figured if anyone knew about these ice sculptures, the proprietors of a village shop would.
I figured wrong. When I asked the scowling and brusque — albeit grandmotherly — lady behind the counter about the towers, she gazed at me as though worms were crawling out of my ears. Strike one.
Then I popped next door to the Jeffersonville Country Store. So that I wouldn't feel like a dumb tourist asking annoying questions, I grabbed a loaf of bread and waited in line. When I got up to the register, I casually inquired about the ice steeples.
Me: "Hey, do you happen to know what's up with those ice sculptures down the road?"
Stocky lady with long, stringy hair at the register: "Nope. $4.99."
Strike two.
From there I moved on to a pizza joint and three art galleries. Strikes three through six. This was surely the most effort I'd ever expended hunting down trivial information.
You may be wondering why I didn't just go to the house in question, knock on the door and ask WTF was going on in the front yard. The answer is that I was nervous about getting kidnapped by ne'er-do-well ice sculptors and locked in a dank underground lair.
But, since no one in town seemed to have seen or even heard of these spikes of ice, the imposing mill house was my one remaining option. I parked in the plowed driveway, walked to the side door and knocked. From inside I heard the fearsome yipping of two small attack dogs. I waited for their owner to appear.
When no one came to the door, I knocked again. Still no answer. So I took it upon myself to tour the towering monoliths.
Two squat, snow-capped ice mounds, roughly 10 feet tall, stand in front of an obelisk that soars to at least 25 feet — nearly as high as the house. Like deep Antarctic ice, the largest stalk has an aquamarine tint. On this day, none of the ice was spraying water, thankfully.
After taking some photos from the road — and nearly getting flattened by a semi in the process — I left a note in the mailbox with my business card, asking the homeowners to call me about their sculptures. I have done this on previous stories and found the tactic generally unsuccessful.
But, a few days after my visit, I got a call from Don Pouliot, who owns the house. Pouliot, a 64-year-old farmer with a dairy herd in Westford, told me he'd heard about similar ice creations elsewhere in the state and figured he'd like to build one. And, no, it's not meant to resemble a tallywhacker.
To amass the ice, Pouliot started in mid-December with a regular garden hose. He attached a cap to it and poked a hole in the cap so pressure would force the water to shoot straight up. While many passersby think the ice is the result of a fountain gone wild, Pouliot confirmed it's his own design.
As he let the water run over succeeding weeks, slowly it froze on top of itself, building the hollow trunk droplet by droplet. Within a month, Pouliot said, he had a respectable piece of ice, where his son's ice-climber friends have been eager to try their skills. The two smaller pieces in the front are buffers, he said, in case the giant tower topples over.
As winter turns to spring, the ice will slowly dissipate; by the beginning of May, Pouliot's creations will be gone entirely. The ephemeral quality of his efforts doesn't bother him. "I don't consider it art. I just let the water spray, and what it is, it is," he said matter-of-factly. "It's just something to do."
Pouliot is already planning his sculpture for next year — a Hadrian's Wall of sorts, made entirely of ice.