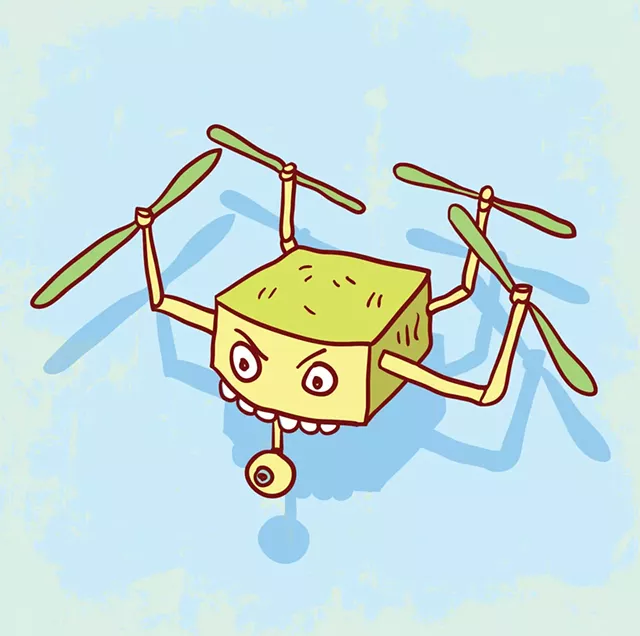 Recently, a Seven Days staffer complained that someone in her Winooski neighborhood had repeatedly hovered, and occasionally landed, a drone in her backyard. Aside from objecting to the noise the quadcopter produced, she was understandably creeped out by a stranger's drone invading her space — and potentially her privacy, especially if it was shooting video.
Lest anyone is somehow unaware, a drone, aka an unmanned aircraft system (UAS) or unmanned aerial vehicle (UAV), is a motorized flying machine with no pilot aboard. Typically, drones are operated via remote control, though some can be programmed to fly predetermined routes, perform various tasks and then land autonomously.
Drones range in size from hobbyists' toys, which are roughly as large as a dinner plate and can weigh less than a pound, to military drones such as the RQ-4 Global Hawk, a surveillance UAV that has a 131-foot wingspan and weighs 15,000 pounds.
Drones aren't a new phenomenon. Humans have been flying unpiloted objects — hot-air balloons, sky lanterns, model airplanes — for nearly as long as they've been tossing objects into the air. But the last decade has seen an explosion in the availability and affordability of consumer-grade UAVs. A Pew Research Center survey published in December found that 8 percent of Americans now own drones and 59 percent have seen one in action.
According to the Federal Aviation Administration, more than 1 million drones are registered in the United States, nearly 900,000 of which are used recreationally. Though the FAA registry lists just 687 in Vermont, the actual number is probably higher. That's because it wasn't until December 2017 that the federal government reinstated an older rule, which had been suspended while challenged in court, requiring any drone or model aircraft weighing less than 55 pounds to be registered with the FAA and to display a unique ID number.
With the rapid proliferation of UAVs, the FAA stepped up its regulations about when and where they can fly, in part to avoid conflicts with piloted aircraft. Last September, an Army Blackhawk helicopter providing security for a United Nations General Assembly meeting collided with a DJI Phantom* drone off the coast of Staten Island. No one was hurt, but the three-pound drone caused significant damage to the helicopter.
Air traffic controllers at Burlington International Airport report no such collisions locally. That said, on May 27, 2017, a northbound Cessna C-150 headed to BTV had to climb 100 feet to avoid a quadcopter in its flight path, according to an FAA incident report. And, in the summer of 2016, a Burlington pilot flying a floatplane over the Winooski River reported coming "uncomfortably close" to a UAV near Colchester.
Federal law restricts drones from flying over or near airports, military facilities, stadiums, crowds or public events without prior permission.* In the last three years, Vermont enacted its own laws further restricting their use. In 2016, police were banned from using drones to investigate, detect or prosecute crimes, though emergency responders can still use them for search-and-rescue operations and to surveil fires, floods, chemical spills and other disasters.
Vermont also outlawed hunting with drones and outfitting them with projectiles or weapons. And nearly all New England ski areas have banned their use without written consent, as has the University of Vermont.
But flying drones over private property is still legal. Jarlath O'Neil-Dunne is director of UVM's Spatial Analysis Laboratory and runs its UAV program. The lab, which owns numerous drones worth more than $100,000, flies them for a variety of missions.
For example, UVM drones are routinely used to create 3D maps of Burlington Electric Department's woodpiles to estimate biomass fuel reserves for the McNeil Generating Station. They're also used to document and measure riverbank erosion and to survey, map and inspect roads and bridges for the Vermont Agency of Transportation and other states' transportation departments. On the day we spoke, O'Neil-Dunne had FAA-licensed drone pilots at the Missisquoi National Wildlife Refuge in Swanton, helping wildlife biologists locate muskrat lodges.
O'Neil-Dunne said that people sometimes express concerns about drones invading their privacy, but they never think about the dozen or more satellites that routinely shoot images of their houses.
"I live in the New North End," he added. "Delta and United have never called me up and said, 'Jarlath, is it OK if we land at Burlington airport [by] flying over your property?'"
Still, O'Neil-Dunne understands why UAVs sometimes get a bad rap. He's seen flagrant examples of nuisance and dangerous drone activity, typically by recreational users.
Notably, during last year's Fourth of July fireworks show on the Burlington waterfront, O'Neil-Dunne spotted a DJI Phantom — the same type of drone that collided with the Army helicopter — several hundred feet above the crowd. Not only was the drone in restricted airspace, it was hovering over a crowd and flying after dark.* Had the copter suffered a battery failure or propeller malfunction, he noted, it could have injured or killed someone.
O'Neil-Dunne said that whenever UVM's drone pilots are flying, they post signs, wear safety vests and even knock on doors to inform residents that drones are overhead. He said it also helps that they're associated with UVM and have both women and men on their team. "So it's not just a bunch of creepy old guys with a drone hovering in someone's backyard," he said.
And what if someone encounters a drone buzzing around their windows like a hummingbird? Though O'Neil-Dunne emphasized that he's not an attorney, he said that such activities are as illegal as someone sitting in a tree shooting photos with a telephoto lens. Your best bet is to snap a photo of the drone, shut the blinds and call the police.
*Correction, March 16, 2018: A previous version of this story misidentified the make of a drone and misinterpreted federal aviation laws. It is a DJI Phantom and drones can be flown at night and
near certain restricted airspaces when given prior permission.