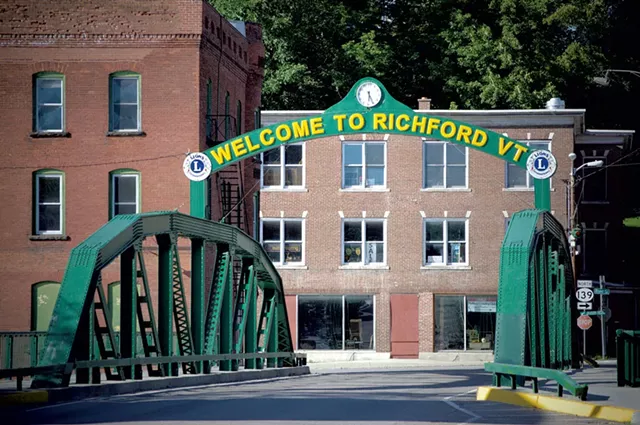 Courtesy Of Chad Abramovich
Richford, Vt.
To visit a certain part of Richford, you might have to break the law of gravity. According to Sir Isaac Newton, objects fall. No exceptions. But if Franklin County lore has a flicker of truth to it, perhaps not.
A stretch of dirt road off Route 105 near East Richford is known as "Richford's Mystery Spot," according to local chroniclers of the weird such as Joseph A. Citro. The "mystery" is that gravity in this spot reputedly likes to behave in an unorthodox manner. For example, cars are said to roll uphill. WTF?
These oddities aren't unique to the Green Mountain State. Various places around the U.S. manifest the same puzzling phenomenon. There are two "mystery spots" in the Massachusetts towns of Greenfield and Harvard, for instance, and one in Middlesex, N.Y., on the awesomely named Spook Hill Road.
Citro reported that he couldn't locate Richford's mystery spot. Years ago, in a brown and bleak November, I made my own attempt.
A friend and I traveled up potholed Route 105 into real Vermont backcountry — a landscape of century-old barns, pastureland marked by the toothpick remnants of harvested corn rows, and farmhouses with sagging rooflines.
The mystery spot is aptly named, I discovered when we turned east out of Richford village toward the looming form of Jay Peak, because it's no easy place to find. The night before, I had consulted the state atlas and decided that the most likely location was the East Richford Slide Road. It's an otherwise unexciting gravel road that follows the Canadian border, swerves over it a few times and then brings you back to Route 105.
According to Citro in Weird New England: Your Travel Guide to New England's Local Legends and Best Kept Secrets, the late Dolph Dewing of Franklin was the first person to report experiencing the mystery spot's effects. Dewing told his friends about it, then brought a busload from the Franklin Senior Center to witness the phenomenon.
In October 1985, County Courier reporter Nat Worman accompanied Dewing to the spot and watched as he stopped his 1979 Dodge and revved it to prove it was in neutral. After about 60 seconds had passed, the car began rolling uphill, accelerating gradually from 10 to 15 mph.
My friend and I weren't so lucky on that windy November day. We parked our car in several places along the rural road and waited. Nothing happened.
Sitting beneath border skies as the sun shone off the hood of my friend's Chevy, I wondered if Dewing had been fooled by some sort of optical illusion. Was it really antigravity? Or magnetism? Or a hoax?
Researching later on, I found answers closer than I expected — and rooted in the rational. Physicists have investigated a bunch of "mystery spots" around the globe, some with equally evocative names such as "gravity hills" and "gravity roads." They claim that what baffles tons of spectators is actually an optical illusion.
"Gravity hills" and the like are places where the geography of the surrounding land makes a downhill slope appear to go uphill. Obstructions on the horizon help create this illusion by robbing us of the reliable reference points we use to determine which way is up. The mind, in short, is tricked.
In a 2006 Science Daily article, Brock Weiss, a physics professor at Penn State Altoona, checks out a gravity hill in Bucks County, Pa., and concludes that this local oddity isn't that odd. "You are, indeed, going downhill even though your brain gives you the impression that you're going uphill," Weiss explains. Using GPS, the investigators demonstrated that the hill's starting point had a greater elevation than its ending point, despite appearances to the contrary.
I wasn't thinking about any of that when we tried to find the spot. We only stopped on parts of the road that appeared to run uphill, and the only direction the car rolled was backward.
Just as I was pretty much convinced I could put this in my "mystery solved" pile, Linda Collins of the Richford Historical Society reintroduced some uncertainty. I was referred to her by the town offices, where the clerk had no idea what I was talking about.
"Oh, yeah, I know about the hill. I think it's called a 'gravity hill.' I learned about it when I was researching the UFO sightings in town," said an amused Collins.
Back in the 1970s, she related, a few Richford residents reported seeing strange moving lights over town. Wanting to chronicle the frenzy for the Burlington Free Press, Collins made phone calls, which led her to a government facility in Boulder, Colo. She referred to it as "the strange things facility," because "I don't remember what they were called — it's been so long since I've talked about this!"
According to Collins, the feds told her that a singular magnetic pull or gravitational force in the Richford area had the potential to "attract things." They didn't specify what things. "You know, government secrecy? They were probably doing some testing or something and didn't want that getting out to the public," Collins said.
Later on, she learned of the "mystery spot" phenomenon. Does the historical society get many inquiries about it? I asked. "No one up here really knows that much about it," Collins said with a laugh. "It was such a small deal when it happened. Lots of folks in town now don't really know a lot about our history anymore."
Does Collins agree with physicists that the mystery spot is an illusion? Or is there something weird happening with gravity in Richford?
Her verdict: "Well ... I mean, I don't know what to tell you. Richford is a weird town."