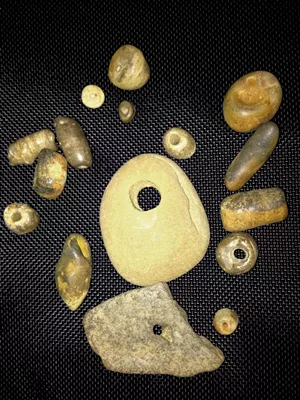 Courtesy Of Vermont State Parks
Example of "buttons" found at Button Bay
Did you ever wonder how Button Bay got its name? A quick check of a Lake Champlain nautical chart reveals that the Ferrisburgh inlet looks nothing like a button, or even a buttonhole. And, though it's shaped somewhat like a button hook, even that slight resemblance doesn't explain the centuries-old moniker, especially because the area was never known as Button Hook Bay.
But Button Mould Bay? Now that's a different story.
If you're wondering what a "button mould," or "mold," is, try wandering the shores or wading into the shallow, mud-rich waters at Button Bay State Park and look down. There's a fairly good chance you'll spot one of the buttons that lend the area its name, says Rebecca Roy, conservation education coordinator at Vermont State Parks.
Those "buttons," Roy explains, are actually concretions that form when clay settles on pebbles or accumulates around the stalks of plants that grow in the lake. When the plant stem dies and rots away, what's left behind resembles a rock with a hole drilled in the center of it.
"Early European explorers saw them and thought they looked like molds used to make buttons," she adds. "So it was originally called Button Mould Bay."
Button Bay isn't the only place on Lake Champlain where concretions occur, says Laura Hollowell, Lake Champlain Basin Program resource room coordinator at the Leahy Center for Lake Champlain. But Hollowell notes that no other site has the extraordinarily large number of round "clay stones," or natural pottery, that create interesting formations, especially when several rocks bind together.
"They often take the shapes of animals, buttons and rings," she explains. "Folks in Ferrisburgh sometimes call them 'clay babies,' [and] Native peoples also had legends about them."
Indeed, the lake is a wet dream for geologists and paleontologists, home to numerous other unique and curious features and finds. They include the oldest fossil coral reef in the world (at Isle La Motte), the remnants of a mountain range more than a billion years old (near New York's Port Kent) and the 19th-century excavation site of the fossilized skeletal remains of an 11,500-year-old beluga whale (in Charlotte).
In geological terms, Button Bay's concretions are comparative infants, taking just hundreds or thousands, not millions, of years to compress into rock-hard discs. In fact, Roy adds, "They're still being formed. It's just a really slow process."
To paraphrase an old childhood game, "Buttons, buttons, who else has buttons?" Reportedly, the banks of the Connecticut River and its tributaries are home to concretions. Even older ones dating to the Pleistocene Age, 10,000 to 15,000 years ago, have been found in Waterbury, Montpelier and Putney, Hollowell says. Elsewhere in the world, larger concretions made of calcium carbonate or iron oxide have been found and often mistaken for fossilized dinosaur eggs or turtle shells.
Technically speaking, it's illegal to remove the buttons/concretions — or any other such finds — from state parks, though Roy understands the urge.
"When people happen upon them, it's really hard to not pick them up," she concedes. "You think, These are so cool. I want to keep them!"
In years past, visitors have kept them, and in considerable numbers. In July of 1962 — two years before Button Bay State Park was established — more than 9,000 Girl Scouts descended on Button Bay for the third senior "roundup," or national gathering. According to Roy, the girls collected "a lot of buttons." Historical footnote: The theme of that year's roundup was "Honor the past, serve the future." Evidently, the environmental ethos at the time was less stringent than it is today.
A few years ago, a woman who'd attended the 1962 event mailed Roy an entire box of the buttons, expressing guilt over having absconded with them. Rather than simply tossing them back in the lake, Roy put them on display in the park's nature center, which is located on Button Point, about a half-mile walk from the camping area.
As for why Button Bay is also the only state park in Vermont with a swimming pool and a waterslide, Roy wouldn't even hazard a guess.
Speaking of unusual place names on Lake Champlain, have you ever wondered how Fish Bladder Island got its moniker? It stands out even among the many other oddly named Champlain islands, including Three Sisters, Four Brothers and Carleton's Prize.
The last one, a tiny island off South Hero, was named in honor of Sir Guy Carleton, an 18th-century British commander and governor of Québec. According to James Millard's online resource "Lake Champlain Islands: A History Tour," immediately after the Battle of Valcour Island in October 1776, Carleton ordered his ship to fire on what he thought was one of Benedict Arnold's ships trying to flee the British fleet.
After about an hour of pummeling without any return fire, the fog lifted, the cannon smoke cleared and Carleton discovered that his adversary was not a ship but a small rocky isle. D'oh!
Alas, the privately owned Fish Bladder Island has no such colorful past. According to Vermont Place-Names: Footprints of History, by Esther Munroe Swift, "Fish Bladder Island is thought to be shaped like an inflated fish bladder or skin." There you have it.