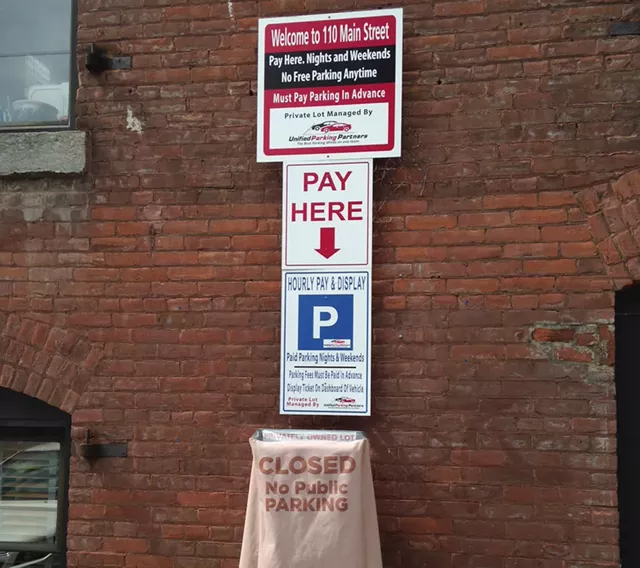 Ken Picard
Parking sign at 110 Main Street
A few weeks ago, Nancy Rabinowitz was running late to meet her husband for their 19th anniversary dinner. As the Burlington resident related in a recent email to Seven Days, she was desperate to park near the restaurant. Finding no street parking available, she pulled into a private lot at 110 Main Street. There, she inserted her credit card into the kiosk, requested two hours of parking — at $4 per hour — and hurried off to meet her hubby.
The couple enjoyed a nice dinner, Rabinowitz reported, despite some "very, very slow service." But when she finally returned to her vehicle two hours and 20 minutes later, she discovered an unexpected anniversary present: a $30 ticket on her windshield.
"I am usually happy to pay a ticket," Rabinowitz added, "but between the $4-per-hour charge and then the resulting 'ticket' ... it seems like highway robbery to me."
Hats off to Rabinowitz for being "happy" to pay her tickets — most people grumble and grouse about theirs. But her husband questioned whether she needed to pay the unusually steep fine at all, as it was issued on private property. If she failed to pay, he asked, what's the worst that could happen?
As many Burlington motorists are only just discovering, hundreds of previously off-limits parking spaces in downtown are now available to the public through a private company. In November 2015, Unified Parking Partners of Vermont — a division of a company based in Portland, Maine — began offering public-access parking services at a handful of private lots throughout the city. In December 2015, UPP also took over the valet, shuttle and bellhop services at the Hilton Garden Inn on Main Street.
Nearly two years later, the company now manages 15 surface lots throughout the city, as well as single-space meters near the University of Vermont, according to Ryan Yacavoni, UPP-Vermont's regional manager.
"Just in the pay-and-display lots," he said, "we've opened up 500 new spots that had been off-limits to the public forever."
Though Yacavoni wouldn't disclose details of UPP's contracts with its clients, he said that they divide the profits — not a dime of the fees and fines collected goes to the city. The rates, which are set by UPP in conjunction with the property owners, are typically higher than those in municipally owned lots — $4 per hour, compared to $1.50 per hour at downtown meters and two free hours in municipal garages.
That said, Yacavoni pointed out that those private spaces are also in the city's most desired locations — including the lot at the corner of College and St. Paul streets across from City Hall Park, and another on Pearl Street a block from Church Street.
Capitalizing on Burlington's private lots, which for years sat empty most nights and weekends, was no doubt a brilliant business plan. But the expanded usage was actually conceived by the Department of Public Works and the Burlington Business Association in 2014 as a way to address the city's ongoing parking crunch. That year, Burlington hired a national consulting firm to develop a downtown parking and travel management plan, which included a request for ideas on how to put private lots to better public use.
However, as Public Works Director Chapin Spencer explained, UPP jumped on the idea before the management plan was even drafted. The company had already been providing similar service for several years in parking-strapped Portland.
"On the one hand, it's really nice that the private sector saw the initiative," Spencer acknowledged. "At the same time, we have less control when someone else is doing it than when we're involved."
One of the city's initial concerns, Chapin noted, was that the public would confuse private lots with municipal ones. To forestall that problem, he said, the city reviewed all of UPP's signage to ensure that it clearly indicated private property and didn't resemble the signs at city-owned garages. UPP was also barred from using the same smartphone app as the city that allows customers to pay parking fees remotely.
So what happens if customers don't pay their fines? Yacavoni said his company has subcontracted parking enforcement to yet another private firm, Park Select. Its staff issue tickets like the one Rabinowitz received and, if necessary, disable the vehicle with a Denver boot — a metal clamp locked onto a wheel that immobilizes the car. According to news reports, this process was controversial in Portland and resulted in at least nine complaints filed with the Better Business Bureau.
But, according to UPP's website, the company prefers booting vehicles to towing them. Why? Says UPP, the boot allows customers to access their belongings and pay their fine on-site rather than making a separate trip to an impoundment lot, which may not be open 24-7. Also, it prevents potential damage to vehicles in the towing process. According to Yacavoni, vehicles only get towed if they're abandoned.
How often does either enforcement action occur? Yacavoni claimed that, since November 2015, UPP-Vermont has only towed three cars and never once applied a boot. In contrast, Burlington's parking enforcement manager, John King, said the city routinely tows vehicles that owe more than $75 in unpaid fines.
And what happens if a customer refuses to pay a privately issued ticket? Yacavoni said the customer will be mailed overdue notices, and unpaid tickets eventually will be "turned over to collections."
As for Rabinowitz, she decided to take no chances and paid the fine, writing it off as "just the wages of running late for your anniversary dinner."