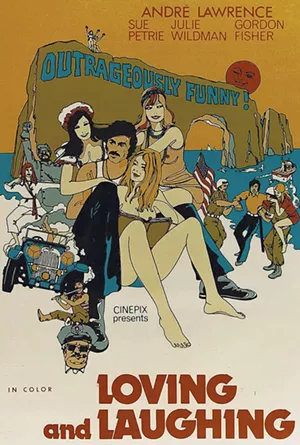 Courtesy Of Cinépix Productions
1971 movie poster for Loving and Laughing
Some stories seem too good to be true. This one involves naked hippies, a yellow Ferrari, intimidating G-men and the 1970 Bellows Free Academy St. Albans marching band. The fact that all these elements featured in a film in a cinematic genre known as "maple syrup porn" makes it even sweeter.
A brief post on the trivia website onlyinyourstate.com describes an X-rated movie that was filmed in St. Albans in the '70s. It alleges that city officials weren't aware of the movie's bawdy content until they attended its Montréal premiere. Mon Dieu!
Archival digging unearthed the truth behind this titillating tidbit: In the 1970s, the Canadian B-movie company Cinépix Productions earned a reputation for pushing the envelope on sex and nudity in Québec cinema by releasing playful, Russ Meyer-esque sex romps. Variety dubbed them "maple syrup porn."
In 1971, Cinépix released a 96-minute English-language flesh farce called Loving and Laughing. Directed by John Sone, the movie was later distributed under alternate titles, including The Importance of Being Sexy, Hippie Girls (in the UK) and Getting High (a recut U.S. version). The promotional poster declared it "the sexiest, funniest, wildest, bawdiest, happiest, hottest, and most outrageous comedy in the country today!"
Did the Canadian filmmakers inform the locals, some 60 of whom were hired as extras, that they'd appear in a porn flick? Seven Days tracked down someone intimately familiar with the production: Bob Presner, a longtime film producer and former president of Film Finances Canada, which bankrolls many Canadian television and movie productions.
Now 76, Presner has hundreds of film credits to his name. He scored his first in September 1970, when, just one year out of college, he was hired as the location manager on Loving and Laughing.
In a phone interview from Toronto, Presner described the movie, with tongue somewhat in cheek, as "a fine piece of motion picture making. It wasn't really porn. If anything, it was soft-core," he clarified. "On HBO you're going to see more."
Loving and Laughing — which, unfortunately, isn't available for streaming — is essentially a skin-flick version of Mark Twain's classic The Prince and the Pauper. In it, a highfalutin Railroad City rich kid swaps identities with a hippie Casanova in a commune on Québec's Gaspé Peninsula.
Presner explained that the movie's French title, Y'a Plus de Trou à Percer, is a double entendre. It can translate as "There's no more hole in the Percé Rock," a reference to the massive natural limestone arch in the Gulf of St. Lawrence. But francophones will recognize its raunchier reference: "There are no more holes to drill."
In September 1970, a Cinépix crew spent three days filming in St. Albans. One notable scene was shot outside the Franklin County Courthouse, which doubled as city hall. It involved a stretch limousine containing the American vice president, escorted by army jeeps and military police.
Back in the studio, Presner explained, filmmakers shot the scene inside the limo, which features the veep getting busy with a lady friend. In the exterior shot, he steps out of the limo, whereupon city officials greet him with applause and members of the BFA marching band play a John Philip Sousa march.
The production attracted some unwanted attention that day, Presner said. The crew's use of military vehicles, actors in army uniforms and, oddly, the yellow Ferrari with Québec plates set off someone's alarm bells.
"Some people showed up. I call them 'people' because I can't tell you whether they were CIA or FBI or army intelligence," Presner said. "To this day, I have no idea who they were, but they were certainly a presence."
One possible explanation: In 1970, Bellevue Hill, about three miles from the courthouse, was home to three radar domes, or radomes, that were part of the U.S. military's advance warning system for detecting inbound Soviet bombers. Dozens of U.S. Air Force personnel were stationed there.
Never mind that the movie shoot, with its cast and crew of about 75, already had been cleared with city officials, Presner said. The newcomers temporarily stopped the filming, threatening to cost the filmmakers thousands.
"We were bringing in a bunch of money. Why would they be after us?" he asked.
Presner later speculated that the intervention was related to the movie release earlier that year of M*A*S*H, Robert Altman's antiestablishment black comedy that was ostensibly about the Korean War but actually a commentary on U.S. military involvement in Vietnam.
"They figured, 'Canadians? Québec? They're out to disgrace America!'" Presner said of the G-men. "It was OK if Americans dissed America. But you couldn't have Canadians dissing America."
The delay was brief, however, and the shooting wrapped two days later. Looking back, Presner insisted that the crew never intended to hoodwink the locals.
"We weren't hiding anything," he said. "We were making a movie called Loving and Laughing. How could they not know?"
Evidently, they didn't. In a September 25, 2000, Burlington Free Press story about the 30th anniversary of the filming of Loving and Laughing, which screened that year at the St. Albans Drive-In, former mayor Mervin "Ken" Kaye recalled attending the 1971 premiere. He, his wife and other Vermont dignitaries had been guests of honor in a motorcycle-escorted parade down Montréal's St. Catherine Street. Only after their driver translated the French title did they realize what kind of movie they were about to see.
Kaye told Free Press reporter Erica Jacobson that, as he watched the limo scene on-screen, "I couldn't control myself any longer, and I just burst out laughing. Gee whiz! If all of those poor ladies only knew what was going on in the back seat of that car."
Kaye died in 2018. But for years he wore his media nickname proudly: "the X-rated mayor."
If only all American politicians had such a healthy sense of humor.