Courtesy of Gary Lee Miller
One Imagined Word at a Time, Volume 2, 2016, self-published, 84 pages. $10.
Amid the nationwide opiate crisis, said filmmaker and Kingdom County Productions cofounder Bess O'Brien, Writers for Recovery is a "bright spot."
For the past three years, O'Brien and Montpelier author Gary Lee Miller have been organizing and leading a series of 10-week writing workshops at recovery and community centers and state correctional facilities across Vermont. They also hold ongoing classes in Barre, Burlington and Montpelier. These Writers for Recovery workshops have drawn hundreds of participants who are recovering from substance abuse or whose families have been affected by addiction.
Workshop attendees are asked to write responses to simple prompts in seven minutes and then read them aloud. Eventually, the workshops culminate in public readings. Participants also submit their work to the Writers for Recovery blog. Last year, the best pieces of writing from that blog were selected for inclusion in an anthology of poems and short stories, One Imagined Word at a Time: Writers for Recovery 2015.
On Saturday, Writers for Recovery participants will celebrate the publication of One Imagined Word at a Time: Writers for Recovery, Volume 2, 2016 with a reading at the Unitarian Church of Montpelier. Country musician Mark LeGrand, who has been sober for more than 25 years, will perform.
"The work is just fantastic. It's courageous [and] emotional," said Miller, who is a Seven Days contributing writer and has been in recovery for 21 years. "Anyone who reads it will come away with a different idea about what drug addiction is."
Fifty-three writers contributed to the second anthology. The major underwriters of Volume 2 are the Vermont Department of Corrections and the Rona Jaffe Foundation. The latter, Miller pointed out, left its usual purview — working exclusively with female writers — to support the Writers for Recovery project. Sian Foulkes of Montpelier-based Foulkes Design designed the book gratis.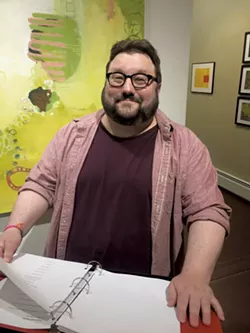 Courtesy of Gary Lee Miller
Kurtis Thompson of Barre at a Writers for Recovery reading
The writing workshops emerged from the strong public response to O'Brien's 2013 documentary The Hungry Heart, which chronicles the efforts of St. Albans pediatrician Fred Holmes to treat patients addicted to opioids. O'Brien subsequently decided to organize writing workshops because she felt that "people in recovery need to be heard [and] be respected for what they've gone through," she said.
For those who are recovering from an addiction, there's a lot of shame and silence, noted Miller. "[Former addicts] know they need to tell their story to heal, but sometimes they have a hard time telling their story."
Most of the workshop participants don't think of themselves as writers, Miller continued; many of them struggled at school or dropped out. When they see their work published in a book, "that's a huge deal for them" and "builds their self-esteem," he said. By telling their stories, participants realize that they're helping others learn more about what people go through in addiction and recovery.
In his piece in the new anthology, "This Is What Most People Don't Understand," Stan Worthley writes about the lack of understanding of and empathy for addicts:
When you see us you just see the addict ... You may have been the lucky one who did not wonder if when you got home you were going to get beaten for something as simple as a dish left in the sink, or [would] face a parent telling you how worthless you are ... What most people don't understand is no one wakes up in the morning and says, "Today is a good day to become an addict." We simply wanted to stop the pain and the memories, and did not know how.
O'Brien said the high quality of the pieces in the anthology makes the project more than just a tool to help the recovery community. "It's a great artistic venture to be part of," she noted.
According to Miller, the project has grown tremendously in three years. Two more teachers have joined the team, and there are plans to organize workshops in new sites such as Middlebury.
Recently, Miller received an inquiry about starting a Writers for Recovery group for Inuit and other First Nations people in Québec. "That is just an indication to me that the word is getting out," he said, "and we're extremely excited about that."