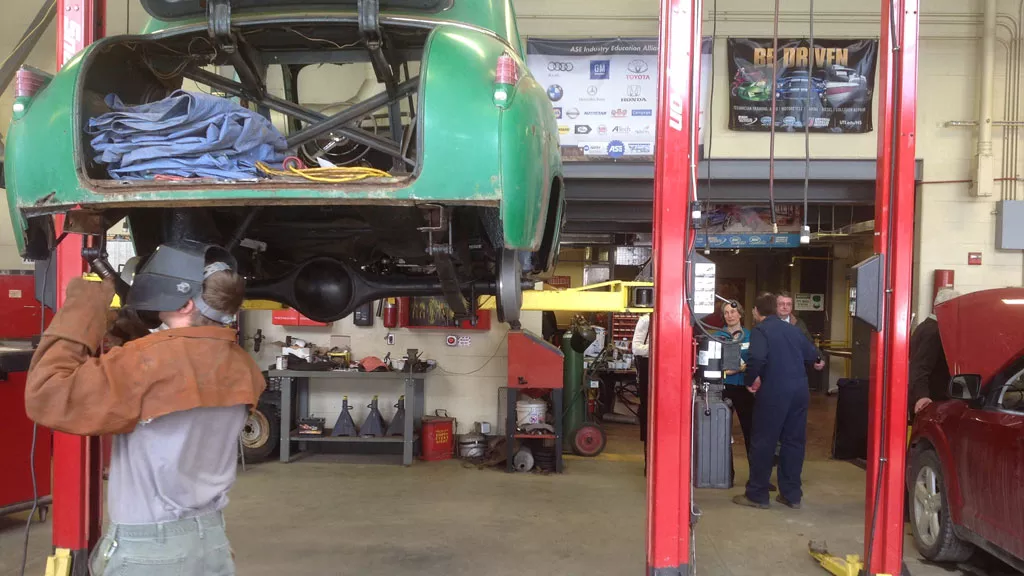 Courtesy of the Vermont Department of Education
Students Learning Auto Repair at the North Country Career Center in Newport
Here's one statistic that reflects, all at once, many of the most pressing issues facing Vermont.
"There are 11,000 Vermonters between the ages of 19 and 25 who aren't even in the unemployment system," says Frank Cioffi, president of the Greater Burlington Industrial Corporation, a nonprofit economic development organization for Chittenden County. They're not in school, do not have steady jobs, and have, as Cioffi put it, "fallen out of the labor market."
"We call them 'the lost Vermonters.'" Lost, he adds, to persistent poverty, substance abuse, crime and who knows what else.
Cioffi calls this group "a target of necessity" — a resource we can't afford to waste. And that, he says, will require new ways of thinking about education and preparing people for satisfying careers.
He's brought those views to his work as chair of the unpoetically named Workforce Development Review Work Group, established by the legislature earlier this year.
The group's membership encompasses representatives of several state agencies, educational professionals, and business and labor leaders. The goal: to bring some sense and order to Vermont's worker-training and workforce development programs. Its job is the bureaucratic equivalent of wrestling an octopus.
Cioffi holds a thick sheaf of paper, page after page listing all the relevant programs spread across multiple state agencies and departments: education, human services, transportation, labor, even health and corrections.
And that's only part of the story. There are plenty of programs in the private and nonprofit sectors. The work group plans to assemble a complete list of all such efforts. But they already know one thing.
"We have complexity, but we don't have a system," says state Rep. Tristan Toleno (D-Brattleboro), a member of the work group. "There are various activities, lots of good effort and energy, a good amount of money, but no coherent direction."
This hamstrings the Vermont economy in crucial ways. It's at the heart of a seeming contradiction: Many Vermonters struggle to find meaningful work, but, at the same time, there are good jobs going begging.
"When I talk with our commercial and industrial customers, I ask, 'How's your business? What are your top issues?'" says Janette Bombardier, senior vice president of regulatory and financial affairs at Green Mountain Power. "Everybody says 'workforce.'"
Not taxes, not regulation, not Vermont's fabled antibusiness climate.
Bombardier learned the lesson firsthand before joining GMP, when she was a senior executive at IBM and GlobalFoundries. "It was difficult to hire two-year degree people," she recalls. "We had really good jobs available but no people to fill them."
These were jobs, she says, with starting pay in the $50,000 range and "huge upside potential. And it's really cool work, fixing things, solving problems."
"We've always had problems filling jobs," says Sean Buchanan, president of Springfield-based Black River Produce. He struggles to find truck drivers with commercial licenses and with keeping his warehouses fully staffed. And these are not dead-end jobs, he emphasizes.
"Anybody who works for Black River certainly has upward mobility," he says. "We want to hire people who aren't just looking for a job but a career. We want people to stick around."
He adds that the food industry — one of Vermont's fastest-growing sectors — is hampered by personnel problems in distribution, retail and food service. According to Ellen Kahler, executive director of the Vermont Sustainable Jobs Fund, the food sector has created 6,400 net new jobs since 2009. That number could have been even higher.
"There is so much opportunity being missed," she says. "People's incomes are limited. Having better jobs with better incomes benefits everyone."
Ask anyone in education or business, and they'll share a story that reveals the untapped potential in Vermont's youth.
"One of our students would get into trouble in high school. He would test the limits," says Eileen Illuzzi, director of the North Country Career Center in Newport, located at North Country Union High School. But then "he came to the career center in the welding program and did really well. He's now a teacher in a welding school."
Cioffi recalls a success story that came right to his front door. He needed a plumber on a recent weekend — not an easy person to find. He finally found someone willing to show up at 8 a.m. Saturday — a man in his early twenties.
"I asked him how he became a plumber," Cioffi says. "He said he didn't do that well in high school, but afterward he wanted to learn a trade. He went to the technical education center in Essex. Now he's skilled, he loves his job, and he can move anywhere if he wants."
Some profound changes will be needed, Cioffi says, to make such stories commonplace. First and foremost, taming that octopus. Also, building an understanding that everyone is on a career path and that no career is inherently inferior.
And, crucially, a much broader and deeper approach to career education in public school. Currently, it's only offered in 11th and 12th grades. That's not nearly enough, say the experts.
"Kids are making decisions about their identities in sixth and seventh grade," Illuzzi says. "Especially girls. That's when they're most likely to take risks and not fall back on careers identified with their gender."
Educators call this new approach Career Pathways. "We map out, starting in the middle school years, a variety of outcomes and careers," says Heather Bouchey, deputy education secretary for research and flexible pathways. For a certain career path, she asks, "What should students be exploring? What classes should they be taking?"
Some might see this early emphasis as effectively putting kids on a work-oriented treadmill at the expense of learning for its own sake. Not so, says Bouchey; it's a matter of providing choices for students and letting them find pathways that align with their interests.
"Kids need to understand the career paths that are open to them," says Toleno. "Be aware of the awesome options that are available with or without a four-year degree."
The work group's primary focus is on preventing another cohort of "lost Vermonters" from emerging, but it will also address the needs of college students, workers whose jobs are changing or disappearing, immigrants, and people in their sixties who still want — or need — to find or retain good-paying jobs.
In the near term, the group aims to develop a handful of achievable improvements in time for the next legislative session. But the larger work of bringing order to complexity will take a lot of time and effort.
The ultimate goal, according to Bombardier: "We want every high schooler to become a productive citizen and love what they do."
That's all.
Adventures in Patent Extension
The pharmaceutical giant Allergan recently unveiled a new tactic in the battle against an industry scourge: losing patent protection for profitable drugs. In early September, it transferred the patents for Restasis, a lucrative dry-eye medication, to the Saint Regis Mohawk Tribe in northern New York. By doing so, it sought to take advantage of the tribe's sovereignty to fend off potential patent challenges.
The scheme has caught the eye of Congressman Peter Welch (D-Vt.), a frequent critic of high prescription drug prices. He joined with three colleagues on the House Oversight & Government Reform Committee in writing to Allergan chief executive officer Brenton Saunders seeking extensive information about the sale.
"The unconventional maneuver has received considerable criticism," the members of Congress wrote, adding that the deal "may impair competition across the pharmaceutical industry."
On October 3, they asked for a trove of documents, including communications within the corporation and between Allergen and the tribe, financial analyses of Restasis' potential profits, and any documents related to similar agreements covering other drugs. They gave Saunders a deadline of October 17 to comply.
Sen. Claire McCaskill (D-Mo.) is sponsoring legislation to block these kinds of patent deals. Welch says he will introduce her bill in the House this week.
Media Notes
Waterbury-based WDEV radio has lost another veteran staffer. Vermont musician Arty LaVigne, host of the midafternoon music show "The Getaway," is no longer with the station.
LaVigne is the second major voice to leave WDEV since Ken Squier sold the station last month to sales manager Steve Cormier. The other departure was general manager and morning cohost Eric Michaels.
"Arty decided he didn't want to stay," explains Cormier. "Ken and I tried to convince him to stay, but he said he couldn't."
LaVigne could not be reached for comment by press time.
Cormier plans no changes to "The Getaway," which offers a mix of music from Vermont and elsewhere, plus interviews with local musicians. So now he's looking for "the right person" to handle that mix.
In other WDEV news, Cormier is about to slide into Michaels' old seat. Starting Monday, Cormier will be coanchor of "The Morning News Service" along with Jon Noyes.
And, at least for now, James Ehlers will continue hosting "Our Nature," a weekly show on WDEV. Ehlers is a Democratic candidate for governor, which triggered concerns about the federal equal time rule, part of the Communications Act of 1934. With certain exceptions, a broadcaster that provides airtime for a political candidate may be obligated to open its airwaves to other candidates for the same office.
But the rule — apparently — doesn't apply here. It requires that there be more than one "qualified candidate" for a specific office. Right now, Ehlers and 13-year-old Ethan Sonneborn are the only Vermonters to announce their intention to run for governor. Cormier expresses doubt that Sonneborn "is a qualified candidate."
Also, thanks to exploratory committees and announcements of intent to announce, there's a large gray area around the question of who's a candidate and who's not. Ehlers has said he plans to run for governor and has registered his campaign with the Secretary of State's Office, but he has not made a formal announcement.
Cormier is confident the equal time rule doesn't yet apply, but he's keeping an eye on the situation.
Finally, Vermont Public Radio is looking to hire a fulltime news reporter for southern Vermont and the Connecticut River Valley. Former Valley correspondent Rebecca Sananes recently left the station, while Howard Weiss-Tisman remains on staff as southern Vermont reporter.
After Sananes' departure, "We saw an opportunity to reimagine our coverage areas," wrote VPR news director John Dillon in an email. "The change will also help VPR become more agile in the areas of investigative and enterprise reporting."
And where does the reorg leave Weiss-Tisman, who's been a part-timer at VPR? "As you know, we are unable to comment on personnel matters and how this posting could affect our current staffing," wrote Dillon.
Watch this space.