Matthew Thorsen
Wren Kitz
During his recent performance at the BCA Center in Burlington, experimental singer-songwriter Wren Kitz disappeared. Not literally, of course. But, after delivering a bashful introduction to a dozen or so attendees, he fell so deeply into his process that, when his set concluded nearly an hour later, it was clear he hadn't noticed that the crowd had more than doubled. As the audience applauded, he seemed genuinely surprised.
"I felt kind of intimidated," he told Seven Days the morning after his performance. Sitting in his living room in downtown Burlington, he explained that it had been some time since he'd performed solo.
"Can I do this in a way that's actually going to be interesting for a listener?" he'd wondered beforehand.
He was right to be apprehensive — the BCA performance was challenging. So is Kitz's new record, Dancing on Soda Lake, which is largely atmospheric and contains what he calls "textural song music." It sounds like a natural progression from his previous album For Evelyn.
"I was just starting to take songwriting more seriously," Kitz said of that 2015 effort. "[For Evelyn] has that feeling of two worlds starting to combine. The moods are kind of separate, but they create one cohesive album."
He was referring to the separation between that record's moodier sound collages and its more standard songs. On Dancing, released on experimental Burlington label NNA Tapes, those two driving forces eclipse one another, resulting in a collection of pieces that inexorably combines them.
Kitz performs on Thursday, June 15, at the Hive Collective in Burlington. NNA Tapes and Noise Ordinance present the show. Henry Jamison adds support.
Kitz's presentation at the BCA Center was hypnotic. The 29-year-old was unassumingly dressed in black skinny jeans and a white T-shirt, with his dark, chin-length hair tucked under a black knit hat.
He began by placing a tiny music box over an acoustic guitar. Its diminutive chime sent echoes and reverberations through the guitar's pickup, which were then recorded, live-looped and manipulated on a vintage reel-to-reel tape recorder.
After creating an undulating sound tapestry, he played "Cheese Whiz Salad," the lead single from Dancing. The piece was like a series of confessional whispers that must be uttered, no matter how abstract and unclear his thoughts may have been. From there, Kitz led the crowd down a metaphysical sonic rabbit hole.
We sailed through bucolic harbors. We were beamed into an alien spaceship. Unintelligible spoken-word samples ushered us down the haunted halls of memory. It was soothing and transcendental, but also harsh and off-putting at times. The new album takes listeners on a similar journey.
Originally from Keene, N.H., Kitz has lived in Vermont for about seven years. His first Burlington-based project was a duo with singer-songwriter Mary Provenzano, simply called Wren and Mary. They played what he describes as "sappy, weirdo folk music."
It was around that time that Kitz met Paper Castles founder Paddy Reagan — who's also a cofounder of the Waking Windows music festival. The two began collaborating, and Kitz eventually joined Reagan's indie band as a second guitarist. He still plays with it and prizes Reagan as a mentor.
"He showed me how to hold a pick," said Kitz.
Reagan felt Kitz's influence, too.
"I tend to be a bit more guarded about what I put out," Reagan told Seven Days. "He was so experimental and open to making weird, abrasive noises. I respected his daring approach."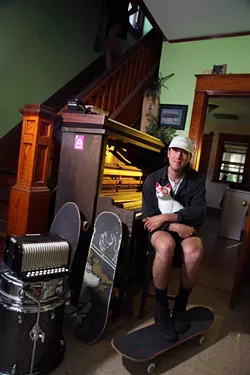 Matthew Thorsen
Wren Kitz
Many of those noises come from field recordings. Provenzano once lent Kitz her tape recorder, which he began to take on long walks.
"It started feeling like a camera," he said. "When I walk around with a camera, I look at things differently.
"It felt the same when I was walking around with a tape recorder," Kitz continued. "I started listening more to what was going on. I loved that I was listening harder to things."
He explained how a field recording could inform his songwriting.
"I'd make a field recording that was anywhere from 30 seconds to five minutes [long]," Kitz said. "I'd listen to it over and over and over again until a musical idea would come to me. Then I'd lay that idea over [the recording]."
Though he's unafraid to get weird on a recording, just before he began his BCA performance, Kitz admitted to the crowd that he was feeling nervous about singing.
"I love singing," he explained later. "But sometimes, when there's a group of people in front of me, that feels like the most vulnerable part — my voice.
"I feel like the voice is the most emotional instrument," Kitz went on. "And that's what I love about it. But it's hard to be confident."
Kitz regularly performs with a band. When he was assembling musicians for Dancing, he thought it was important for the group not to operate like a noise, folk or rock band. He uses the term "open band" — one that works from defined arrangements and clearly written parts but also leaves room to experiment.
"So much of what I enjoy about playing live is having a sense of improvisation," Kitz said.
Appearing alongside him on the new album are bassist Ross Dorée, drummer Lee King and cellist Lauren Costello — the last of whom also performs under the unpronounceable nom de plume ouzkxqlzn. Alpenglow's Elori Kramer adds violin. Ryan Power produced.
Despite the record's perpetual low blood pressure and quiet, contemplative murmurings, Kitz said it's truly a happy album. Soda Lake (in the album's title) refers to a fantastical origin story titled "The True Birth Story of Wren Kitz." Violet Ultraviolet's Jake Brennan presented it to him on his 29th birthday last August.
The tale concerns a lobster — yes, a lobster — that snatched Kitz away from his nursery the night he was born and pulled him to the bottom of an aqueous abyss. It could almost be a hallucinatory allegory for Kitz's progression as a songwriter.
In his nonmusical life, Kitz works for the Howard Center in Burlington as a behavioral interventionist, mainly with teenagers in a group home. This summer, he plans to conduct a music-based creative-concept development course through Temenos Vermont, an organization that offers soul-centered immersion trainings and professional development. He'll help musicians realize their goals and workshop material, and he'll offer general support.
"I'm trying to figure out different ways to combine the things that I'm doing," Kitz explained. He noted that music therapy is a potential avenue — though that would require additional schooling.
But through these combinations, the meshing of ideas, Kitz seems to find the most contentment. That was obvious during his eclectic BCA performance.
"There were times when I was forgetting where I was," he said.