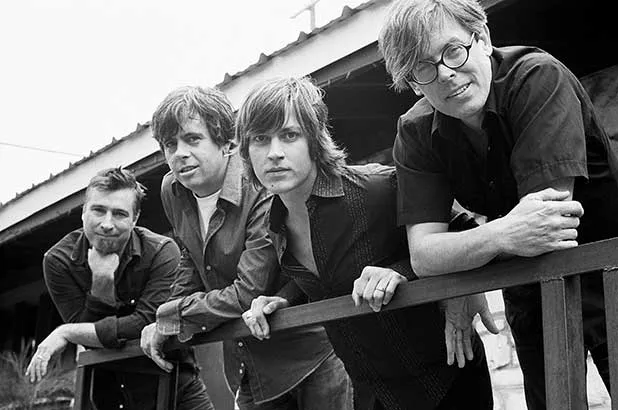 Old 97s and Charlie Louvin, Monday, October 6, at the Higher Ground Ballroom, 7:30 p.m.
For the last 15 years, Old 97s have set the standard for blistering, twang-infused rock. Admired by pop fans and country purists alike — the band derives its name from the Johnny Cash classic, "Wreck of the Old 97" — the quartet has walked the fine line between commercial appeal and West Texas authenticity.
The band reached its mass-market zenith following its widely acclaimed, fifth full-length album, Satellite Rides, in 2001. That record — and 2004's Drag It Up — leaned more heavily on pop-rock, and even Brit-pop, constructs than did much of the earlier catalogue, which had appealed to their original fan base. During roughly the same period, front man Rhett Miller carried on a modestly received solo career. The two resulting products of that foray, 2002's The Instigator and his 2006 follow-up The Believer, represented a deeper exploration of pop and a further departure from Old 97s' cow-punk roots.
After an overlooked 2005 live album and an eyebrow-raising, label-manufactured "Best Of" collection the following year, Old 97s seemed on the verge of becoming yet another rock 'n' roll footnote. But reports of their demise were greatly exaggerated. Released in May this year, Blame It on Gravity marks a certifiable return to form. Miller's writing is playful and potent. Drummer Phillip Peeples and lead guitarist Ken Bethea are again on top of their game. And bassist Murry Hammond — who made waves earlier this year with his excellent solo record, I Don't Know Where I'm Going, But I'm on My Way — once more serves as the group's anchor.
Seven Days recently caught up with Miller by phone from Texas, in advance of Old 97s' upcoming Higher Ground performance.
SEVEN DAYS: Blame It on Gravity is something of a stylistic return to Old 97s' roots. Was that a conscious decision?
RHETT MILLER: Not so much on the part of the band members. I know we wanted to make a rock 'n' roll record as opposed to a quieter record. I mean, Drag It Up was a quieter record, and it was fine for what it was. But we really wanted to go back to making a rock record. It's just more fun to play. It's more fun for our fans to listen to.
I think, if anything, it was the producer's decision to bring the band back to what he thought we do best, which is high-energy rock 'n' roll with a twang to it — but with enough nontraditional and varying influences to make it our own sound.
SD: You're all pretty scattered around the country now, with Murry Hammond in California and you living in New York. Does that make it difficult to work as a band?
RM: Not really. I mean, we haven't really lived in the same place for a while. And we don't really rehearse, you know? (Chuckles.) We've been together for so long that we're kind of just mentally connected in some way. We just get up there and do it, even when we go into the studio. We're all just gonna do what we're gonna do. And when we're on tour, we're in such close proximity, you know? I think the distance is, if anything, a good thing. You know, we get to miss each other. Absence makes the heart grow fonder, so there you go.
SD: So, you're touring with Charlie Louvin . . .
RM: Yeah. He's with us for two weeks out of a two-and-a-half-week tour.
SD: Well, what's it like playing with Charlie freakin' Louvin?
RM: I don't know. That starts on October 1st, so I'll know in a few days. I can't believe that he's opening for us. It's like, "One of The Louvin Brothers is going to be on the road with us?" It's mind-boggling.
I'm a little bit scared, I gotta say. Because I know he's a big ol' legendary guy. And he's terribly God-fearing, you know? I mean, it's not like we're crazy and debaucherous or anything. But, compared to him, we're like young, upstart whippersnappers. I'm hoping we don't have any backstage scraps.
I'm sure we'll get along just fine. If anything, Murry will be there to be the liaison. Murry has an old-timey thing about him.
SD: Having listened to the band for a long time, I've often wondered if your love life is really as dramatic as your songs make it seem. I mean, going back through a bunch of your old albums, it seems like that kind of tumult would kill most men. But it's been a running theme throughout your work
RM: (Chuckles.) It's really funny that you asked that. Robert Christgau did a review of the album on NPR. And most of the review he was worrying about my wife and I and our relationship. And then the next day they read a bunch of listener mail and they were all saying, "Are you kidding? If you listen to this guy's records and you take them literally, you've got a 17-year-old girl who crashed his car in Queens, he got her drunk. And he met a girl and pushed her boyfriend off a boat so they could get together." You know.
At heart, I'm a fiction writer. I'm a romantic, and certainly in my twenties and early thirties I was maybe more agony-filled or whatever. But I think, in general, these are characters. I like to write about men and women. I like to write about moments between people. And I think the moments that are fraught with conflict and the ones that are easiest for me to mine for stories are about relationships. And nobody wants to hear about it when it's going great — although I've written a few songs about that, too. But typically my favorites are the ones where there's some sort of subtext of strife. Or maybe murder. I like when it's dramatic.
SD: Well, you have to have some sort of conflict to make a good story. Since we're on the subject of writing, could you talk about your maturation as a songwriter?
RM: Um, it's hard. In a way, maturation almost runs counter to what I think good songwriting comes from. So it's a hard thing for me.
It used to be a lot easier to write songs. When you're younger, you're so much the center of your universe that you think the whole world must want to hear about every little thing that you can think of or that you're going through. And as you get older you realize, "Oh, Jesus," you know? It's harder to always point the camera at yourself and say, "Look at me. Look at what I'm going through. It's so interesting."
I don't know. I think you have to delude yourself a little bit into believing that you're so special that everyone's gonna want to hear this. But at the same time, as you write more songs, I think you get better at the craft of songwriting. So your radar is more finely tuned. And you can tell if a song's going to be good early on as you're writing it. So it's a thing: One arc goes down and one arc goes up and you hope that you can ride out the plateau where they meet for as long as you can, before it just starts tapering off into all crap and no inspiration.
I think I will be able to always find different wells to mine in my own psyche and just sort of the different stories I'll come up with and characters that I see . . . I love writing songs. I just do. The idea that you can sit down with nothing and then a half an hour later, or four days or whatever you come up with, it's gonna mean something to people. And on a whole other level, it's something that [you] can go out and make money to buy food for your kids, you know?
SD: Is it kind of surreal to have a "Best Of" album out?
RM: Ha! Yeah . . . yeah. I could see why it happened. In a way, it almost felt like the music industry was packing up shop and . . . they're, like, "Oh, you've gotta get a best-of album out." It was, like, we didn't stop being a band or hadn't become irrelevant, Warner Brothers Records became irrelevant. And they just had to pack everything up and we were just part of the closing sale.
SD: By most measures, Old 97s has had a successful career. But you've never had that huge mass-market-type breakout. Was that intentional or just how the cards fell?
RM: It wasn't intentional on my part. I think within the band, there are different points of view about having a big hit like that. I remember at a certain point during Satellite Rides when "Murder or a Heart Attack" was really getting played on the radio a lot. I remember Ken (Bethea, guitar) looked at me and said, "Man, we're as big now as I ever want to be." I was thinking, "Well, would that really be a bad problem?" In retrospect, like you said, we've been able to make a career out of this in a way that 99 percent of bands out there haven't been able to. We were able to ride the major-label system through the last 10 years of its reign and get the marketing money thrown at our band that Third Eye Blind was getting. But while Third Eye Blind had a few hits and are now the butt of jokes, we never had a hit and we get to still go play in front of thousands of people. So I feel pretty lucky about that.
So, it wouldn't have been intentional. But we did talk a lot when we were first getting signed to Elektra and coming up with our big "manifesto." We talked a lot about having a career. Maybe at the expense of the brass ring. But we always wanted to be able to do this for the rest of our lives. m