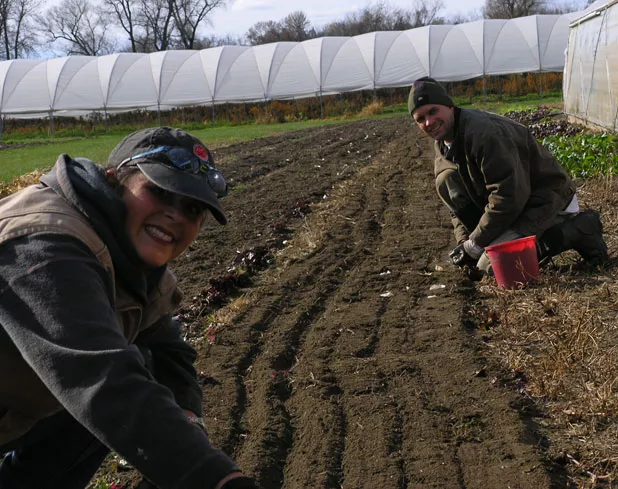 Following two devastating floods this summer, Half Pint Farm in Burlington's Intervale has found a way to make lemons into lemonade — or rather, green chiles into breakfast burritos. "After the flooding of the spring, I freaked out, and I was like, 'This is going to be the shortest summer on record,'" says Mara Welton, who runs the farm with her husband, Spencer. "I started canning and preserving and roasting and freezing. Then Irene happened, and I was like, 'All right, it is the shortest season.'"
Two weeks ago, the Weltons had their kitchen licensed for professional use. At this year's Burlington Winter Farmers Market, the couple will sell all the peppers, tomatoes and onions they froze over the short summer — as burritos.
Both grew up eating burritos in Colorado. "When tragedy strikes, I go to my comfort zone, which is cooking my grandma's food," says Mara. Earlier this month, Spencer's mother lovingly carted pinto beans across the country from a favorite Colorado farm to supply the couple.
The Weltons will make their own tortillas on the eve of each market. The day will start with vegetarian or sausage-filled breakfast burritos. At lunch time, the couple will serve bean burritos topped with pork with green chile sauce, vegetarian red chile sauce or both, in a combination they call "Christmas."
And Christmas will come early this year for Mexican food lovers — the Winter Farmers Market starts on November 5.