Lee krohn
Shayne Lynn
The gray metal-sided building in the middle of Milton's Catamount Industrial Park looks like a typical manufacturing facility. But step inside, and you instantly sniff out that it's a different kind of business.
The pungent herbal smell of marijuana permeates the place, temporarily distracting your attention from evidence that this is a sophisticated clinical laboratory — part of the Champlain Valley Dispensary's expanding medical marijuana operation.
Keypad-protected doors lead to rooms equipped with expensive machines that automatically trim plants, extract oils and test the potency of products. Intricately balanced equipment drops just the right amount of liquid into small e-cigarette cartridges. A spotless kitchen produces thousands of packages of cookies and other marijuana-enhanced foods.
This is the largest of the few places in Vermont where marijuana can be commercially grown for medical use. Executive director Shayne Lynn hopes the expertise he's accrued will allow his 4-year-old business to become one of the first in Vermont to grow marijuana for general adult recreational use if, as expected, that becomes legal in the coming years.
This month, Gov. Phil Scott signed a law intended to offer more patients access to marijuana for medical purposes. Operators of Vermont's four medical marijuana dispensaries lobbied for the changes they hope will boost business and help them survive the onslaught of competition that legal use of marijuana would likely bring.
When retail cannabis sales for general adult use start in bordering Massachusetts and nearby Maine — likely in mid-2018 — Vermont's medical marijuana patients will have more options with fewer regulations. If Vermont follows suit with legal retail shops soon thereafter, competition will only increase.
Lynn warily watches trends in states that allow recreational use.
"In Colorado, the medical market is getting smaller every year," he said. "In California, there's been a 40 percent decrease."
Lynn, a former professional photographer who started dispensaries in Burlington and Brattleboro with loans he is still paying off, argued that existing operations have earned the right to hold some of Vermont's first retail store licenses if and when the state legalizes recreational marijuana.
"We have the knowledge, the experience and the track record," Lynn said.
Vermont lawmakers are expected to consider legislation in a special two-day veto session this week that would legalize possession of marijuana in July 2018 and prepare the state for eventual legal sale of the drug.
Whether such a bill passes this week, next year or sometime later, retail sale of marijuana seems inevitable. If it comes to pass, existing dispensaries should get preferential treatment when it comes to opening retail stores for general adult use, echoed Senate Judiciary Committee chair Dick Sears (D-Bennington). The operators have proven their ability to follow the rules while operating successful enterprises, he said.
"It became clear to me that some of them have run pretty good programs," Sears said.
Others, however, are wary of giving any business an advantage over others.
"There are a lot of people who have expertise and experience and passion," said Eli Harrington, cofounder of the pro-legalization news site Heady Vermont. "Everybody would benefit from more competition."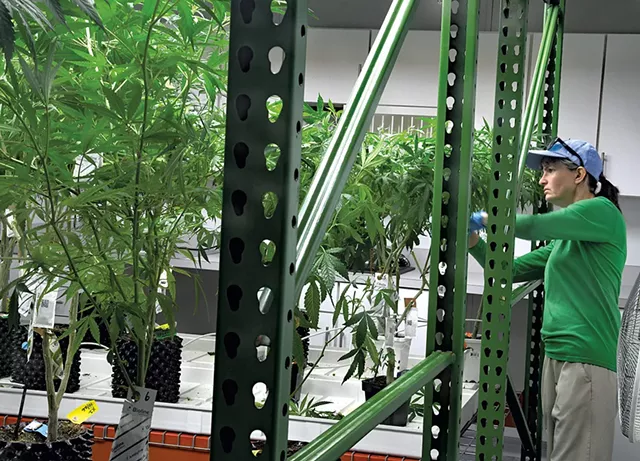 Lee krohn
Trimming plants at Champlain Valley Dispensary
Fran Janik, who grows his own medical marijuana in Windham County and runs the advocacy organization Vermont Home Grown, agreed. "I'm not OK with anyone having a monopoly," Janik said.
With just four dispensaries — in Burlington, Montpelier, Brandon and Brattleboro — run by three organizations in Vermont, patients complain about high prices and a lack of certain products, Janik said.
Kevin Driscoll, who moved from Caledonia County to Maine this spring, was among them. The chronic-pain patient said he used to drive to Lynn's Burlington dispensary, where an ounce of marijuana cost him $350 to $400. In Maine, an ounce costs him $200 through that state's "caregiver" program, which operates like a dispensary but with fewer regulations. (He said prices at Maine's regulated dispensaries are similar to those in Vermont.)
Other states that have legalized recreational marijuana have given their existing dispensaries a head start in setting up retail shops, said Sam Chapman of the Oregon-based cannabis firm New Economy Consulting. But few survive as medical-only shops, he said, noting that the city of Portland has gone from 175 dispensaries to 90 since legalization.
Chapman cautioned, however, that comparing one state to another is difficult because each started with different medical marijuana rules.
Lynn wants to operate both kinds of shops — medical and retail — side by side, as is common in Colorado.
But first, he's got to be able to compete with retail marijuana stores in Massachusetts and Maine, where voters just opted to legalize pot and the states are in the process of establishing rules for shops. "We're going to lose sales because of people's curiosity," Lynn said. He hopes his prices and the lack of sales tax will lure customers back to Vermont.
This year's new medical marijuana law could help his business.
"This is a big deal," he said. "There are a lot of changes."
When Lynn opened his dispensary near Burlington's waterfront in 2013, he couldn't publicly disclose its address. The state was worried that if the dispensaries' locations were widely known, they'd attract crime.
In January 2016, Seven Days associate publisher Cathy Resmer chronicled her difficulty connecting with the dispensary. She found accessing medical marijuana to be a lengthy chore.
Today, a patient can google "Champlain Valley Dispensary" and see "1 Steele Street, #113 Burlington." Still, Lynn said, "People don't know we're here." The dispensaries still aren't allowed to advertise, though they lobbied lawmakers to change that this year.
Lindsey Wells, marijuana program administrator with the state Public Safety Department, said Vermont eased some of the rules when crime problems never materialized. Since legalizing medical marijuana in 2004, Vermont lawmakers have steadily expanded the number of Vermonters eligible to use the drug by adding qualifying medical conditions. The number of patients has climbed from 800 to 3,800 since the dispensaries opened in 2013.
When chronic pain was added as a qualifying condition last year, counterparts in Maine told Lynn to expect business to double or triple, but he found no such spike. Nor did his business get much of a bump from home delivery, when that was allowed last year. Interest did increase when he lowered the delivery fee from $10 to $5 this month, Lynn said.
This year's changes should provide Lynn and the other dispensary operators with more patients and more capital. For starters, there will be more dispensaries. As of July 1, the state will take applications for a fifth dispensary license, and each of the five licensees will be allowed to run a satellite office. In all, the number of dispensaries could more than double from four to 10 by year's end.
Sears said he hopes the new license will bring a dispensary and growing facility to Bennington County, where he has heard from three potential operators.
Lynn, meanwhile, is scouring the state for sites for the two satellite shops he'll be allowed. One could open not far from his Burlington dispensary, on Green Tree Drive in South Burlington, where he already operates a marijuana-growing plant, he said.
Operators of the dispensaries in Brandon and Montpelier did not respond to calls for comment, but they, too, are expected to start satellite operations.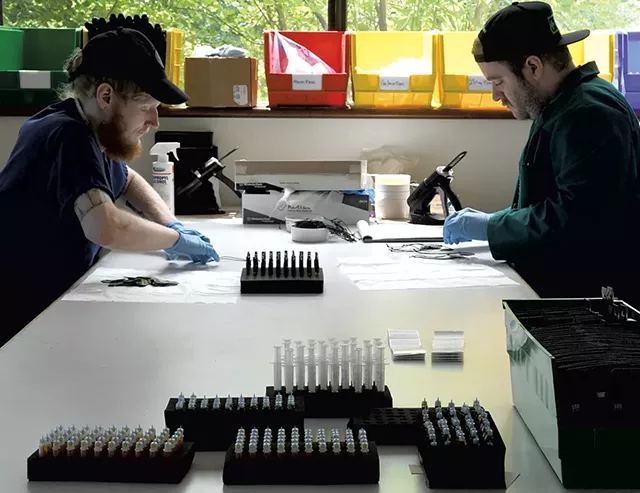 Lee krohn
Employees of Champlain Valley Dispensary
The new law also makes more patients eligible to use marijuana by adding Parkinson's and Crohn's diseases and post-traumatic stress disorder as qualifying conditions.
Those patients will still need a physician's verification that they have such a condition. Lynn said doctors are increasingly open to patients' use of marijuana, but few initiate the idea.
"Patients still need to say, 'I want to try cannabis,'" he said.
There are valid reasons for that hesitation, said Jessa Barnard, general counsel and vice president for policy at the Vermont Medical Society.
"Physician interest ... is growing, and the research is growing," she said, but some doctors remain uncomfortable endorsing use of a drug without knowing how it might affect the patient. "There's still a challenge in physicians being able to treat it like other medication."
There's another significant legal change this year: Dispensaries will no longer have to operate as nonprofits, a requirement that brought no federal tax benefits because marijuana is illegal under U.S. law.
Jake Perkinson, a Burlington lawyer and former board member of the Champlain Valley Dispensary, said the change will allow the dispensaries to raise more money from investors, which should drive prices down.
"Not a lot of people are willing to say, 'Here's a nonprofit that may get busted by the feds, and I'll never see my money,'" said Perkinson, who made a loan to the Champlain Valley Dispensary when it started four years ago.
Lynn said he's operated with loans from about 30 people, all but two of them Vermonters. By going for-profit, he will be able to raise more money, make more products, reach more customers and lower prices. He said he hopes that will help him survive new competition.
"Being bigger is going to allow us to actually create those economies of scale and lower prices," said Bridget Conry, operations manager for Champlain Valley Dispensary. "Our prices are starting to come down now."
The dispensary prices for an eighth of an ounce of premium marijuana are comparable to the black market, she said, at $45 to $55. It's less competitive when it comes to prices on a full ounce; Lynn hopes to bring that to below $300, he said.
But competing with the black market will always be tough, Conry said. "There's so much expense that goes into being able to get this to you," she said, because the dispensaries' products are professionally produced, tested and labeled.
Whether those dispensaries survive will depend on the rules the state creates for a legal market. After four years of navigating constantly changing regulations, Lynn is used to uncertainty.
Regardless, he has his sights set on business growth. A planned greenhouse will allow him to grow more plants at a lower cost. And part of the second floor of the marijuana-growing facility in Milton sits empty, waiting.
"That's all going to be future expansion," Conry said.