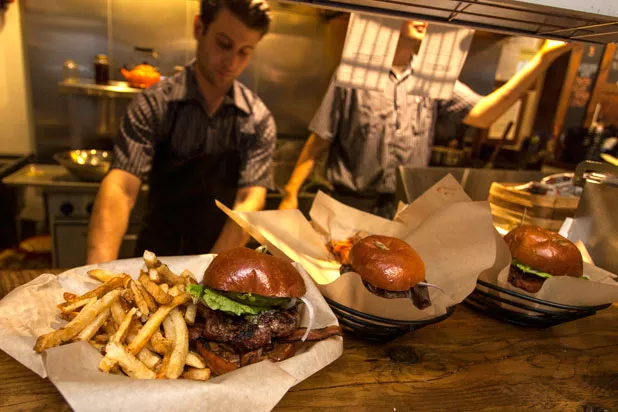 It was National Cheeseburger Day, and the only sensible choice was to drive more than an hour in the wind and rain to South Royalton. Past the main drag, my GPS prodded me toward Rainbow Street, which at first didn't seem to be a road at all. But, as I turned the corner, the slice of Deliverance landscape opened up to a far less foreboding scene of car after car lit by the glow of the restaurant in the distance. The parking lot of Worthy Burger was full.
So was the restaurant, an old freight house that seats 49 but was packed with many more. Prospective diners leaned against the walls, holding their beers, while co-owner Jason Merrill scoped out places for them.
Previously chef at the Hanover Inn at Darmouth College, Woodstock's Jackson House Inn and the Quechee Club, Merrill is wildly overqualified for the position of manager, but everyone at Worthy Burger has an impressive résumé. The restaurant is owned by Lakeside Hospitality Group, composed of Merrill and fellow Barnard residents Kurt Lessard and Dave Brodrick. The last is a big name in the New York City restaurant scene for his cult beer bar, Blind Tiger.
Brodrick was also making the rounds as Merrill greeted guests at the door to explain how Worthy Burger works. Diners look at the chalkboard beer and food menus — which change daily — order at the bar, and sit down there or at a table; once their food is ready, their handy, fast-casual-style buzzer alerts them to pick it up at the kitchen window.
If it sounds like a recipe for cranky diners, it's not. When we visited, the whole machine ran so smoothly that no one seemed to resent the wait for tables or food. The guests all seemed to be acquainted with each other, and the vibe was warm and overwhelmingly positive.
Of course, the beverages didn't hurt. My party started with a homemade ginger soda and Hill Farmstead Brewery Riwaka Single Hop Pale Ale, both served in goblets labeled "Worthy Glass" in a hip, sketchy font. Before long, suds will flow from adjacent Freight House Brewing, but for now, a concise assortment of Vermont and international brews prevails.
The ginger soda's homemade qualities did it no great favors. Too light on syrup, it tasted mostly of seltzer. A cream soda was better balanced but still seemed unevenly mixed, almost overbearingly sweet at times, simply bubbly at others.
The Riwaka, on the other hand, was something of a revelation. The American amber ale is named for one of its ingredients, a rare New Zealand hop variety. The resulting brew has an aroma reminiscent of cranberries. The acidic, fruity flavor dominates at first, but gives way to a lightly bitter, ashy finish. Even this nondrinker found it a fascinating flavor mood ring.
The moderate pricing made it easy to order one of each burger. Timing also worked in our favor. Just after we collected our dinner, Merrill led us on our "migration" to a freshly vacated table.
Before I settled in, I couldn't resist digging into the fries. They're cooked in beef tallow, a fancy way of saying lard that reminds me of colonial-era candles. To someone who finds the odor of rendering beef fat erotic, they were simply irresistible.
While "hand-cut fries" might translate to "soggy," "limp" or "burnt," these were ultra-crisp. Some of the slim frites were soft and mashed inside, others crunchy as potato chips. All had the sweet, sensuously creamy flavor of beef, along with a light smattering of salt. My only complaint was the portion size: about two handfuls for $3.
We found the homemade condiments at the pick-up window. Aioli was extremely thick, with a pleasant kick of acid. So was the pretty, green basil version, which tasted exactly like the plain one, with nary a hint of herbaceous zest. Though often the ketchup is homemade, that night tomatoes were scarce, and the condiment was courtesy of Heinz.
Three different types of pickles came in a box with three slots, too high on a counter for me to see the contents. I had to rely on my dining companion to pick them for me. While dilly beans were zippy and gherkins a nice agrodolce, it was the carrots that won me over. The thin, orange coins sat with cinnamon sticks in a liquid that gave each zingy bite a flush of aromatic Middle Eastern spices. If Worthy Burger bottled these, I would be the first in line.
I tried a fourth fermented food — kimchi — on the Rosa Gold fish sandwich. Luckily for Worthy Burger diners, Merrill's day job happens to be at Wood Mountain Fish, where he can take his pick of the catch of the day for his eatery. When I visited, that meant a thick, beautifully grilled square of swordfish for only $6.50. At practically any other restaurant, $20 and up would be standard for the portion.
Grilled kimchi doesn't come with the fish sandwich, but I ordered it as an addition. Made by Laughing Lotus Farm's Iris Kim Brodrick — Dave Brodrick's wife — it wasn't as fermented as I prefer. The cabbage seemed fresh, but it had a delightfully smoky taste resulting from the light char on the hot peppers that clung to the leaves. With a slick of mayo, the sandwich made a winning combination.
The standard Worthy Burger is also a bargain, at $5.50 for a third of a pound of grass-fed beef from Eastman Farm. The burger was slightly underseasoned, a paler cousin to the world-class patties at Worthy's closest Burlington cognate, the Farmhouse Tap & Grill. A thin strip of pink made it look juicier than it actually was. This tends to be the sad truth about grass-fed beef: It takes more fat to make the naturally leaner cuts burst with beefy flavor.
What saved the burger was its gooey blanket of Vermont Farmstead Cheese Company Lillé. This fromage is in the style of French Coulommiers, a thicker, more intensely nutty ancestor to brie. The combination was worthy of National Cheeseburger Day, despite the disruptive presence of lettuce and paper-thin onion ribbons, which come on every burger. In this case, the aggressive flavor of the raw onion cut unpleasantly into the subtle cheese.
By contrast, the bun — also standard with all burgers — worked especially well with the beef and cheese. The rolls, made by Amber Arpaia's Bakery in Quechee, are egg washed and mildly sweet, with a base that melds challah and Hawaiian sweet rolls. The latter may be the secret: Unlike full-bodied challah, Worthy's buns crumple like a paper bag filled with air with each bite, then spring back. The magical little things practically made me quote poetry.
However, on the two driest burgers, the bun was simply too much of a good thing. Though nicely seasoned with a touch of cumin, the P.E.T.A. patty, made of "locally raised plants … slaughtered for this burger," would have benefited from an additional ingredient to moisten its adzuki beans, corn, rice and eggs. As it was, the grain-heavy patty melded with the bun for a bread-on-bread sensation.
The burger I had most excitedly anticipated was the biggest disappointment. How could the Turducky be anything but awesome? Duck confit, foie gras and pasture-raised turkey, all ground together, sounded like a sure recipe for success. But the amalgamation of fatty ingredients was less than the sum of its parts — so dry that even an emergency dose of aioli couldn't make it palatable. Even worse, the patty was surprisingly bland, a sad waste of all the work it takes to make satisfyingly salty duck confit.
If my cured-meat itch wasn't sufficiently scratched with dinner, dessert did the trick. There's only one sweet option at Worthy Burger, but it's the "Stout-Bacon-Pecan Brownie Lollipop," and how could anyone need anything else? Especially when "brownie" is a misnomer.
There was nothing light or cakey about that pop. Basically, it was a rectangle of stout-imbued fudge on a stick, covered in bacon- and pecan-inlaid chocolate. At $4, the dessert cost almost as much as a basic burger, but it was almost as filling — plenty of not-too-sweet chocolaty goodness for two. And it went with our beer.
Worthy Burger has the most success with such inspired pairings. While some parts of the menu still need tinkering, the eatery is already an established destination for top-notch beer — and food. Clearly, the Upper Valley was ready for just that.
Worthy Burger, 56 Rainbow Street, South Royalton, 763-2575. worthyburger.com