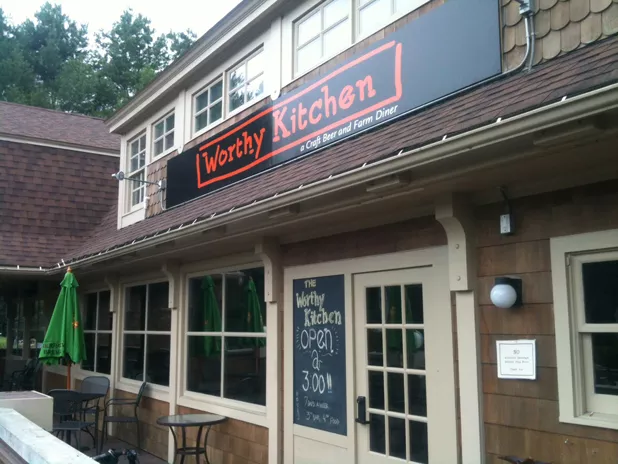 Fresh on the heels of their one-year anniversary, the owners of South Royalton's Worthy Burger had another reason to celebrate last week: Their second venture, Worthy Kitchen, opened in Woodstock.
Jason Merrill, Dave Brodrick and Kurt Lessard have repurposed their beer-and-casual-local-food concept into a cavernous, modern "farm diner" featuring food from their farming friends and a stellar lineup of beer on 20 taps.
The rotating menu appears on wall-to-wall chalkboards divided into sections, such as Chowder (a wood-fired clam chowder for $6.50), Worthy Ploughman (house pâté with sourdough bread, house pickles and Vermont cheese for $8) and the Worthy 'Wich (fire-roasted local pork belly with house relish and braised kale for $7.50).
"We're doing our own house pickle relish, and we'll be curing some meats such as prosciutto," says chef Scott Liberty, who comes to Worthy Kitchen from Blood's Catering & Party Rentals. Each week, Liberty and the rest of the line will break down and serve up the cuts from a "featured animal" — a pig from Cajun Moon Farm will be followed by lamb from Tamarack Hollow Farm.
Other opening specials include crispy, skin-on haddock with smoked onion and tomato ragù; a flat-iron steak frites; and buttermilk-fried chicken with blistered beans. Creamed corn-on-the-cob — a creation of Merrill's — is sweet corn slathered with a spice-and-cilantro-spiked mayo. Snacks include Fable Farm squash blossoms stuffed with ricotta and doughnuts cooked in lard.
As at Worthy Burger, customers order their food and drinks from the counter, which has six more taps than its sister restaurant. "While there will be some overlap," Merrill says, the two restaurants' taps will never have the exact same offerings. This is probably the first time Woodstock has seen beers from Zero Gravity Craft Brewery, Foley Brothers, Lost Nation, Allagash, Trapp Lager and Founders in the same place.
Worthy Kitchen (442 Woodstock Road, 457-7281) opens seven nights a week for drinks at 3 p.m. and serves dinner from 4 to 10 p.m.
The original print version of this article was headlined "From Burgers to Béarnaise."