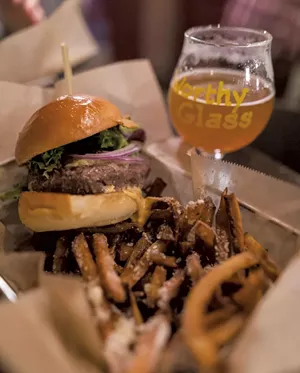 Courtesy Of Worthy Burger
Worthy Burger
Soon fans of Worthy Burger who live in central and northern Vermont won't have to travel as far to get their fix. The burger place that launched in South Royalton six years ago will open a branch in Waitsfield this summer, according to Jason Merrill, who co-owns the new Worthy with his business partner, Kurt Lessard.
Worthy Burger 2 will open at 114 Mad River Green, in a strip mall off Vermont Route 100, in late July or early August, Merrill said. The menu will be almost identical to the one in South Royalton, with additional offerings from the menu of Worthy Kitchen, its sister restaurant in Woodstock. Worthy is known for its burgers grilled over Vermont hardwoods and served with lettuce, red onion and Shelburne Farms cheddar cheese. The Waitsfield menu will include a fried chicken sandwich and more salad options, Merrill said.
"We've always been looking [for a location] in the Mad River Valley," he added. "It's one of my favorite places." Merrill grew up in Essex and spent family time in the Valley skiing, fishing, picnicking and camping.
Worthy Burger 2 will have a full bar and eight to 10 taplines featuring local beers. In the former site of the Home Plate and Phantom, the restaurant will seat 90 people indoors, with room for another 20 outside.
Merrill said Worthy Burger 2 will be open mainly for dinner, possibly seven days a week, with some lunch hours. "We're very excited," he said. "We're looking to establish great relationships with the local farmers in the Valley. There are some wonderful, wonderful farms there."