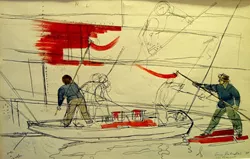 EXHIBIT: Lewis Rubenstein: Watercolors and other media. Shelburne Art Center. Through May 26.
ARTWORK:"Untitled Sketch" by Lewis Rubenstein
A 1994 book about the life and work of Lewis Rubenstein (1908-2003) describes him as a "Hudson Valley painter." But the scope of his vision was much broader, as evidenced in a strong collection of his watercolors, Asian-inspired brush paintings, sketches and a "time painting" at the Shelburne Art Center through May 26. Rubenstein's Hudson Valley connection dates from 1939, when he joined the faculty of Vassar College, but his career was a long and fruitful one and included extensive travels in Asia, Europe and Latin America.
After graduating from Harvard in 1930, Rubenstein studied mural painting in Italy and with Ferdinand Léger in Paris at the Académie Moderne. After returning to America, he worked on several projects with the WPA's fine-arts section. In the Shelburne exhibition, a series of 16 spontaneous, untitled sketches of workers dating from 1937-38 reflect Rubenstein's mastery of the social-realist aesthetic prominent during that era. They also demonstrate how he refined conventional ideas to make them his own.
A particularly interesting piece is a pencil study with watercolor that captures ship workers painting the side of a large vessel red. In the intimacy of the moment, Rubenstein began by skillfully searching for form through gesture drawing, then defined the action with a confident, judicious use of color.
That sort of deliberate risk-taking with the brush would achieve stronger focus more than a decade later, in the early 1950s, when Rubenstein studied sumi-e brush painting as a Fulbright scholar in Japan. He fully synthesized the medium, adapting it to his own needs without mimicking Asian idioms - a trap into which so many contemporary American brush painters fall.
Rubenstein's 18-by-23-inch watercolor "Machu Picchu" is a beautiful example of his originality and power. In the clearly sumi-e-inspired image, the hulking Andean peak's left edge seems to dissolve, while a bold, dark stroke meanders upward along the right side of the mountain. It was almost certainly produced on site in Peru. "Dunes Storm," from 1956, may be a Provincetown piece. It's an abstract cloud of lights and darks, pushing sumi-e technique toward the edge of Abstract Expressionism.
"Lone Tree Hill III" is a more conventional watercolor. In the 7-by-21-inch Lake Champlain vista, Rubenstein lays down brilliant local color in patches of crimson, earth tones and Prussian blue. Gaps of white paper remain between the colored areas, affording each stroke a unique presence in the picture plane. Rubenstein also divided the horizontal composition into thirds with subtle vertical axes, employing the proportions of the Golden Section in an almost offhanded way.
While watercolors dominate this exhibition, samples of the artist's work in other media appear. "Praise Him with Dance," dating from 1955, is a 14-by-19-inch lithograph based on a mural Rubenstein painted for the Delaware Avenue Jewish Center of Buffalo, New York - his birthplace.
The only oil in the exhibition is the 1952 "Mexican Gleaners," a 24-by-34-inch canvas rooted in the tradition of Jean François Millet's "The Gleaners" of 1857. With a brighter palette, Rubenstein depicts a mother with two children, one of whom is a toddler slung on her bent back.
"Time Paintings" is Rubenstein's designation for a somewhat eccentric style of paintings on scrolls with which he experimented beginning in the 1940s. Appearing in this exhibition is a 12-inch-wide scroll with about 2 feet showing, housed in a boxy apparatus that enabled viewers to crank a continuous narrative. The Shelburne piece is the story of Isaac rendered as a stain painting on linen, perhaps 20 feet long. Rubenstein's scroll is reminiscent both of Asian horizontal scrolls and, considering his subject, of a Torah.
In the 1994 book Lewis Rubenstein, A Hudson Valley Painter, the artist is quoted as saying, "Water-based media are essentially performances in time. And with one cake of fine Chinese ink, one can really hold the world in one's hand."
The worlds Rubenstein "held" with such insight continue to resonate from his time into ours.