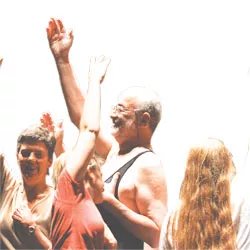 Four women sit on the floor of a high school gym in Lebanon, N.H., their legs straight out before them, and attempt to converse using only their knees. It's tricky at first; the women are timid and, rather than respond to one another, they simply mimic. Instead of a conversation, they end up with the hesitant folding and unfolding of eight legs at once.
It wasn't their idea, but they're game. After all, the women did sign up for this movement workshop led by members of Pilobolus, the world-renowned troupe spawned by a dance class held 40 years ago just up the road at Dartmouth College. To celebrate Pilobolus' beginnings, the Hopkins Center for the Arts has been sponsoring community workshops with the group this summer. The 18 amateur dancers are a few days into the two-week workshop, which culminates with a free performance for the community this weekend.
Every day so far has been different, says instructor Matt Kent, but today the group is focused on decision making. In improvisational dance, there can sometimes be too many options, so the instructors' duty is to set some boundaries. Hence, the knees.
During a warm-up, Renee Jaworski, the other instructor, prompts the dancers as they move freely around the gym. "Is the surface of the world you're in flat?" she asks. "Are you in liquid? When you step, are you stepping through mud? Is there resistance?"
The dancers respond. Two women inch toward an embrace, straddling the same unstable ground. A young man and woman guide an older woman up off the floor, as if she were a puppet and they were holding the strings.
The goal here, explain Kent and Jaworski, is to be specific, to clarify the texture of what each dancer is doing. Pilobolus doesn't perform improvisational dance, but the dancers use it as research to develop their work. In about six hours of rehearsal a day, Kent says, they typically find only a handful of movements, or moments, to keep. So they continue moving, always aiming to push through doorways to new ideas.
"You've got to have a short fuse," Kent says of the creative process.
Jaworski adds, "It's better to make the wrong decision than no decision at all."
About an hour into the workshop, the amateur dancers begin to pick up steam and make bolder movement choices. They have split into groups and are developing short pieces they'll perform at the end of class. One brave pair is attempting a duet: Jane McCarthy, a 65-year-old self-declared "klutz," and David Kadoch, an architect hoping to reconnect with himself through dance.
When they perform the piece, without music, the gym goes silent. The pair stand back to back, slowly and awkwardly turning from one side — to look at each other nervously — to the other, again and again. A couple of times, Kadoch whispers something to McCarthy before he clumsily takes her hand, and they turn completely to face each other. They stay like that for a moment, then gradually drop to their knees, and the piece is over.
Now's the time for audience feedback. Kent comments on the powerful connection the two made with the hand-holding and whispering. Turns out they weren't exactly planned. McCarthy explains, a bit bashfully, "He wasn't supposed to grab my hand." And the sweet nothings? Kadoch was just reminding her what to do next.
Kent has them try it again, this time intending to make those connections. And it works. Maybe a bit too well. When they turn and face each other, they linger and stare, sending a flutter through the hushed audience.
"Whoa," Kent says, on his feet. "It's engaging in its awkwardness, in its intimacy. It's telling me a story. I could put this on stage right now."
Regardless of whether these dancers are ready for the big time, creative sparks are definitely flying in the high school gym. Which is exactly what Pilobolus is after.
"We want to give participants a window into the way we make work — which seems unique," Kent says. "To get people to learn to play, talk and create something that is meaningful to them."