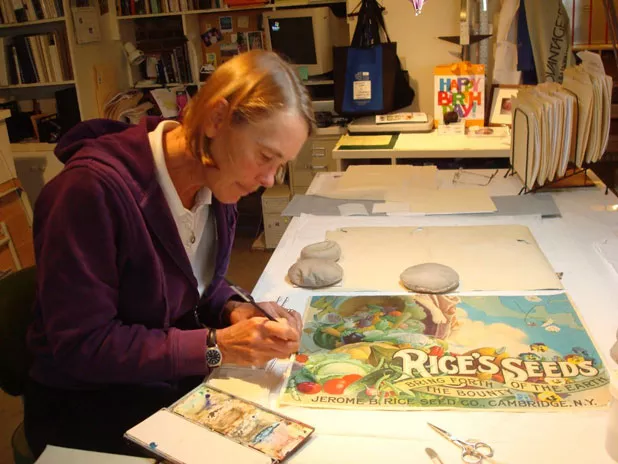 Conservator M.J. Davis at Washi
M.J. Davis was something of a lost soul when she traveled to Siena, Italy, in 1988 as a 38-year-old art student. The daughter of a Morrisville bank president, Davis had attended five colleges and graduated from none. She had married young, given birth to two girls and gotten divorced.
In those circumstances, she says now, "I realized the whole artist-in-a-garret thing just wasn't going to work." A "eureka!" moment resulted, however, from watching conservation teams on scaffolds restoring frescoes and Renaissance buildings in Siena. "Conserving art — I knew I could do that, and I knew I wanted to do that," Davis says.
Davis acquired an undergraduate degree and gained admission, on her second try, to SUNY Buffalo's art-conservation program, one of only three in the United States. She became a specialist in works on paper. A year before receiving her master's, in 1994, Davis "repatriated" herself to Vermont. She married Dan Davis, now a semiretired forest-products consultant, and moved into a transplanted, refurbished and much-expanded barn on a 100-plus-acre site in Newark, Vt. The three-story home has a big view of Burke Mountain. A 1500-square-foot space in the walkout basement serves as the lab and office of Washi, Davis' one-woman conservation business named for a traditional type of Japanese paper.
It's here that she worked for 18 months restoring a dozen posters for the Shelburne Museum's "Circus Day in America" show, which closes on October 24. In the course of soaking and steaming the fragile, tattered sheets, Davis discovered an image of a "two-headed lady" — actually, conjoined African American twins — that a competing circus company had covered with an advertisement featuring a snake charmer.
Shelburne curator Kory Rogers describes that find as "quite extraordinary." He testifies to the expertise Davis has developed in a profession she entered much later in life than did most of her colleagues. Nancie Ravenel, the Shelburne's objects conservator, says Davis has become a much-respected figure in her field. In fact, "she rocks!" Ravenel declares. "She's got amazing hand skills."
Other Vermont art institutions besides the Shelburne regularly commission Davis to restore or help conserve works on paper. But much of her business comes from private collectors via word of mouth or through the website of the American Institute for Conservation of Historic and Artistic Works, Davis notes.
Davis is currently working on a 70-year-old set of federal duck stamp prints owned by a collector in Virginia. Davis has submerged the lithographs and etchings in a tub of well water to loosen dirt and the marks often caused by poor-quality framing materials. A mild bleach will be applied next, and then the prints will be given a second bath.
Davis also does fills and touchups. While the ducks sit contentedly in their water, she's repairing rips and brushing watercolors onto smudged parts of a late-19th-century seed-company poster. It features a smiling, toga-clad woman flouncing beside a cornucopia. The wildly colorful composition, a sort of Americanized Botticelli, is being painstakingly restored to its original splendor.
For heavily damaged or highly delicate pieces, Davis may employ more complicated treatments, such as suctioning with a fritted disc attached to a vacuum pump. As that mechanized device and the various instruments and elixirs in her studio suggest, Davis is as much scientist as artist. Indeed, courses in organic chemistry and physics were prerequisites for admission to the conservation program at SUNY Buffalo. "I liked science, and I was always good at detail work like needlepoint," Davis says.
She does wear a respirator mask when working with certain solutions, even though she chose paper conservation partly because it doesn't involve the "nasty solvents" that painting conservators must use. Mold is Davis' biggest concern. She works on moldy material outside in her yard.
Davis is active with many nonprofit groups, such as the Vermont Museum and Gallery Alliance, through which she has helped local libraries and historical societies care for documents. She's also engaged in a statewide effort to restore stage curtains in town theaters and has recently begun working on a similar project in Maine and New Hampshire.
Through the American Institute for Conservation, Davis is teaching Haitians how to restore artworks buried beneath the rubble left by last January's earthquake. Also under the institute's auspices, she traveled to Mississippi a few weeks after Katrina had swamped town offices along the Gulf Coast. "There was a library half a mile inland with some sculptures that we were able to help," Davis recounts. "Almost everything else had been destroyed. It was all gone."
Back home, she is the catalyst for an emergency-response initiative focused on Vermont cultural institutions. Davis conducts workshops on how to prepare for disasters and gives instruction on salvage techniques for collections. "We haven't had to use any of this yet," she says, "but we're ready to go."