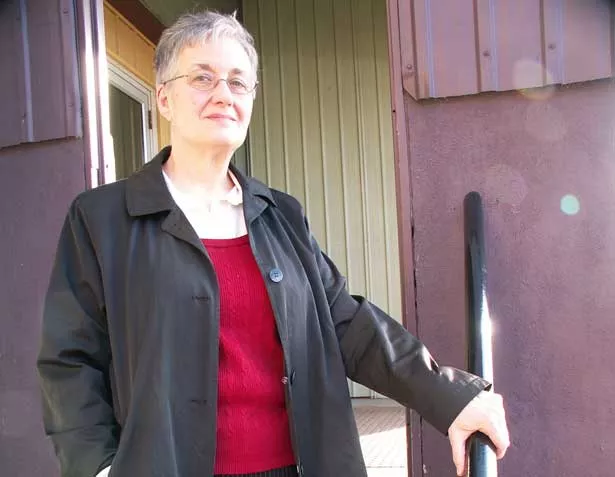 VHWA Coordinator Sherrill Gilbert
MONTPELIER - You may not be getting tortured on the playground during second period, but that doesn't mean you aren't the target of a bully. In fact, some worker advocates estimate that millions of adults across the country - mostly women - are bullied by co-workers on a regular basis. What is worse, they say, is that victims have no legal recourse.
A group known as the Vermont Healthy Workplace Advocates hope to change that and have joined a national campaign to get anti-workplace-bullying legislation passed in Vermont. VHWA Coordinator Sherrill Gilbert, who says she was a victim of workplace bullying for more than a decade, is leading the charge and has convinced two Vermont lawmakers to introduce legislation that defines workplace bullying and allows victims to take legal action. Vermont is the 13th state to consider such a measure.
Gilbert, 60, says she was "harassed," "humiliated" and "blacklisted" while working at Central Vermont Medical Center in Berlin. The abuse started in the early 1990s, steadily becoming more frequent and aggressive until she was eventually fired, she says. "I never, ever want my grandchildren, or anybody else's grandchildren, to go through what I went through . . . It was hell," says Gilbert.
The South Barre resident worked as a secretary in the hospital emergency room when she says she first encountered the alleged abuse. In 1995, after it became more frequent, she decided to begin documenting her encounters. What started out as coworkers denying her office supplies she says turned into bosses screaming at her in front of patients and coworkers. Gilbert alleges her superiors tampered with her time card to reduce her hours and forged hostile emails in her name.
When Gilbert filed grievances against her coworkers, she says they retaliated with their own set of complaints to the hospital's human resources department. When she complained to a boss, "I was told I needed to turn the other cheek," she says. When she needed to have minor surgery at the hospital, she says a nurse refused to assist with the operation. "This kind of abuse has all the earmarks that a rape does," she says.
Eventually Gilbert turned to the federal Department of Labor, which she says investigated her case and found discrepancies in how her hours were being recorded. Some time later, she says the hospital agreed to clean out Gilbert's human resources file - which by that time was chock-full of what she considers unsubstantiated retaliatory complaints against her - and agreed to allow Gilbert to conduct workplace abuse seminars for hospital staffers.
"Most likely it's going to be a personnel matter that I can't discuss," says Sue Kruthers, CVMC vice president of community relations and development, of Gilbert's claims of abuse at the hospital. She says she would have to consult with hospital officials before discussing the situation further. She also would not comment on the proposed legislation until she has reviewed it with hospital officials. "Generally speaking, I certainly don't think bullying is a good thing," says Kruthers.
Gilbert says the impact of the abuse still follows her. She says her human resources file was never really purged and that she had trouble finding an adequate job due to her checkered past at CVMC. Her self-image has suffered, she says. And worst of all, she says, there was no one protecting her. "It made me realize how vulnerable you are. It made me realize that the rights that we think we have can be taken away," she says.
At Gilbert's urging, Rep. Leo Valliere (R-Barre) and Sen. Ann Cummings (D-Montpelier) introduced legislation earlier this year to protect against workplace bullying. The bills, both under committee review, establish specific criteria for workplace bullying and a legal framework for civil action against would-be bullies.
Valliere, considered by one lawmaker as the point man for the anti-bullying legislation, says he has attended several meetings with Gilbert and other Vermonters who have been bullied at work. "In the workplace, you see a lot of people who are affected by it. One [victim I spoke with] is probably suicidal as I speak right now," says Valliere.
"I have several constituents who have various experiences in workplace bullying. I told them I thought it was a worthwhile discussion, so I put the bill in," says Cummings.
While Valliere says no opponents for the bill have come forth in Vermont, he did note opposition from employers, workers' unions and chamber of commerce members in other states that have considered it. A main concern is that the legislation would open the door to a flood of lawsuits. Workers' unions have also struggled with the law for its potential to pit fellow union members against one another in a court of law.
But Valliere says, "This is not just another whiner bill," and does not intend it to be anti-employer. He says the legislation is written to ensure that employees must cover the expenses if they want to take their case to court, which should cut down on frivolous lawsuits. He also says abusive work environments end up costing companies money due to poor performance and attendance.
While it is still unclear how much traction the bill will gain in Montpelier, Governor James Douglas did sign into law an anti-bullying-in-school bill in 2004. Says Valliere, "I see this taking a couple years to do."