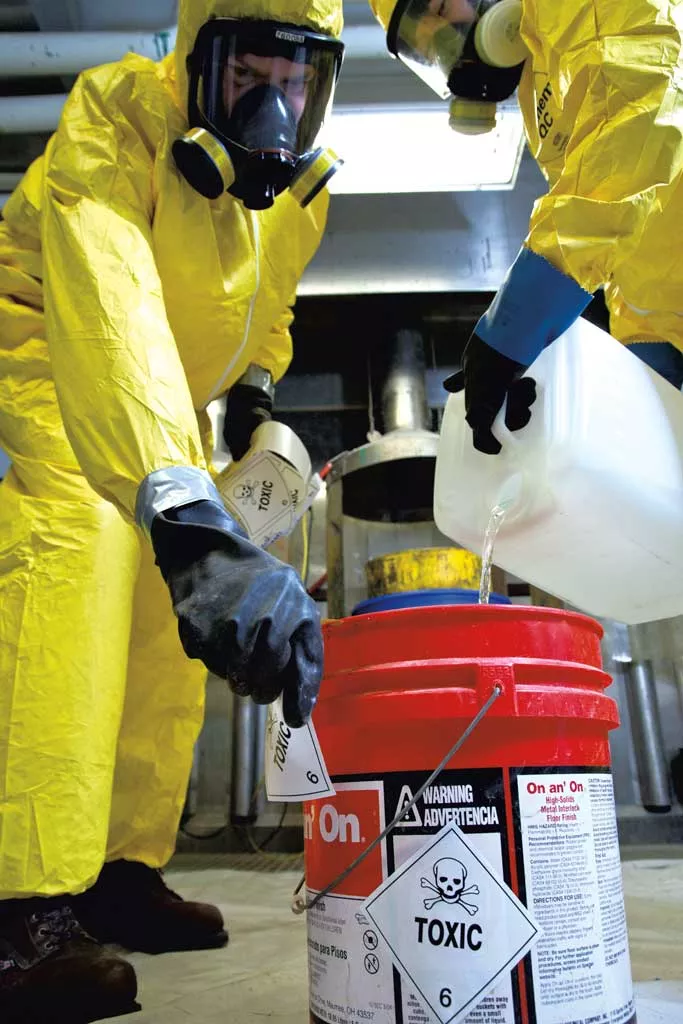 Matthew Thorsen
Brian Hodge and Jeff Rogers
Many windows and a friendly staff give the nondescript facility of University of Vermont Environmental Health and Safety a cheery feeling. You'd never guess the place often contains barrels of nasty toxic ooze. A branch of the Department of Risk Management & Safety, this is headquarters for the university's fire marshal, environmental safety coordinators, occupational safety programs and hazardous waste disposal facilities. It started operations in 1994.
UVM produces some 40,000 pounds of hazardous waste every year: from the chemistry department, medical school and horticulture research center; from the cast-off cellphone batteries of thousands of students; from 15,000 mercury-laden fluorescent light bulbs; from paints and solvents.
At EHS, all of this is categorized, treated and processed according to federal standards established in 1986. One long corridor in the building opens onto nine secure "cells," each of which temporarily holds up to 1100 gallons of a hazardous material. Each has a sprinkler system, dedicated sump and high-volume air exchanger.
Senior hazardous waste technician Brian Medor, technician Brian Hodge and assistant director for health and safety Francis Churchill are among those who ensure that none of the school's toxic material is left untreated. They recently gave Seven Days a tour of the facility.
SEVEN DAYS: What do you do here?
FRANCIS CHURCHILL: [We handle] chemical safety and waste, radioactive materials, and biological materials. What we do here is support university research and academics.
BRIAN HODGE: [Twice a week] we drive out to each building, pick up all the laboratory waste and bring it to a facility on campus — "the Bunker." That's where we segregate and containerize things for shipment over the roads in our vehicle. So when it gets back here, we can unpack it, if it needs to be unpacked, and bulk it into large containers.
Another thing we do is offer "virgin product" to the labs — the most common solvents they use. We can stockpile them here in large quantities, and they buy it from us at cost.
SD: What's a typical workweek like?
BRIAN MEDOR: On Tuesdays, we bulk the materials. Brian [Hodge] and I will pick a waste stream — for instance, corrosives or flammables — and we set up a closed-top drum at a "pour station." We've got our Tyvek on, and our full facial respirators with the cartridges. One person sets up the containers, and the other person pours them into the drum.
FC: We are limited on certain things that we're not allowed to pour, due to an air-pollution permit. We have a very low limit of, for instance, benzene [and] methylene chloride.
BM: You have to watch out for chemical reactions, but you have to watch for cost-effectiveness, too.
FC: So that lab-packed drum of flammable liquids might have 18 or 20 gallons of actual liquid in it, but it's all in bottles and packing material. If we shipped it off just like that, it would cost about $550 to $600 to dispose of that 20 gallons of material. When we consolidate all that, we get 50 full gallons in a drum, and it only costs about $250 to dispose of that drum.
SD: In addition to hazmat suits, what are some safeguards in the facility?
FC: There's enough air coming into [each of the cells] so that the volume of air of the room will change over about 10 times in an hour.
BM: The building itself acts as its own container. We're in a big, clay-lined bowl. Material cannot get outside of the property.
Matthew Thorsen
Francis Churchill
SD: How do you get campus facilities to comply with your regulations?
BM: There's a waste tag that technicians in the labs have to fill out. It goes on every container, and it tells us the amount of it, the number of containers of it, and what it is, exactly. It's also all web based, so we know when to go to which lab. Twice a week, we print out a report that tells us the building, the room number, the person who filled out the report, the size of the container and the chemical. Then we go around, pick everything up and bring it back to the Bunker.
The culture has changed in the laboratories. The technicians know that, especially when you're in charge of other people and of chemicals, you have to watch your back and their back. People also know that this is the only planet we have.
SD: Where does all of this stuff go once it leaves the facility?
BM: About 20 to 25 percent of our material can actually be recycled, much of it in facilities called fuel blenders. Most of our lab-pack material goes to an incinerator in eastern Ohio. We are sending a little of our material to facilities in Canada, too. They'll precipitate any metals out of the solutions, neutralize it and then wastewater-treat it.
FC: For things that can't be treated or incinerated — mostly heavy metals — there's a place in Canada where they do landfill stabilization and turn it into cement and put it in a lined chemical landfill.
SD: What are some of the more unusual materials you've handled?
BM: There's an experiment on campus where they make this material called Tollens' reagent.
FC: That's how you get the silver on the back of a mirror.
BM: Once you make this stuff, it has to be used within about two hours. If you don't, what happens is that the silver nitride and silver azide precipitate out of the solution, and those are shock-sensitive, highly explosive crystals.
FC: What we worried about was the frictional charge of opening the cap.
BM: [The technician] called us to pick it up and take it away. [Proper disposal] would have cost the university, oh, five or 10 bucks. But because this was left alone on its own, and the nitrides started to salt out ... nobody was willing to open it up, because of the risk of explosion.
So almost a year goes by, and we realized we'd have to hire a "high-haz team" to take care of it. Luckily, I was able to find a company in Massachusetts ... [and they used] a remote, pneumatic thing. But that turned into a $5200 expense to get rid of two little one-liter containers.
— Work is a monthly interview feature showcasing a Vermonter with an interesting occupation. Suggest a job you would like to know more about: news@sevendaysvt.com.