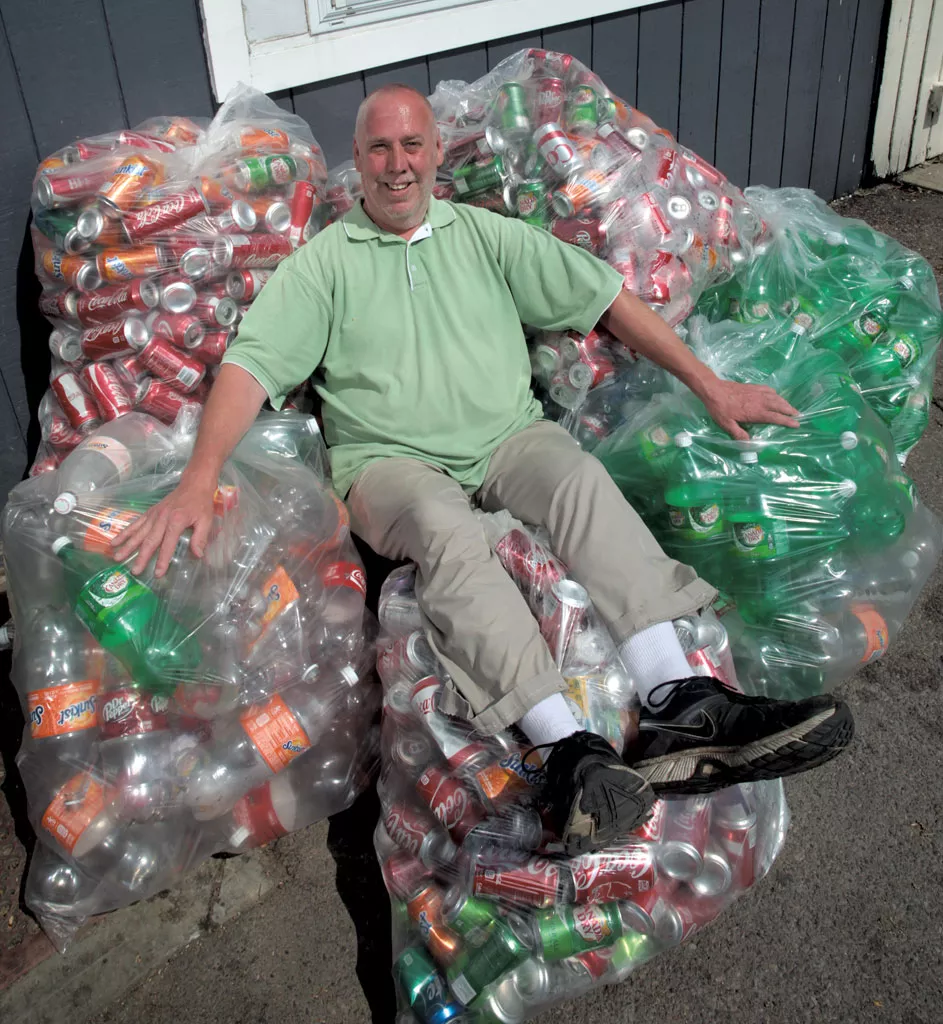 Name: Richard Bradley Town: Winooski Job: Redemption center manager, Sammy's Quick Stop
Richard Bradley, 52, has worked a lot of jobs in his life. He's spent time at Burger King and most of the fast-food joints in the Burlington area. He made a living for several years as an overnight janitor at the University of Vermont. But his all-time favorite job, Bradley says, is the one he landed three years ago. He mans the redemption center at Sammy's Quick Stop in Winooski.
Customers drive or walk to the center — a tiny hut in the convenience store's back parking lot — and drop off piles of unsorted glass bottles or cans that qualify, under the Vermont bottle bill, for a five-cent refund. Bradley's job is to sort hundreds of bottles and cans each day into one of several bins. Each bin is designated for a different beer or soft drink distributor, which will take back only its own bottles and cans. Bradley then tallies up the count for his customers and gives them slips indicating the amount they can redeem inside the store.
But his job involves more than that simple exchange, Bradley told Seven Days on a recent visit.
SEVEN DAYS: What is your favorite part of this job?
RICHARD BRADLEY: I get to be outside — I enjoy the weather. And I get some alone time. This is quite the place. It is my second home. Especially in the summers — oh, boy, it's really great. I'm an outdoors person. I observe and look around. I like to see what's going on in the world.
SD: Most people probably imagine that those who redeem bottles and cans are low income or otherwise struggling. Is that true?
RB: There are some middle-class people that come down there. Bob, he runs his own shop. He's always bringing me his cans. He steps on them — you're not supposed to do that. I see poor people, middle-class people, elderly people, young people. [It] don't bother me. I've been through a lot. [I] don't look down on somebody, don't look up to somebody. Treat them equally. I don't favor anybody. A lot of them are bringing in a few bottles. I feel bad for them, people who don't have anything. But I will count for them. That's all I can do. Some people have a hard time living. It's rough out there.
SD: Do some customers seem to be having an especially hard time?
RB: We had a homeless guy, Mike, coming around, dropping off a few bottles. I don't remember his last name. Back in January, February, he was coming around, and he didn't have a hat or gloves. I would give him a pair. He was grateful. I feel bad for people like that. A lot of people rely on [deposits] because they don't have much income, or they don't have jobs or somebody they can rely on to help them.
SD: Does that mean you become a sounding board for them when they come by?
RB: I watch and listen, don't say much. Observe what people do. This is my No. 1 job. That's what I was taught. If they're having a bad day, I try to talk to them. A lot of people come down here because I don't cut down nobody at all. I listen to a lot of things. I let it go in one ear and out the other. But I hear it. The drama in people's lives, I try not to get into it myself, because I have my problems. I see a lot of people come through here, and I hear a lot of problems. All I can do is say, "I hope your friend does better, I hope the day gets better for you..." I'm not a counselor, I'm not a doctor.
SD: How many bottles and cans do you sort on an average day? How much does the average person bring per trip?
RB: Yesterday it was 1,500 bottles. Some days you will have bags of bottles [stacked] three feet high. Some people bring in three to eight bottles. Some bring in 50. This morning, some guy brought in 97.
SD: Do you know how many bottles you sorted on your busiest day?
RB: It was from a golf course. They brought their bottles in here. It was something over 2,500. That was the most I've counted in my life. Took me four days to clean up.
SD: You have an interesting perspective on what people are drinking these days. Have there been any trends in what's popular?
RB: You know what the most popular beer is now? Heady Topper. This here. [Points to a bag full of green bottles.] I see a lot of Rolling Rock, too.