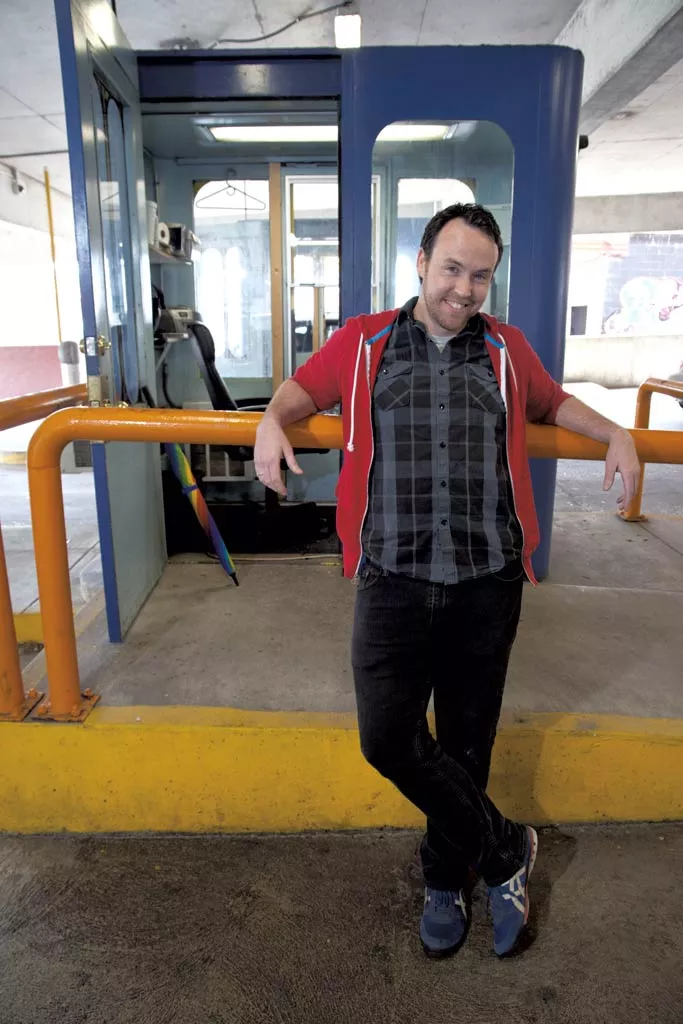 Matthew Thorsen
Chris Farnsworth
If you've driven your car into downtown Burlington any time in the last decade, there's a good chance you've met Chris Farnsworth. His even-tempered friendliness enlivens the otherwise unexciting Marketplace parking garage, where he's been an attendant since 2004.
Like some 20 other parking attendants employed by the City of Burlington, Farnsworth, 37, works shifts as needed at any of the nine downtown ramps. But the 445-space facility on Bank and Cherry streets and South Winooski Avenue is his home base.
Farnsworth's "office" — a wee booth with just enough room for a chair, a cash-register-and-ticket-scanning rig, a shelf and a coat hook — is cozy, though it would likely petrify a claustrophobic. Comic books, CDs and a writer's notebook offer diversion, and Farnsworth has an easy rapport with his coworker in the next booth. He considers it a steady, comfortable position with good benefits that allows him time to read and write.
Between customers last Friday morning, Farnsworth talked with Seven Days about a job that's more interesting than it appears.
SEVEN DAYS: Some people might consider your job boring. Is it?
CHRIS FARNSWORTH: Sometimes, but not really. It kind of depends on the ebb and flow of cars, and on what day of the week it is. As long as you have something to do while you're in here, you're fine.
I write a lot. I'm working on a comic book — about a guy who's trying to figure out who stole his girlfriend's soul — and I've done the first five issues. I did fall into the trap of social-media apps. A friend made me download Vine, an app that makes you sad about the human race.
As far as I'm concerned, this [ramp] is the best [in the city]. I see a lot of different people ... Cavalcades of weirdos make for interesting days.
SD: Is there anything you don't like about this job?
CF: It's cold, but that's just Burlington being Burlington. ... [I]t never really gets me down too much.
[The ramp is] next to Handy's [Service Center], so I hear them working on cars all day. That's not great, but it ends up being something I just white out. I don't even think about the exhaust fumes anymore. In this garage, there's a constant breeze.
Being still for a long period of time, though, I don't love that. But, hey, maybe if I was delivering ice in the '20s ... I'd be wishing I could sit still for three hours.
SD: Once, when I was out of cash, I paid my fee at a parking ramp with some postage stamps. You ever get anything like that?
CF: There have definitely been some attempts at bartering. I think my first week on the job I had a kid try to give me a handful of weed as payment. I was like, "Dig for quarters, buddy!" I had one dude reach into his jacket and offer me a hit off his flask. I thought, I'm so glad you're driving. That's just great.
There was one instance in which a customer implied she'd pay me with sexual favors. I thought, This could be this amazing Sixteen Candles kind of thing that's actually happening to me, but in fact it was the most socially uncomfortable experience ... She said she didn't have any cash, so I asked her if she could leave anything as collateral while she found an ATM. She started insinuating that we could go "hang out" later, and ... all I could think about was filling out human resource forms.
SD: What are some other unusual things you've seen here?
CF: Just last week a guy drove into a brick wall at 30 miles an hour at 2 a.m. I guess he was drunk. Still, I don't know why people do these things in garages. There are obviously cameras everywhere.
There've been three suicide attempts since I've been working. But people don't succeed ... It's like jumping off the top of your house. I like to think people don't do it anymore because word got out that it was not a good place for suicide.
SD: Have you noticed any correlation between customer friendliness and the cars they drive?
CF: I find that the people who seem to be a lot more concerned over a dollar are, oddly enough, driving [Mercedes-] Benzes. But maybe that's how they got the Benz.
Actually, it's the plates on the cars they drive [that are more telling]. People from Massachusetts and New York want brevity from you; they want their parking thing to be done. Vermonters like to have a word, which is 90 percent good. The other 10 percent, you're like, "Dude, please, there are eight cars behind you. Go!"
SD: How do newcomers respond to the two-hours-of-free-parking policy?
CF: People sometimes don't trust what you say. When I tell them they don't owe any money, they look at me like I'm about to pitch them a time-share or something. "No," I tell them, "it's how the city works." They're like, "Bullshit." "No, I'm serious. Come on, get out."
If you look at the crappiest millionaires in the last couple decades, they're parking barons who made their money by, for instance, charging people 100 dollars a day to park near Fenway Park.
So I appreciate the benefits of civic parking ... The norm is to have people charging a shitload of money.
Work is a monthly interview feature showcasing a Vermonter with an interesting occupation. Suggest a job you would like to know more about: news@sevendaysvt.com.