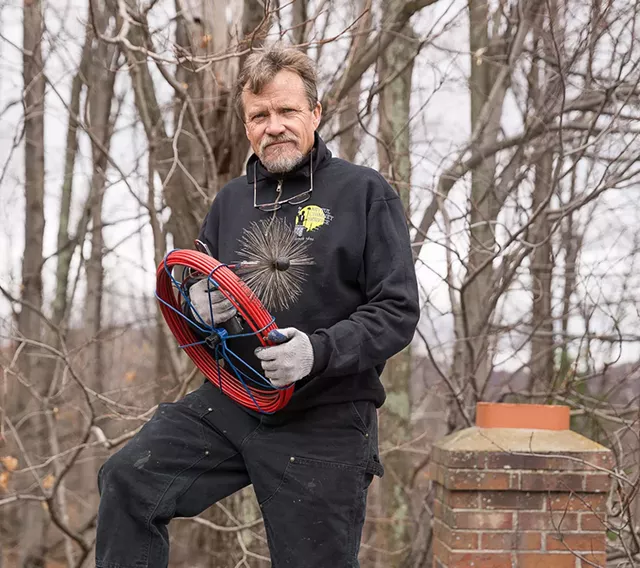 Oliver Parini
David Kehoe
Name: David Kehoe
Town: Burlington
Job: Artful Chimney Services
David Kehoe peers through a plate-size hole in the basement of a Winooski house and shakes his head. Using an angled mirror mounted on a telescoping rod, he peers up the brick chimney and immediately spots crumbling insulation tiles. The chimney, built in the 1940s, wasn't designed for venting natural gas — the owner recently converted from oil — so it needs a stainless-steel liner to be code compliant.
"Gas is 90 percent water," Kehoe explains. "If that's not fixed, the water will get into those cracks, and it'll just start flaking off and cause a carbon monoxide [leak]."
Kehoe, 60, is the owner of Artful Chimney Services in Burlington, where he's worked as a licensed chimney sweep since 1980. On this particular morning, he may have saved a client's life — and it wouldn't be the first time.
Several years ago, Kehoe visited the home of a 75-year-old woman to clean her stovepipe. When she answered the door — with a huge gash across her forehead — Kehoe smelled fumes inside. He soon discovered that a section of furnace pipe had pulled loose, filling the house with carbon monoxide and causing the woman briefly to lose consciousness and fall over.
"If I hadn't gotten there that day," he remembers, "she would have died."
The Burlington native actually got his start transporting fuel before it burned — piloting tugboats and barges ferrying fuel oil on the Hudson River, Erie Canal and Lake Champlain. When the oil embargo of the 1970s hit, the family tugboat business foundered, and Kehoe looked for new work.
Perusing a copy of Mother Earth News, he read about a now-defunct business in Stowe called Black Magic that trained chimney sweeps. An avid outdoorsman who loves to ski — he's a member of the National Ski Patrol — Kehoe saw an opportunity to return to Vermont.
These days, he has exclusive contracts to do chimney inspections, servicing and cleanings for Vermont Gas, Middlebury College and the University of Vermont. The tallest chimney he's ever done is in Twilight Hall, an 1867 brick building on the Middlebury campus.
A chimney cleaning generally takes 45 minutes to an hour, with the particular chimney dictating the size of the brushes Kehoe uses. He climbs onto the roof, drops a weighted line or rod down the pipe, then scrubs the chimney manually to remove any creosote buildup.
"It's been an inflation-proof business. That's why I do it," he says. "No one else wants to. It's dirty, hard work."
Not surprisingly, this is Kehoe's busiest season. As he often reminds friends, "Don't call me when the months end with an R."
By January, Kehoe's schedule will ease to a mere five-day work week. He'll still shovel snow off roofs and even climb across ice-covered ones, using a ladder specifically designed for the task. "I call it my stairway to heaven," he jokes.
For years, Kehoe and an employee routinely showed up at jobs wearing traditional chimney-sweep garb: tails and a top hat. Most customers were amused — except one.
One day Kehoe and his employee arrived at an elderly couple's house to find the husband asleep on the couch.
"We walked by him a few times, until finally he woke up, saw us, freaked out and pissed his pants," Kehoe recalls. "He thought we were undertakers!"
SEVEN DAYS: What's the hardest part of your work?
DAVID KEHOE: Scheduling. People want you there immediately. They realize they have Friday off and want to know if I can come Friday. Oh, I'd love to come Friday, but I have 78 people who called before you.
SD: What's the best part?
DK: I get to see a lot of good people — and homes worth millions of dollars. The job itself isn't bad. I have some really nice customers.
SD: Ever fallen off a roof?
DK: Only once, because I had someone else holding my ladder. As I was slipping, I saw him in the distance trying to light a cigarette. It was a windy day, so he let go of the ladder for a freaking Marlboro! That was 30 years ago. I fell 30 feet onto solid ice and shattered my calcaneus. I spent a couple of years on crutches and in casts.
SD: I assume you fired him?
DK: Oh, yeah. That was his last day. I don't think I ever saw him again. He never even came back for his paycheck.
SD: Ever find anything unusual in people's chimneys?
DK: Mostly animals. Years ago, I found six raccoons — a mother with five babies. So I took all the raccoons, put them in a box and put it up behind the chimney. Two days later the woman calls and says, "I still hear crying." Turns out, the mother left one orphan alone. So I took the baby raccoon down to a local vet and he gave me some formula. I kept the raccoon until he was a year and a half old, then discharged him into the wild. That little guy turned out to be a pretty good raccoon.
SD: Lemme guess. His name was...?
DK: Rocky. He used to ride with me in my truck.
SD: Any interesting legends about chimney sweeps?
DK: In Europe, they say if you shake hands with a chimney sweep, good luck will rub off on you. So when I first got into this, everyone wanted to shake my hand.