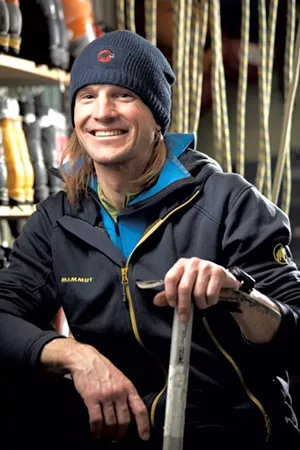 Matthew Thorsen
Kel Rossiter
Name: Kel Rossiter Town:Burlington Job: Rock- and ice-climbing guide, Adventure Spirit
Kel Rossiter proves that a person can make work out of play. He helps people ascend mountains, ice covered or not. He transports clients to Smugglers' Notch, the Adirondacks and the White Mountains and teaches them how to place stable screws and prevent "whippers," aka swings off the rock face.
Even off duty, Rossiter looks the part of a recreational professional. A knit cap covers shoulder-length blond hair. Over his lean frame, he wears double-layered T-shirts and socks inside Birkenstocks.
While he loves the serenity of an isolated, icy rock face away from civilization and highway noise, Rossiter says he likes to return to the culture and bustle of the city when he leaves the job. In 2009, he and his wife, Alysse Anton, moved to Burlington's Old North End and bought a house that they share with their dog, Moka, and a housemate.
The house supplied him with an essential element of his business: a large storage closet off the bedroom that Rossiter has turned into a "gear room." It's neatly packed with climbing boots in every size on one wall, loops of heavy rope on another, rows of ice tools hanging high and shelves of mountaineering books.
Rossiter, 41, is a doctor of outdoor activity, with a PhD in educational leadership and policy studies from the University of Vermont. He's philosophical about climbing, but doesn't subscribe to some climbers' conviction that the sport puts them "totally in this Zen moment of being at one with the wall," he says in a Jeff Spicoli-like stoner tone.
"Maybe they are, and that's great. But I think, particularly if you're guiding, you'd better not be just totally at one with the wall," he says. "You'd better be climbing and thinking about, Where's my client? Are they out of the way of icefall? How's their belay technique right now?"
Rossiter sat down with Seven Days to describe the ups and downs of scaling mountainsides for a living.
SEVEN DAYS: Why does someone hire you?
KEL ROSSITER: One of the things with guiding in the Northeast: There's a lot more demand for ice-climbing guiding than there is for rock-climbing guiding.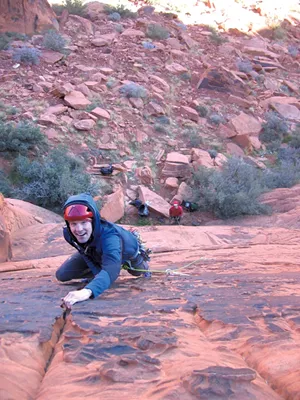 Courtesy Of Lindsay Fixmer
Climbing in Eldorado Canyon, Colorado
Ice climbing has a lot of entry barriers in terms of the cost of equipment, as opposed to rock climbing. If you have a friend who rock climbs — I'm not saying this is always the best way to do it — but if you have a helmet and a harness and shoes, you can go. As part of my guide package, I supply equipment. And the equipment you need to ice climb can easily be $1,000.
People are more aware that in ice climbing there are many dangerous things going on in terms of ice falling, sharp points on your feet and into your hands. For ice climbing, you put screws into the ice. Rock is rock. Ice breaks easier. You don't know if your screw's going to hold. And you're falling with a lot of sharp points. If those points hit the ice on your way down — you can imagine if you have a point on your toe and it hits, you can snap an ankle pretty quickly.
SD: What do you teach the first day?
KR: The first day would mostly likely be a top-roping day. The focus would be on movement skills and technique. With an ice tool, you're really not hammering, you're doing a whip-like motion. So we talk about swing technique, a kick technique. We talk about body positioning, in terms of heels low. We're talking about how to transition between planting the tools and bringing the feet up.
SD: What do you say to people who are scared to do this?
KR: You should try climbing. I often say to people, and I truly do believe this, "If you don't have a fear of heights, then I would be afraid to climb with you." A fear of heights is a healthy thing. I have a fear of heights, too. That's why I climb with a rope.
SD: What's the downside of this job?
KR: You earn a living with your body, and if your body's broken, there goes your income. As opposed to, say, a software engineer or even, in my former life as a faculty member, I did once break my arm climbing, but I could still continue my work and I could still earn an income.
SD: What are your best days on the job?
KR: It's a father and a daughter who went out to try rock climbing and seemed to have an enjoyable day together. This was their first time outside of a gym, and they saw some of the beautiful Vermont landscape. Or it could be a climber who last year did a little bit of top rope, and I led them up a few multipitch, meaning longer, climbs. Finally we're going to go out, and they're going to lead me up a climb. Maybe I'll critique them on their screw placement, but they get the opportunity to do the leading.
INFO
The original print version of this article was headlined "Ice Man"