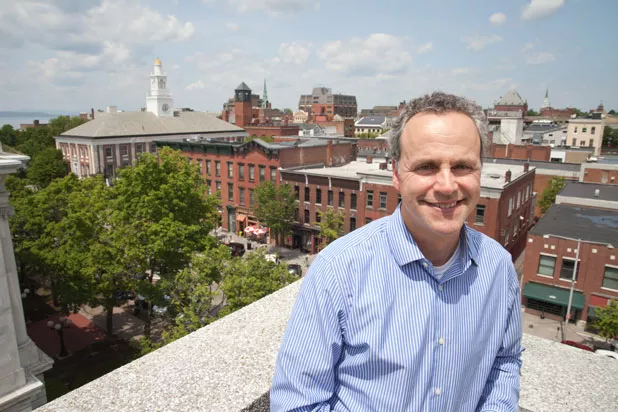 Ben & Jerry's holds a federal trademark on the shape of the fish-shaped fudge pieces in Phish Food ice cream — thanks to Peter B. Kunin. Before it was sold to Unilever, Vermont's Finest relied on Kunin to protect its quirky brand from imitators.
Kunin, 50, is one of Vermont's most seasoned intellectual property lawyers. The 20-year veteran is part of an intellectual property practice group within Burlington firm Downs Rachlin Martin devoted to trademark, copyright and patent claims. In addition to Ben & Jerry's, Kunin has registered trademarks for commando underwear, Black Diamond Equipment outdoor gear, Harpoon Brewery beer and Against the Grain Gourmet gluten-free pizza.
A Burlington native — and son of Madeleine Kunin, Vermont's first female governor — Peter Kunin has made a career out of defending companies from getting ripped off by copycats and, as he puts it, "helping them stay out of trouble."
His first intellectual property client was IBM. In 1993, Big Blue needed a lawyer to negotiate a complex agreement to use another firm's technology for a microprocessor. Kunin negotiated through the night and by morning had a deal — a success that would lead to an 18-month stint doing legal work for IBM.
Today, Kunin represents a range of clients big and small, from alcoholic- beverage giant Diageo — makers of Tanqueray, Guinness and other libations — to Vermont Butter & Cheese Creamery.
Kunin has closely followed the series of Vermont-related trademark disputes in the news lately, chief among them the claims filed by Magic Hat Brewing Company and Vermont Hard Cider Company (maker of Woodchuck). Seven Days caught up with him for a trademark tutorial in his firm's conference room last week.
SEVEN DAYS: What's the difference between trademark infringement and copyright infringement?
PETER B. KUNIN: Trademark is a brand name. It identifies a product or service, whether that be a slogan, a name or a design element, like the Nike swoosh. Copyright protects creative works — novels, movies, music, software, paintings, sculpture, choreography and lots of other types of expressive works.
SD: Magic Hat recently filed a trademark-infringement claim against a Kentucky brewery, claiming it ripped off the #9 logo. Do they have a case?
PK: The test of trademark infringement is likelihood of confusion — whether consumers are going to believe that [West Sixth Brewing's] 6 actually is made by Magic Hat, endorsed by Magic Hat. It's a tough call. One factor Magic Hat has in its favor is their #9 is really well recognized, and that's a very important factor — how famous that brand name is.
SD: Does the fact that it's 6 make a difference? If it was 5 or 3 would Magic Hat's case be weaker?
PK: The fact that 6 is an upside-down 9 is a factor. Some beer drinkers are going to just run into the convenience store and grab the beer. You could imagine a situation where someone sees that and just quickly grabs it, and it's not until they get home that they realize that it's #6 and not #9.
SD: With the recent Woodchuck Cider claim, the business being accused of trademark infringement, Woodchuck Coffee Roasters, is not producing the same product. One is hard cider, the other is coffee beans. Presumably they wouldn't be next to each other on the supermarket shelf. Is that case a different animal from Magic Hat's?
PK: It is. The question you have to ask yourself in this Woodchuck case is, is it likely that a hard-cider company is going to expand into coffee, such that people who see the Woodchuck coffee will say, "Wow, I'll try this because I know Woodchuck cider and I betcha this is from the Woodchuck [Hard] Cider company, so I'll try it?" I think in that case, Woodchuck Cider has a bit of an uphill battle. They might be able to prove it because the images are strikingly similar.
SD: What about Bo Muller-Moore, the Montpelier "Eat More Kale" artist whom fast-food chain Chick-fil-A accused of infringing on its slogan "Eat Mor Chikin"?
PK: From my perspective, Chick-fil-A — they've got no claim at all. Nobody is going to think that a fast-food company is associated with an organic social-movement artist in Vermont. That, to me, is an example of trademark bullying. And I think what's interesting about the case is, Chick-fil-A has never actually sued [Muller-Moore], because they'd lose. [The U.S. Patent and Trademark Office gave Muller-Moore a "preliminary no" ruling this past April.]
SD: Vermont's newly signed patent-troll law — which you testified in support of — is the first of its kind. What's a patent troll?
PK: A patent troll is an entity that uses its patent in an extortionate manner to try to extract a license fee from a company. They send a letter demanding a patent-license fee and in very simple terms laying out the alleged patent infringement with no detail at all. License fees can sometimes be $15,000 or $20,000. Now, that's a lot of money, but it's a lot less than fighting the patent-infringement claim, which can cost hundreds of thousands, if not millions.
SD: So what does the new law do?
PK: It enables a Vermont company to recover its legal fees and damages if it's been threatened or sued in bad faith — in other words, without an adequate legal basis. Under existing federal law, you'd have to defend that to the conclusion and get a successful [ruling]. What this does is, earlier in the process, it gives the Vermont company a chance to counterclaim, or countersue.
SD: Do you hold any patents?
PK: I do not.
SD: If you were going to patent something, what would it be?
PK: My son has always wanted to get a patent on antibacterial soap.
SD: If someone were going to make a TV show about this law firm, which actor would play you?
PK: I'd prefer George Clooney, but I'd get stuck with Billy Crystal.
The original print version of this article was headlined "Property Protector"