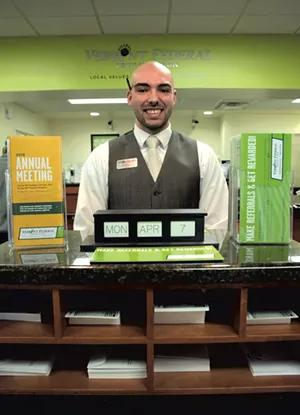 Nick Darrow graduated from Middlebury Union High School and headed to an arts college in Colorado to pursue his dream: becoming an animator. He finished his freshman year with a 4.0 grade point average, but financial problems forced him to drop out before his sophomore year, he says.
So Darrow found himself back home in Vermont, working seven days a week at the Dunkin' Donuts and Shaw's supermarket in Middlebury and trying to figure out how to make his way in the world. One day, a regular Dunkin' Donuts customer mentioned that he worked at the Vermont Federal Credit Union and urged Darrow to apply for a job there.
That was three years ago. Today, at just 23, Darrow has worked his way up from a seasonal employee to head teller at the credit union's South Burlington branch. A chatty extrovert, Darrow says he still dreams of working for Disney and making a career as an animator. He spends his free time buried in his sketchbook and chronicling his meandering journey on his website.
But he's been surprised, Darrow says, at how much he enjoys working in the most visible position in the financial world.
"When life denied me an easier way to dream, I took the hard way head-on," he wrote recently on his blog. "[I] am figuring it out as I go."
Darrow took time out from handling money to tell Seven Days about his job.
SEVEN DAYS: Some people might think that working as a bank teller is a fairly boring gig. Why are you so enthusiastic about your job?
NICK DARROW: I'm a people person. I really love interacting with all the Union members and everyone who comes through all day. I feel needed. I can help members with any issue that comes forward. I'm always trying to remember members by name and face. Every time they come in, you haven't seen them in weeks. It's like seeing an old friend. The toughest thing about being on the teller line [is] the days it's really busy and you can't take the time to really talk to the members like you're an old friend, because that's what makes the job fun.
SD: What has the job taught you?
ND: I've learned how to be very, very patient with people inside and outside work. As you know, money can be stressful. Bounced checks — it happens to everybody. We have members who stress out, and I feel like it's our role as the first people who come into contact [with them] to say, "Everything will be OK; we will figure it out." We have to be the knight in shining armor.
SD: I have to ask, do you have a favorite coin or currency?
ND: I would have to say I really like the new hundred-dollar bills. They are almost high tech. They are very colorful.
SD: Ever since I downloaded my bank's mobile-deposit app, I haven't set foot in my local branch. Do you worry that this job that you love might one day disappear?
ND: We mention the app and mobile checking [to customers], how it can save time. But because we care about them and talk to them about their day, [plenty of people would] rather wait 45 minutes to see us. We tell people we have busy days, and the lines are to the door, and we tell people in line about the app. But they stay. I do close to or over 100 transactions a day.
SD: Has working as a teller made you more financially savvy? Are you more inclined to save and be disciplined with your own money?
ND: I got very lucky. There was a course educating us on investing and saving. It was great. As you can imagine, working on the teller line, you become more disciplined, because you see how undisciplined people can be. It's tough to get the numbers and tell [members] that they are in a bad situation. Everyone is eventually late on a payment, or spending money that they don't have. Little things like that can spiral out of control. We help them look through their transactions and plan for beyond.
SD: Has meeting so many people every day helped you develop your art career? Have you landed any clients?
ND: I'm always doodling. I can't stop. I always have a pad of paper and a pencil. Some will ask me what I'm doing, or what I am doing on the weekends, and I will mention artwork, and they get interested. I've had a couple ask me to do portrait work for them. That is really nice. It makes me feel like I'm really part of the community. My goal is to have art be my full-time career. But, right now, I have to pay the bills.
I haven't drawn anything involving my experiences at the credit union, but I've got to. I would love to do caricatures.