These days, I usually find new recipes online and cook them with an iPad perched on the kitchen counter. With the interwebs saturated with recipes, food blogs, rating sites and travel guides, it's easy to find a recipe or review for almost anything — and to forget that food knowledge is still flourishing in another medium: books.
Why spend money on the "hard copy" foodie equivalent of porn when you can find so much of it online? For one thing, a cookbook is much more fun to thumb through than a blue-and-white list of Google results. For another, a restaurant or farm guide stashed in your glove compartment is more useful than a cellphone when you find yourself with a one-bar signal — a commonplace occurrence in Vermont.
Most importantly, it feels good to pay for the work of writers who test recipes 20 or more times, or dine out five nights in a row, so that you don't have to. (The job can be less glamorous than it sounds; just ask a food writer about her cholesterol level.)
This past year brought a handful of food and ag books from Vermont authors that are engaging but decidedly cerebral, including Kirk Kardashian's Milk Money: Cash, Cows, and the Death of the American Dairy Farm and Paul S. Kindstedt's Cheese and Culture: A History of Cheese and Its Place in Western Civilization. Thought-provoking fare that we've already reviewed and discussed in these pages, but not books to browse casually.
But we also received lighter offerings, fun books that might serve as last-minute gifts or useful guides to stash in your car. Two are from Vermont authors, and one is simply focused, in part, on Vermont. Each is an ideal stocking stuffer for…
The dedicated locavore
As I walked down Newport's Main Street one evening last summer, a woman outside Woodknot Bookshop handed me an elegant-looking book. Turned out it was her book; she was author Bethany Dunbar, a longtime writer for (and now coeditor of) the Barton Chronicle. Dunbar calls her slim, animated book, Kingdom's Bounty: A Sustainable, Eclectic, Edible Guide to Vermont's Northeast Kingdom, "an extension of my work I have been doing for 25 years, telling these local stories." It's dense with colorful profiles of the places and people that compose the Kingdom's food scene.
In a string of two-page essays with fantastic photos taken by the author, Dunbar shares the backstories of the farmers, restaurants and innkeepers she calls neighbors, writing in an approachable style that makes readers feel as if they've stumbled into a tight-knit family. While Dunbar mentions big names, such as the Cellars at Jasper Hill, Claire's Restaurant & Bar, Hill Farmstead Brewery and Pete's Greens, it's her portraits of tinier places that give this book its charm: Many Vermonters may not have heard of Too Little Farm in Barnet or Bien Fait Specialty Cakes in Greensboro, for instance. Nestled among these profiles are useful guides to local farmers markets and seasonal events such as the Pond Skimming Celebration each spring in East Burke and Newport's Gingerbread House Festival in December.
Dunbar veers from straight-up journalism to "essay voice" and back, sometimes mining her store of personal stories to illustrate the Kingdom's folksiness. Her Aunt Maude comes up in relation to Quimby Country resort, and Dunbar describes her alarm at hearing peepers two weeks early and her appreciation of the "incomparable scent" of boiling sap as segues to Taylor Farm and the art of sugaring. (She also offers valuable, in-the-know tips, such as noting that Taylor's Automotive in Barton offers both repairs and a taste of the farm's famous syrup.)
Like any food guide, Kingdom's Bounty isn't always up to the moment; for instance, Dunbar profiles Ploughgate Creamery, the Albany cheese-making facility recently destroyed by fire, and owner Marisa Mauro. "She still holds onto her dream to become a farmer, but for now, the cheese business occupies all of her time," Dunbar writes. Tiny print, added just before the book went to press, notes the fire.
Now, more than a year later, Mauro is poised to become the farmer and butter maker at Bragg Farm in Fayston. Such is the constantly shifting world of food and agriculture. But Dunbar's solid book captures the personalities that are likely to be on our stage for years to come, and the farms that will be around even longer.
The road tripper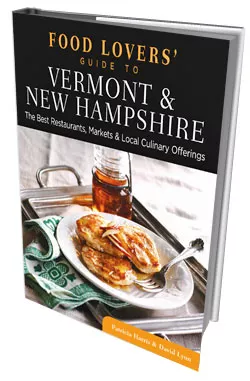 Similar in spirit but more blurb-style in execution is Food Lovers' Guide to Vermont & New Hampshire: The Best Restaurants, Markets & Local Culinary Offerings, a squat, square book that ambitiously aims to highlight every significant food experience inside the two states' borders.
Authors Patricia Harris and David Lyon, aka the Hungry Travelers (the name of their longstanding blog), live in Cambridge, Mass., but they often traverse New England in search of calorie-laden adventures.
And those travels really fan out, it seems. The book clocks in at 420 pages, 169 of them devoted solely to Vermont. Harris and Lyon found their way into some of the state's most rural corners, from Cambridge's Burger Barn to Swanton's Hudak Farm. Along the way, they discovered that the Belted Cow Bistro's John Delpha does barbecue once a week; that the creemees at Montpelier's Morse Farm are "intense"; and that the Marquette at Lincoln Peak Vineyard is a "nice, fleshy wine with black currant and cherry notes."
It's always interesting to see how out-of-staters view Vermont, and to decide if you agree on points such as whether Church & Main's dishes tend to "contrast two strong flavors or two textures or both." I learned a few things, too. For instance, that regulars of South Hero's Blue Paddle Bistro demanded the restaurant return its gorgonzola-stuffed meatloaf to the menu. That chef Doug Mack (of Mary's Restaurant at the Inn at Baldwin Creek in Bristol) has been serving his cream of garlic soup every night since 1983. And that you can get frogs' legs at East Dorset's Chantecleer Restaurant.
Major props to Harris and Lyon if they truly ate everything mentioned here; that's a lot of calories.
The aspiring baker
Our office seems to have an ongoing long-distance love affair with Gesine Bullock-Prado, though she probably doesn't realize it. I've used her as a source on at least one occasion, and last year we asked her to help judge a dessert competition as part of Vermont Restaurant Week. Last spring, Seven Days coeditor Pamela Polston devoted a feature to Bullock-Prado's book Pie It Forward: Pies, Tarts, Tortes, Galettes and Other Pastries Reinvented, breaking her one-pie-a-year routine to turn out a crumble, a pie and a tart, with mostly delicious results.
Gesine, as we like to call her, is a breezy and witty writer; her personality warms every page, and her no-nonsense instructions put successful, edible pies within reach of even the most pastry challenged. Collaborator Tina Rupp's photos bring everything to life.
The prolific Hartford baker and confectioner's third book within a few years, Pie It Forward is also her most approachable to date. Recipes for Passion Fruit Chiffon Tartlets, Figgy Pops and a Cajun-inspired Low-Country Boil Pie alternate with tips on how to avoid "crackage" when baking cheesecakes and the ideal maple syrup to use when baking (Grade B).
Last week, I tried to find a copy of Pie It Forward to give as a gift, but three of four bookstores I called were sold out. Enough said. Luckily, we don't have to wait long for Bullock-Prado's next book: Bake It Like You Mean It: Gorgeous Cakes from Inside Out, her guide to all kinds of cakes, is due out in March.
*****
Kingdom's Bounty: A Sustainable, Eclectic, Edible Guide to Vermont's Northeast Kingdom by Bethany Dunbar. Umbrage Editions, 160 pages. $25.
Food Lovers' Guide to Vermont & New Hampshire: The Best Restaurants, Markets & Local Culinary Offerings by Patricia Harris and David Lyon. Globe Pequot Press, 420 pages, $14.95.
Pie It Forward: Pies, Tarts, Tortes, Galettes and Other Pastries Reinvented by Gesine Bullock-Prado. Stewart, Tabori & Chang. 252 pages. $29.95.
Cheese and Culture: A History of Cheese and Its Place in Western Civilization by Paul S. Kindstedt, Chelsea Green, 256 pages. $24.95.
Milk Money: Cash, Cows, and the Death of the American Dairy Farm by Kirk Kardashian, University of New Hampshire Press, 278 pages. $27.95.