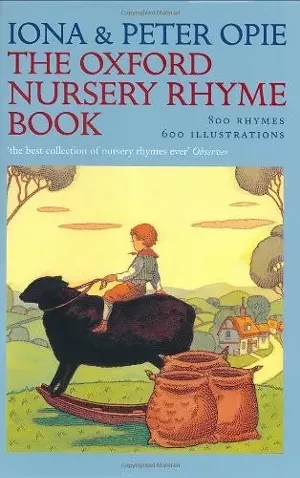 This is the first post in a new blog series about encouraging a love of language in young children written by professional storyteller Peter Burns.

Many years ago, just after my daughter Alice was born, I decided that I wanted to share nursery rhymes with her. I knew that nursery rhymes are the first poems a child hears, and that poetry helps develop a sense of rhyme and rhythm. I bought the
Oxford Nursery Rhyme Book
by Peter and Iona Opie because it was one I'd remembered reading as a child. It has more than 800 entries. All the familiar rhymes were there, as well as many I didn't know. I propped the book open on Alice's changing table, and every time I changed a diaper, I worked on memorizing a poem. As Alice got older we left the table behind and started reciting the rhymes together. Alice modifed some of them to make them her own, like this one:

One, two, three, four five,
Once I caught a fish alive,
Six seven, eight nine ten,
Then I let it go again.
Why did you let it go?
Because it bit my finger so.
Which finger did it bite?
This little finger on the right.
At the end of the rhyme, the reciter holds up the little finger on his or her right hand. At the age of 5, Alice couldn't tell her left from her right, so she held up both little fingers and said, "This little finger and this little finger on the right." She knew that one of them was correct.
She also changed this one:
The Grand Old Duke of York,
He had ten thousand men,
He marched them up to the top of the hill
And marched them down again.
And when they were up, they were up
And when they were down, they were down,
And when they were only half way up, they were neither up nor down.
Alice added another down to the end of the poem, making it: "And when they were only half way up, they were neither up nor down, down." It had a nice ring to it. There was a little hill near our house and Alice liked to run up and down the hill as I recited the poem. For the second down, at the very end of the poem, she liked to touch her hands to the ground.
[jump]
Nursery rhymes are part of the ever-evolving folk tradition, so you can modify them to suit your own taste and needs. Some people substitute their child's name for one in the original rhyme. I like all but the last line of this poem:
There was an old woman who lived in a shoe,
She had so many children she didn't know what to do!
She gave them some broth without out any bread,
And she whipped them all soundly and sent them to bed.
I'm not happy about whipping them soundly and sending them to bed, so I say: "And she kissed them all soundly and sent them to bed."
Here are some suggestions for nursery-rhyme books to share with your kids:
Oxford Nursery Rhyme Book by Peter and Iona Opie


My Very First Mother Goose by Iona Opie, Illustrated by Rosemary Wells


Tomie dePaola's Mother Goose by Tomie dePaola


Peter Burns has been a professional storyteller for more than 25 years. His work has been featured on National Public Radio. Peter works with VSA Vermont and the Vermont Humanities Council. He also teaches bike classes for Local Motion. He can be reached at heatofhistory@gmail.com.