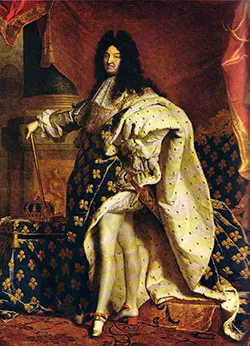 Attendance stats as low as zero — that's as rocky a start as any performing arts group could have. Montpelier's Tim Tavcar faced this two years ago when he founded WordStage, which brings together chamber music and staged readings around literary and historical themes. Audiences have warmed to Tavcar's innovative scripts, however, and four shows are slated for the group's third season. It kicks off this weekend with An Entertainment at the Court of the Sun King, which celebrates how the monarch known for his love of power — Louis XIV — also loved art.
This year's eclectic programming mix begins in 17th-century France with Molière's cutting comedy and Lully's kicky keyboard music, and ends next May in the American Jazz Age with Dorothy Parker's catty, chatty crew, the infamous group of writers, wags and critics who made up New York's Algonquin Round Table. In between come Stradivari and the "Davidov" Cello, in December, and Proust in Love, in March.
Reflecting on his initial empty houses, Tavcar surmises that people may have thought of WordStage as "some academic exercise, and very pedagogical," he says. "But really, it's like the National Enquirer, because these people all led outrageous lives. And the outrageousness of their lives is the same outrageousness as people lead today."
Same scandals, different centuries. The passions and motivations remain constant — love, lust, dreams, disappointments. WordStage productions simply "put them in historical context," Tavcar suggests. Audiences "got excited not only about the life stories of these people, but because there's so much music one can connect to them that's so beautiful."
Inspiration for the original scripts often comes from "my own nosy interest in other people's lives," Tavcar admits. Ideas sometimes spark when he stumbles across tantalizing tidbits, such as the fact that Parker and other members of her clique spent many summers in Vermont in the 1920s. Writer Alexander Woollcott bought property on Neshobe Island, in Lake Bomoseen, "and started inviting the Algonquin group up there for fun and frolic," Tavcar recounts.
The relatively modern subject matter for WordStage's final production has given him an unusual research opportunity. A friend introduced Tavcar to a "lady of a certain age — which is somewhere in the nineties — who was there at the time," he shares. "I'm going to interview her for some real inside dirt." One detail she has already, um, revealed: "Oh, those Marx Brothers were a bunch of nudists!" he says with a hearty laugh.
The topic presents a wealth of musical choices. Tavcar hasn't yet discovered whether George and Ira Gershwin or the other composers associated with the Round Table traveled to Neshobe. "But their shows were all reviewed by Parker or Woollcott. So most of the music is going to be of the Jazz Age … Gershwin and Berlin and Jerome Kern," he says. For text, Tavcar plans to keep narration to a minimum and use the writers' own words, "which are, of course, so wonderful and witty," he notes. With six actors, a jazz trio and at least one vocalist, At Wit's End will be the largest-scale WordStage production to date.
The central Vermont musicians who regularly perform with Tavcar provide another starting point for developing scripts. "Usually the music comes first," Tavcar explains. "Then I tailor the narration or the text around the music." Letters and diaries provide especially rich source material to support and connect the musical elements. "More often than not, it's not a stretch to match … what the artists are interested in playing and what was actually performed at the time," he says.
Tavcar recently came across an intriguing tome detailing the history of six Stradivarius instruments — four violins and two cellos. In brainstorming with colleagues, he found that cellist Michael Close and pianist Eliza Thomas were working on pieces that fit well with telling the tempestuous story of the instrument now played by Yo-Yo Ma — Stradivari and the "Davidov" Cello.
Karl Davidov, a 19th-century Russian whom Tavcar says was "the Paganini of cellists," beat out Tchaikovsky for a plum job heading a music conservatory, and then promptly lost it over a sordid affair with a student. "He was a very colorful character," Tavcar relates. "And virtually died on stage playing a Beethoven sonata, which Michael is going to be playing." Minus the whole dying thing, he hastens to add.
Musicians and actors have participated enthusiastically in WordStage productions from the start. "I have this cadre of people now that form sort of an ad hoc company," Tavcar says. "I run things by them and say, 'Would you be interested in…?' And most of the time they are, if their schedule permits."
One member of the ensemble is actor G. Richard Ames, who appears in this weekend's Entertainment. The busy Burlington performer says he enjoys working with WordStage for both artistic and practical reasons. "It's generally headier material," Ames notes. The core of the Sun King program — Molière's one-act The Ridiculous Damsels — is "not something I would probably encounter in community theater or semi-professional theater anywhere … even in translation," he says.
For Ames, another benefit of the staged-reading format is that he doesn't have to commit more dialogue to memory. "At my age, nearing 40, I have all these lines in my head," he reflects. "And so it's nice not to have to memorize them, but to have fun doing it. And to realize that all those lines are not going to stay in my head the rest of my life."