Sarah Priestap
Scallop linguine
First, let's praise the servers who can quickly answer the question, "What's your specialty?"
Many restaurants don't define themselves by any one particular dish, but there's usually something on the menu worth pointing out. Maybe it's a plate that remains steadfast, season after season, or a new entrée the chef is excited about. At a minimum, it's the most popular thing on the menu.
If you happen to work at the new branch of a 45-year-old Italian seafood restaurant whose motto is "Mangia calamari," the correct answer would be calamari.
During dinner at the Daily Catch in Woodstock last week, our young server was kind and gentle, eager to please, but so new to the restaurant that he stumbled in providing this most basic information. In the end, that probably worked out in our favor. But had I known, I likely would have ordered the squid.
The Daily Catch opened at 61 Central Street in late September. It's the newest addition to Paul and Maria Freddura's family of restaurants, which they run with their seven sons.
Paul opened his original, perennially packed seafood café as a fish market and take-out calamari joint in Boston's North End in 1973. Much has changed since then, but fresh Atlantic squid, breaded in cornmeal, fried crispy, and served with lemon or red sauce, has been the restaurant's premier plate since the beginning. It anchors the menu at locations in nearby Brookline and, until recently, in the city's Seaport district, where a Daily Catch restaurant closed earlier this month after 16 years in business.
In addition to running three restaurants, the Fredduras operate a seafood-processing facility and commissary kitchen on the Boston fishing piers. They bring in just-caught North Atlantic seafood from the docks daily; the haul supplies the Daily Catch kitchens, and the family ships squid, in various forms, to restaurants up and down the East Coast.
In Woodstock, Maria is also co-owner at Bentley's restaurant, which she purchased with her longtime friend and business associate John Ruggieri-Lam in 2013. Call that one a retirement project of sorts — she planned to run it while spending time at a second home nearby. When the venture morphed into "more time in Vermont than in Boston," she said, she missed her Boston seafood joints. So when Ruth's Table closed on Central Street last year, Maria decided to bring the Daily Catch to Vermont.
The menu varies from location to location. In Woodstock, chef Kristen Zagranski — a 30-year culinary veteran who has cooked in many settings on both coasts — executes Freddura family recipes with casual grace.
The food is simple: mostly go-to classics such as clams casino, shrimp scampi, and pastas (imported linguine or squid-ink linguine from the commissary) tossed with shellfish and red or white clam sauce. There's also monkfish marsala, broiled haddock, fish and chips, and the famous fried calamari. Chicken marsala and steak are the two non-fish offerings; a vegetarian could cobble together a meal of plain pasta, French fries, and sautéed spinach or Broccolini.
Sarah Priestap
Scallop linguine
The thing to drink is Italian table wine, and the restaurant's well-selected list is generally affordable. Most of the draft beers originate in Vermont or Boston, and an unfussy cocktail list includes a martini, a cosmopolitan and a couple of canon whiskey drinks.
On a snowy evening last week, I stared at the menu, which is more expansive than it looks. Facing indecision, I asked the server, "What's your specialty?"
He paused. "I guess," he said finally, "the lobster fra diavolo." He pointed to the description for a spicy shellfish pasta smorgasbord that included a one-and-a-quarter-pound lobster flanked by mussels, shrimp, clams and squid. A $59 plate would feed one person; $79 would be ample for two.
The cynic in me snickered: I guess if you're unsure what the specialty is, just pick out the most expensive thing, huh?
My more compassionate self stepped in: Clearly, the kid had chosen the most impressive option, and one can't know the whole menu on one's third shift at a new restaurant.
The good news? The spendy fra diavolo was excellent. Really excellent, and in the end I was grateful for the recommendation. But let's back up a few steps.
My husband opted for a juicy pour of Montepulciano ($12); I sipped a glass of guava-scented Soave ($12) from northern Italy, which was well matched to a starter of briny littlenecks ($15.50), splashed with white wine and popped in a sauté pan with lots of garlic, shaved fennel, herbs and pepper flakes.
It was also served in a sauté pan, a Daily Catch tradition. "Our dishes were breaking, and we decided to start serving [food] in the pan," Maria recalled of the early days in Boston. "The pans don't break," she added. "It became part of our trademark."
If the spartan presentation seemed a little out of place in the Daily Catch's clean and polished dining room, it had that simple, frank quality that so often defines great Italian cookery. The pan also keeps the food warm longer.
Next, a perfect plate of clams casino ($13.50) brought whole clams, chopped and returned to their shells with crunchy bread crumbs, herbs and red bell pepper.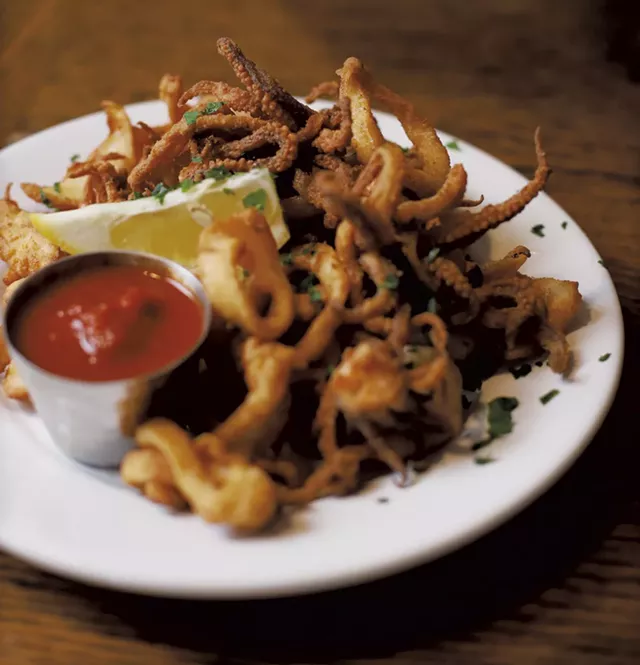 Sarah Priestap
Fried calamari
Finally, the highly recommend lobster was a dramatic pièce de résistance, a seafaring feast pushing at the edges of its aluminum skillet. The lobster — quartered but served with its menacing head intact, was tender and sweet, as were the clams, mussels, shrimp and squid. The spicy seafood marinara had a punchy flavor that shored up but didn't compete with the delicate shellfish. And the portion was enough for two meals, easily — maybe more.
Still, my husband had to stop me from eating all of his garlicky scallop linguine ($25.50). Chatting tableside, Zagranski said she makes the white clam sauce with the brine from the cherrystones she shucks and uses elsewhere on the menu. As a devotee of linguine with white clam sauce, I'd pronounce the dish flawless. I would happily have eaten it with or without the plump, sweet New Bedford sea scallops.
Like the restaurant's 20-seat Boston original, the Woodstock location is small with just 35 seats. Most of those were empty last Thursday night, perhaps because of the incoming snowstorm, perhaps because mid-November is deadsville for any tourist-town restaurant. Or perhaps locals just haven't discovered the place yet, despite its location near the heart of the main drag.
Whatever the reason for the quiet during my visit, I hope it was an aberration, because this restaurant deserves to succeed. It's not cheap, but fresh, well-prepared seafood rarely is. And it's worth noting that the prices are on par with, or better than, those at other dinner spots around town.
While the quality of the food far surpasses most of what I've encountered elsewhere in this landlocked state, the Daily Catch also possesses a kernel of je ne sais quoi that distinguishes it from the rest. There's a lack of pretense to the menu, a basic understanding of what people actually like to eat and a care for delivering it without a shred of precious self-awareness.
Whatever the secret ingredient, it's 100 percent delicious, right down to the crunchy twin cannoli we ordered to go so we could get home before the snowstorm set in.
I'm already looking forward to next time. When I go, I'll order the calamari.