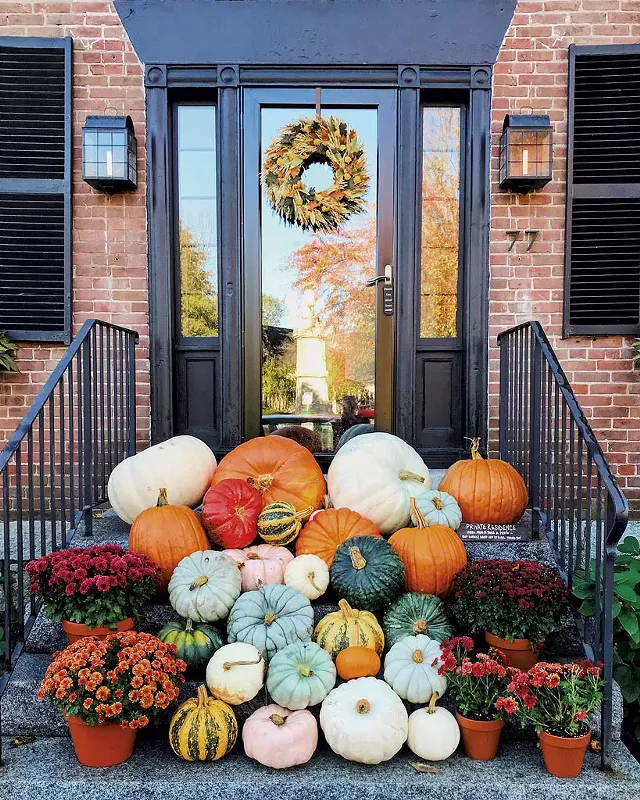 Courtesy Of Jessica Notargiacomo
This year's pumpkin décor on Central Street in Woodstock
Nikki VanVoorhis is all in for pumpkins. As decorative items, that is. And not just a few artfully arranged squash on a tabletop; VanVoorhis and her husband, Matt Tashjian, go for a veritable cascade of them on the front stoop of their Woodstock home.
In this historic town that could hardly be more picture-perfect New England, the thirtysomething couple has rocked the boat. Neighbors took notice when they bought an 1826 colonial house on Central Street five years ago and began renovating. That included adding a yoga studio — VanVoorhis is a teacher, Tashjian a practitioner. After they painted the exterior brick walls white, "it was the talk of the town for about a month," VanVoorhis said with a chuckle.
All seemed forgiven, though, when the pumpkins arrived.
A big fan of holidays, VanVoorhis said she especially loves decorating for Halloween. Tashjian, by contrast, is a minimalist — the house's serene, black-and-white, clutter-free interior is all him, his wife said. But, she noted, "We have this beautiful stoop, and I said, 'We have to decorate it' — a few pumpkins, a hay bale, that sort of thing.
"Matt is not really into holidays," VanVoorhis continued. "But the second year, he decided to get on board. We put a bunch of [pumpkins] on the porch, and he said, 'Let's get more.'"
VanVoorhis recalled that they had to go to "five or six" nurseries for the desired quantity — like, 50 of them. That first year, she said, they went with orange pumpkins; the second year, squash varieties in white and grayish blue; and the third year, shades of green. A few pots of mums or other seasonal plants completed the look.
"It quickly became a thing in Woodstock," VanVoorhis said. And it wasn't just locals admiring the displays. Because so many people took selfies in front of her house, VanVoorhis said, she put up a placard with her Instagram handle and asked people to tag her in their photos. "We've gotten tagged hundreds of times!" she marveled. "People come from all over the world to see our pumpkins."
National brands such as Anthropologie and Martha Stewart have reposted the images on social media, too.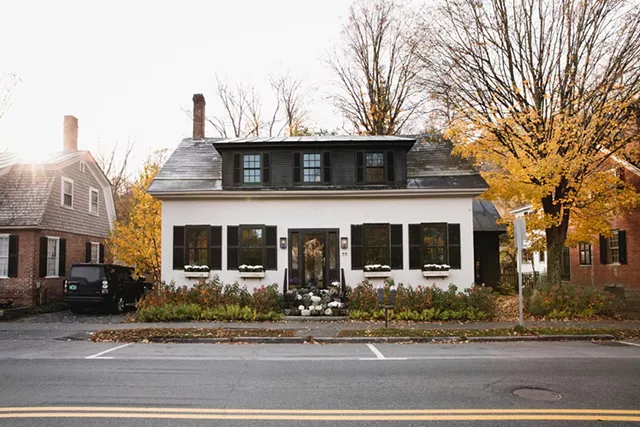 Courtesy Of Abby Capalbo
2017 pumpkin décor on Central Street in Woodstock
Of course, now there's a little pressure to come up with something different every year — and there are only so many colors in the squash family. VanVoorhis wouldn't reveal her ideas for the 2020 theme.
Not surprisingly, she likes Christmas decorations, too, though they're less visible to the public. "Our house is 2,200 square feet, and I have five trees," VanVoorhis said.
She and Tashjian are the doting parents of two large dogs, Veda and Raja, who, VanVoorhis said, "come with us wherever we go." Since the pandemic began, they've all pretty much stayed put; Tashjian is a financial adviser who can work from his home office. VanVoorhis' studio, YogaMari Vermont, is closed for now.
Finding their home involved a bit of serendipity. When the two met, VanVoorhis was living in her hometown of Burlington after some years working in the music business in New York City and on the West Coast. Tashjian was vacationing in Vermont from Connecticut. That made for a long commute to visit VanVoorhis. It was easier to convene in central Vermont, she said, and Woodstock "became our little spot before we drove back [home]."
After VanVoorhis and Tashjian got married, they were looking to buy a house outside of Burlington. "On a whim, we decided to come to Woodstock, and we saw this house," she said. "We made an offer and got it."
Once they began to renovate, VanVoorhis said, "It kind of grew into this whole other thing." Her husband, she observed, "is a designer at heart. He sits at the computer and researches ideas all over the world. He loves living in a beautifully curated house."
Tashjian's streamlined aesthetic has won her over, mostly. "I'm neat and orderly and clean, but I like things. Being in a partnership with an extreme minimalist has been really good for me," VanVoorhis said. "Now I can't imagine living with all that stuff."
The one exception, of course, is pumpkins. "They're the best," she said. "I think they make people happy. To be known for your pumpkins — that's probably the coolest way to be known."
After publication, Nest learned that Nikki VanVoorhis and Matt Tashjian put their house on the market. They found their "dream Woodstock home," VanVoorhis said, and on impulse decided to buy it. But, she assured, there will be one more grand pumpkin display this year at 77 Central Street.