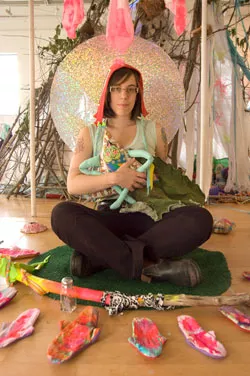 Matthew Thorsen
Tara Jensen
It's rare to hear young women today describe themselves as feminists. By the time they came of age, feminism was largely seen as having achieved the goals of the movement's second wave. And it was associated with the dated stereotypes of their more radical sisters (or, more likely, mothers) who eschewed shaving and viewed men as oppressors. But some younger women still recognize the need for continued dialogue on what it means to be female. These include installation artists Wylie Sofia Garcia and Tara Jensen, who are both currently showing work at the Firehouse Gallery in Burlington.
Garcia, 29, and Jensen, 27, have known each other personally and professionally for years. They say they have always respected each other's work and felt a sort of kinship — perhaps because they both deal with issues of femininity and the female condition, albeit in different ways. Jensen, of Montpelier, has been the artist-in-residence at the Firehouse since April. Burlington-based Garcia recently opened a new show called "Uncharted Territories" with her husband, Clark Derbes, and Massachusetts artist Ted Ollier.
During their time at the gallery, the women have talked a lot about what it means to be female and the intersection between gender and art. During one of their conversations, Jensen asked Garcia if she was a feminist. Though her textile works deal with the "human condition of being a woman," Garcia says, she balked at the question. "I'm more hesitant to call myself a feminist, even though, underlying everything, that's what I'm doing," she admits.
Jensen, who comes from an academic background in queer and feminist theory, finds it easier to pin that label on herself. "I do call myself a feminist. I think it's important to give a face and a voice to it," she says. "I do it for historical reasons. A lot of people have fought hard for what I have today."
Regardless of descriptors, both artists say they want their emotional experiences as women to be validated, and one way they seek to achieve that is through their art.
Garcia's work with fabrics pays homage to the days of quilting bees when women would work together on a project. Her large-scale, hand-stitched pieces incorporate lace, ruffles and satin in warm colors to give them a visceral quality, but they're far from traditional quilts. She describes her large, canopy-like piece in the gallery's back room as "sexy guts."
"The softness and formality of it give people an entryway into serious and intense themes," says Garcia, who was working on the piece while she was pregnant and after her son was born.
Jensen's work also addresses female issues such as birth, abortion and menstruation, but in a different medium. During her residency, she has created a body of work called "Heavy Flow," which features a "witch hut" made from sticks and silk-screened fabric and filled with handmade dolls and papier-mâché creatures. The hut represents Jensen's need for female guidance at a difficult time in her life, she says.
In November — the month in which Garcia gave birth to her first child — Jensen terminated a pregnancy. That experience, including the trauma and the clinical nature of the procedure, comes through in her work. The "witch hut" is lined with pennyroyal and blue and black cohosh — herbs traditionally used as abortifacients.
"I looked at the witch as a social gatekeeper between nature and society, between birth and death, between how to heal and how to grieve," Jensen says.
Being under the same roof has given Garcia and Jensen opportunities to talk about their parallel lives, about the common themes in their work, and about being women in their twenties. "It hit us this year: Fuck, we're women!" Jensen says. "These things are happening in our late twenties, and now we have to speak to that. The most important thing is that we keep talking and everything is laid out on the table."