Courtesy Of Killington Resort
Killington Resort
Killington is, hands down, Vermont's rowdiest ski town. But it's about to get its wool socks knocked off when the women's alpine skiing World Cup hits the resort on November 26 and 27.
"This is huge for us to have such an event here," says Chuck Hughes, the chief of course, of the two-day race officially known as the Audi FIS Ski World Cup and nicknamed the "White Circus." "It's going to blow people away."
How so? Imagine busloads of ski-racing fans churning up Interstates 89 and 91 from New Hampshire, New York and beyond, filling the stands with nearly 15,000 cowbell-clanging spectators. Throngs will stream through the streets, while nightclubs will host international-level revelry. Maryland jam band O.A.R., meanwhile, has added Killington to its national tour and will play a free concert on Saturday afternoon.
"We are going to be amazed by the numbers of people coming to watch," says chief of race Ted Sutton. "We've all been waiting 25 years for this to happen, and it's finally here."
While 55 percent of the ski racers are from the East Coast, according to Sutton, New England hasn't hosted an alpine World Cup since 1991, when New Hampshire's Waterville Valley saw American Julie Parisien win the giant slalom. Stratton staged a World Cup in 1978, but this is the first time Killington has prepared for the event.
Getting the venue ready for some 90 athletes from 27 countries involves countless hours of snowmaking, with guns every 25 feet, and placing 400 feet of netting. More than 120 people are working around the clock.
"The scariest thing about this race for all of us, probably even more so for the athletes," says Sutton, "is that this course has never been raced on before. It's been challenging for course setters, who can normally go in with a general idea of where gates should be placed on the course. But, in this case, it's all new to everybody."
After Black Friday will come White Circus Saturday and Sunday at Killington. On Superstar, a trail with a 1,199-foot drop, alpine superstars such as Americans Lindsey Vonn, Julia Mancuso and Mikaela Shiffrin, along with Swiss champion Lara Gut, will compete in giant slalom (faster and wider turns around 46 to 58 gates with panels) and slalom (tighter, more technical turns around 40 to 60 pole-like gates). Each event includes two runs, and the woman with the fastest combined time wins.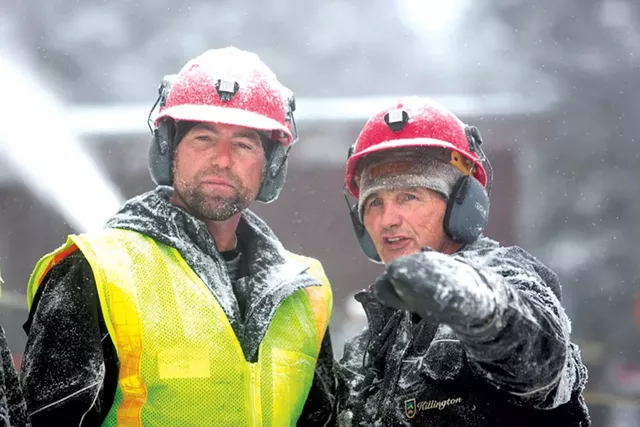 Courtesy Of Chandler Burgess
Snowmakers at Killington
"It's definitely going to raise the level of excitement and interest in world-class ski racing," says Hughes, a longtime ski coach who also serves as the development program director and events manager for Killington Mountain School. "And we hope to be able to do a great job so as to continue to get the World Cup back at Killington."
Where's the best place to watch? The ticketed grandstands are sold out, but spectators can still nab a free viewing spot at the base.
"The festival expo village at the K-1 Base Area is your best bet," says Michael Joseph, Killington's communications manager. "Racers will be accelerating down the final Superstar pitch into the finish line. Plus, we'll have a huge TV wall set up so you can see the upper portion of the race courses. And, of course, you'll be in prime position once O.A.R. begins their free concert Saturday."
Sutton explains that the base area beats higher vantage points because it offers views of the most interesting — and most challenging — third of the course, of which the steepest point is 45 degrees. "It's going to be incredible to see right from the parking lot," he says.
Regardless of who wins, plenty of celebratory beer will flow in a public tent during the day, and the World Cup Official Post Party will take place at the Wobbly Barn. There, Après Ski With Tony Lee Thomas at 6 p.m. will give way to JJ Rupp at 9 p.m. and DJ Prime at 11:30 p.m. Autograph signings, ski academy and college alumni parties — and probably more wings than you can throw a snowball at — will round out the scene around Killington.
Can't make it all the way to the Big K? More than 60 countries will broadcast the event to 2.1 million viewers worldwide, and you can catch World Cup action on NBC while you tuck into turkey leftovers.
The Rundown on the Runs
Saturday, November 26
9:30 a.m.: Giant Slalom Run 1, K-1 Base Area
12:30 p.m.: Giant Slalom Run 2, K-1 Base Area
1 to 6 p.m.: Celebration of World Cup history hosted by Dale of Norway; raffle of posters signed by Norwegian alpine ski team members Ragnhild Mowinckel and Nina Løseth, Killington Sports
2 p.m.: O.A.R. Concert, K-1 Base Area
4 to 5 p.m.: U.S. ski team signs autographs, K-1 Base Area
6 p.m.: World Cup Official Post Party, Wobbly Barn
7 p.m.: Premiere of film Warren Miller's Here, There & Everywhere, Snowshed Base Lodge
Sunday, November 27
9:30 a.m.: Slalom Run 1, K-1 Base Lodge
12:30 p.m.: Slalom Run 2 and awards, K-1 Base Lodge
Saturday and Sunday, November 26 and 27
7 a.m. to 6 p.m.: Event Expo, K-1 Base Area