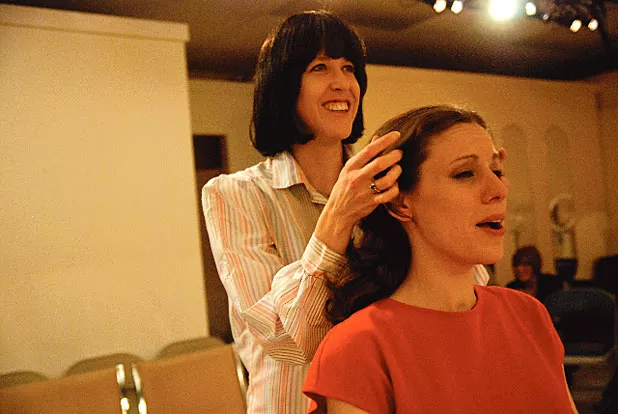 Rebecca Reil and Xana Wolf
It's almost worth the price of admission to Maura Campbell's new play, Wild Geese, just to watch Phyllis Powell and Carol Benson idly chitchatting under salon heat lamps about gin and tonics, eating dessert before dinner, and their lucky brooches.
And they're just setting the "stage" before the play, staged in an actual Burlington salon, even begins. Powell and Benson, playing salon regulars Bea and Gladys, offer seamless improvised banter that gets the audience laughing, even as they weave in obligatory preshow announcements about cellphones and candy wrappers.
But it gets better.
Wild Geese, performed by the Green Candle Theatre Company and directed by Campbell, tells the story of three women living in Burlington in the 1980s and early '90s: Denise, a hairdresser losing a battle with breast cancer, played by Rebecca Reil; Janice, a perky but troubled secretary with a thing for married men (Xana Wolf); and Jennifer, an earthy yet ambitious massage therapist (Atiya Harris). Their lives converge between the mirrored walls of Denise's salon, which she rents from Barry, her devoted brother (Kevin Christopher), who happens to be a sex addict with a flair for cringe-worthy innuendo.
The episodic play — it unfolds over two generations, as the salon changes into a massage business and finally a tattoo studio — explores the relationships among these women as they deal with death, heartbreak and stifled ambitions.
Wild Geese debuted at a small theater in New York City in 2008, but Campbell always dreamed it would find its way into a real salon. So, when one of the actors suggested the one she frequents, Metro Hair — relatively large for a salon, with kind of an '80s feel — the playwright sensed an opportunity. The two women dropped by last January to present the idea to the owner.
"He handed us the keys right then and there," Campbell says. "Sometimes I think these things are just meant to be."
The cast spent a good deal of time just getting to know the space, which they use thoroughly and cunningly in the final production. Campbell supplemented the existing mirrors so the audience can peer into the action no matter where the actors are — behind them, at the cash register, getting pierced behind a Japanese screen, etc.
This means audience members can see themselves, too, which is distracting at times but conjures the self-consciousness that accompanies any trip to the salon. Between scenes, I caught myself wondering if it was time to try bangs.
Wild Geese evolved from a one-act play Campbell wrote a decade ago called "The Hairdresser and the Secretary." She'd been struck by a conversation with a female friend, a successful choreographer and singer, about their mothers. Campbell's had been a nurse during World War II; her friend's, an award-winning teacher in Vermont. Both women had been ambitious, but their hopes for their daughters were humble and traditional.
"She said her mother wanted her to be a hairdresser," Campbell says. "My mother wanted me to be a secretary."
After several readings of that one-act, Campbell discovered these two characters had much more to tell.
The title of the new play is a reference to a Mary Oliver poem of the same name, which begins, "You do not have to be good. / You do not have to walk on your knees / for a hundred miles through the desert, repenting. / You only have to let the soft animal of your body / love what it loves."
Campbell says she sees her main characters, women learning to follow their hearts, in the wild geese that soar over the scene in Oliver's poem. "They're going somewhere, but they always return, they change leaders … it's another season, another year, another time," she says. "You see these flocks of geese flying, and it's as if you could perhaps go with them."