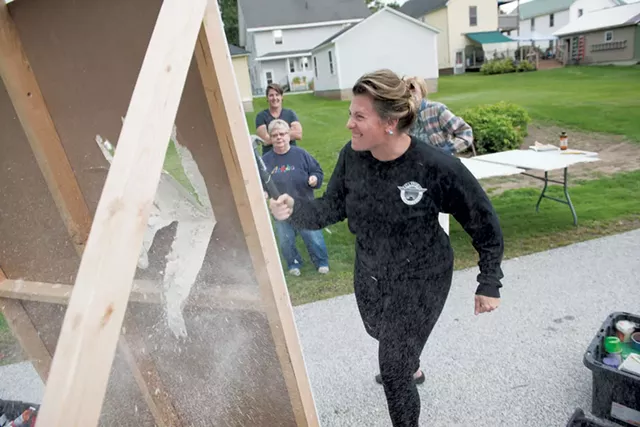 Caleb Kenna
Christina Kumka swings a hammer to make a hole in drywall during Morgan Over's We Can Fix It class for women in Rutland
There was an audible gasp when Morgan Over told her class, "Fiberglass insulation is pretty much useless." The pink fluffy stuff is a relatively cheap way to insulate a house, but it isn't as efficient and doesn't last as long as alternatives such as spray-foam insulation, she explained at Rutland's Godnick Adult Center. For cold Vermont winters, Over advised, the foam is worth the investment.
It was a Tuesday evening in August and the first session of Over's six-week We Can Fix It class. A contractor in Rutland who runs Holistic Home Improvement, she's been offering it since 2017. Over wants to teach women how to handle their own basic home repairs, and she also wants to give them the space to ask questions. That includes discussing the merits of different types of insulation.
"I find it very important to empower female homeowners to kind of take control of their homes and feel comfortable communicating with contractors," Over said.
This involves being able to unclog a sink, sure, but it's also about being confident in making larger home repair decisions.
The We Can Fix It class introduces women to tools, basic repair skills and the fundamentals of how a house functions. Over designed the class with NeighborWorks of Western Vermont when she worked there as head carpenter. She'd been rehabbing houses for NeighborWorks and realized that the first three houses she finished sold to single women.
"Single women are the driving force in home purchasing at this point. They're also the heads of household in a lot of regards," Over said. "So I pitched the idea. I was like, 'Why don't we have a home maintenance class for women?'"
This year, when the grant that funded the class expired, Over purchased the program from NeighborWorks. Now she's partnered with the Rutland Recreation & Parks Department.
Most of the women gathered for Over's class were middle-aged. Rutland is small enough that many of them knew each other. One woman was another's former English teacher, and one was a neighbor of Over's family. All were homeowners, and many of their homes date back to the turn of the 20th century or earlier.
They talked about the problems that come with older houses, such as lead pipes, sash windows and rubble foundations. Some talked about their husbands — what they could fix and whether the women could actually get them to do the jobs. And they groused that plumbers and electricians were often booked for weeks.
"I never fixed a hole in the wall. I just pushed a bed up against it," one woman admitted. (Has there ever been a more relatable confession?) One said she wants to install a water filter on her sink, and another has been living for years in a house with little insulation.
Over's job entails, in part, simply giving advice and answering questions her female students haven't had the chance to ask before. Dealing with contractors and other home repair people, she said, can be intimidating — even for her, working in the industry.
Over has been involved in the home repair world since she was a kid. Her father was a contractor in Rutland, and she used to tag along to job sites. Over got a bachelor of fine arts degree in sculpture but drifted back into construction after college. Home design, she said, satisfies her creative itch.
Over worked for her father until 2008, when he retired and she struck out on her own. She quickly encountered a cutthroat market during the economic recession and found that she couldn't charge as much as a man could. Discouraged, she took a break and went to work in the ski industry, until she was offered the job at NeighborWorks.
Caleb Kenna
Morgan Over teaching a We Can Fix It class for women in Rutland
"I had an organization backing me up. And when that happened, you know — money talks. I was taken seriously right away," Over said. "I realized how lucky I was that I had that opportunity. If I hadn't, I'd probably be the low person on the totem pole in the construction industry."
Making her class exclusively for women was key, Over said. If there's a man in the room, she's found, everyone will look to him first for the answer, even if he's clueless about home repair. In her class, women feel more comfortable asking "stupid" questions — a concept that Over, of course, doesn't believe in.
"After the first class, there's this level of comfort that they feel, and there's a camaraderie that they're all learning this very foreign concept without the man in the room," she said.
For at least one participant, the We Can Fix It course has been life-changing. Erica Zimmer took Over's class in 2017. She was a first-time home buyer living alone and said she often found herself thinking, If I could fix that, I would do it.
Since taking the class, she's repaired her washing machine, pellet stove, dishwasher, furnace and more.
"I know I've saved myself thousands of dollars," Zimmer said. "I think it just made me realize, things are much simpler than I have it in my head. It just kind of gave me the confidence of, like, I'm not going to burn my house down if I replace a valve."
Once bitten by the power-tool bug, Zimmer kept going. She took a woodworking class at the MINT, a workshop and maker space in Rutland. She was recently accepted into the MINT's entrepreneurship development program and aims to start a woodworking business with another woman. Zimmer now teaches her own classes: basic one-night workshops intended to introduce people — particularly women and gender-nonconforming folks — to the woodshop without a huge commitment.
"Similar to the sip-and-paints, but you're using saws," Zimmer explained. "For people who've never tried it, it's really intimidating to walk into a woodshop, especially as a female."
As for Over's current We Can Fix It class, the schedule includes overviews of plumbing, electricity, windows, walls and doors. There will be "no quizzes, no tests," she promised — but the women will take apart and reassemble a toilet and a sink.
"You're going to be blown away at how simple they are," Over told the women during that first class. "You're going to be able to replace your own toilet."