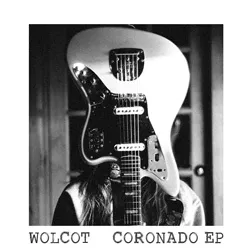 (Self-released, CD, digital download)
Here's hoping you caught Hinesburg youngsters Wolcot before the band went on indefinite hiatus earlier this summer. Because their recently released Coronado EP suggests these kids are bound for big things. With any luck, the recent high school grads won't do anything rash while they're gone, like go to college.
Wolcot were formed in the hallowed halls of Champlain Valley Union High School — this reviewer's alma mater, BTW — and emerged in 2011 with a promising self-titled debut. While they had yet to shed the telltale earmarks of their formative influences — most notably, the Strokes, Pavement and maybe a dour hint of Joy Division — the quartet delivered a mature and sophisticated distillation of those inspirations that inferred abilities and sensitivities well beyond their years. Given the time to grow into those influences and begin to expand upon them, the band appeared primed to make some remarkable music. On Coronado EP, Wolcot have done exactly that.
Though still saddled with a tendency toward hero worship — drummer and lead vocalist Thomas Keller is particularly enamored of the Strokes' Julian Casablancas — Wolcot's sophomore effort sparkles with style, energy and ingenuity that would be the envy of many far more seasoned bands.
The EP opens on "Goslings," which erupts in a burst of insistent guitar jangle over which Keller coos and croons with a detached cool. It's the most overtly Strokes-influenced of the EP's five songs. But it's also undeniably catchy and gripping.
"The Daughter's King to Noroway" is next and offers the first hint that Wolcot have begun to dig deeper. More mellow and complex than the opener, its ambitious poetry suggests some time well spent with Jeff Mangum and Neutral Milk Hotel — a notion reinforced by the band's reimagining of three NMH songs on its Bandcamp page.
Wolcot stretch out a bit on "Juane Vieux," a languid ballad that smolders like a dying campfire before reigniting at the finish. On "Buffalo Zoo" the band adds some psychedelia to the mix, combining angular hooks with an expansive, reverb-heavy guitar attack that recalls Explosions in the Sky.
The EP closes on the title track, a dramatic, seven-minute opus that almost feels like five songs in one but never drags or seems incongruous. That's a feat few bands could achieve, let alone a group barely out of high school. And it speaks to Wolcot's combination of ambition and ability that they are not only willing to attempt it but can pull it off.
Wolcot likely won't play again locally until January 2014 — presumably while they're home on winter break. In the meantime, Coronado EP is available at wolcot.bandcamp.com.