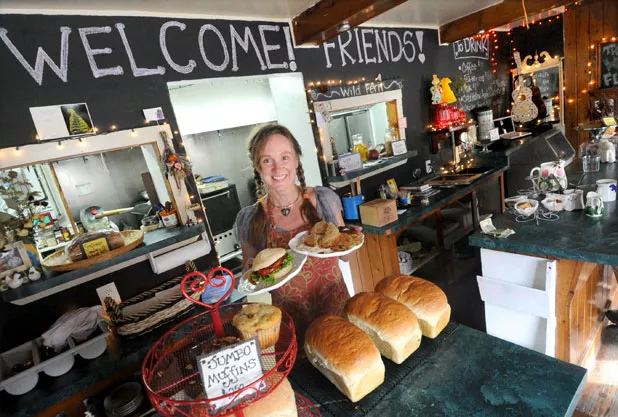 Walking into the Wild Fern is a little like opening a diorama. From the outside, the place is nondescript and even slightly weather beaten. When you walk in, it's a riot of psychedelic colors and smells of baking bread, a few loaves of which wait, bagged for sale, near the front door.
Beyond are two cozy rooms, one with a stage at the back. Vintage red stools are lined up along a shiny green diner counter. The whole place is scattered with guitars made from old cigar boxes. One tabletop is covered with mosaic, two others are painted purple (as are a few walls), and all of them are topped with kitschy salt and pepper shakers, such as a pair of ceramic cows.
"I tell people you should shake into your palm rather than right on your food," says Heather Lynne, 43, the Wild Fern's self-described "cheftress, waitress and bakestress," who practically bounces from the kitchen when guests walk in.
Lynne personifies the words "Welcome, Friends!" which are scrawled in giant letters on the Wild Fern's wall-length chalkboard. There diners also find the menu: croissants, bagels, sandwiches and soups, all made by this woman who looks a bit like a skate punk with her black knit cap, blond braids and tiny nose stud.
The Wild Fern may seem like just another crunchy rural Vermont café. But in tiny Stockbridge — which has just two other businesses — the place is kind of a big deal. It serves as a bakery, a café and a sometime music venue; in the foyer, a community bulletin board offers the 600 or so residents a chance to catch up on local goings-on. (Those who venture inside may find Lynne plying them with buttery croissants or her challah French toast.)
On this particular afternoon, Lynne wipes her hands and turns down the scratchy, '50s-era McGuire Sisters record that's been spinning on a vintage white turntable. Moments earlier, she was crouched over a ball of gluten-free dough, a possible prototype for future loaves. "The challenge is getting it to rise properly," Lynne says with a sigh.
In the next breath, Lynne is buzzing about a recent visit from a prominent Vermont baker who raved about her baked maple-bacon doughnuts. A few days later, he gifted Lynne with a chunk of his decade-old sourdough starter. "I just fed it last night," she says. "I don't want to kill it!" The weeklong wait before she can use the starter is, for her, interminable.
By her own admission, Lynne hasn't baked professionally for very long, and until earlier this year she couldn't even picture owning a place like the Wild Fern. "I thought I might do it in my fifties, when I was 'old,'" she jokes. "But 50 doesn't seem so old anymore. And everything just kind of fell into place."
The cozy Wild Fern, named for Lynne's daughter's middle name, represents the convergence of a few life strands. An Ohio native, Lynne spent the first third of her working life as a hair stylist; at one point, she traveled from salon to salon teaching the "Rachel" haircut sported by Jennifer Aniston on "Friends." ("I can do that stinkin' haircut in my sleep," Lynne says.) For years, she operated a salon in her Stockbridge home. But, she recalls, "My heart really wasn't in it."
After a divorce, Lynne shifted course: She tended bar at a local restaurant and learned to play bass — at age 37 — in the band of her partner, musician Rick Redington (who makes those cigar-box guitars). But it was Tropical Storm Irene that gave Lynne the impetus to open the Wild Fern.
The swollen river that infamously devastated and isolated nearby Rochester — nine miles up the road — battered Stockbridge, too. A few residents lost their houses; chunks of roads, bridges and land washed away.
At the time, Lynne was working in the kitchen of Sandy's Books & Bakery in Rochester, a job she held for three years. Cut off from her workplace by the flood, Lynne filled in at the Stockbridge Central School kitchen, where many of the "lunch ladies" couldn't make it in to work. During those weeks, she realized her town lacked a built-in gathering spot like those that helped with communication and organization in nearby towns. "Stockbridge felt very disconnected, more than ever," Lynne recalls.
Even by Vermont standards, Stockbridge is a remarkably scattered town with no discernible center, unless you count the post office on Route 100. Across the street from it is a white building that used to house the Green Mountain Grille, Teenie Toziers and a succession of eateries going back to the 1960s.
The spring following Irene, Lynne saw Grille owners Terry and Don Reddick putting up a "For Lease" sign outside the building. An idea blossomed. "I thought I might open a tiny café there and have music and combine everything we love in one place," Lynne says. She wanted to cook the meats and veggies grown by her numerous farmer friends.
There was a problem: Lynne had no money. Still, she thought she could swing a café as a part-time endeavor. "I thought I'd just open two days a week, and still work for Sandy [Lincoln of Sandy's Books & Bakery] and still play gigs," she recalls.
Lynne's affection for Lincoln and her bakery is huge; she calls Lincoln and another baker at Sandy's "great mentors" who taught her about both baking and running a business.
Although Lynne lacked a business plan — "I just sort of made it up as I went along," she confesses — she soon realized the Wild Fern would need more TLC than a few spare hours a week. After she'd taken bittersweet leave of Sandy's, she and Redington (and their three kids) tapped thrift stores, roadsides and their own home to furnish and decorate the place. Together they created its Wonderland vibe.
Last September 12, Lynne opened the Wild Fern with a compact menu of pastries, Stromboli and sandwiches, which rotate daily to minimize waste. "I can't go into debt, so I need to keep it very simple," she says. That would be croissants on the weekend, bagels on Saturdays, pizzas on Wednesday nights and dinners (with live music) every Friday and one Saturday per month. During a hearty brunch each Sunday, Lynne and Redington serenade guests, with Redington "playing everything cigar box," says Lynne.
The constants are her bread — ranging from wheat to challah — and the eggs, garlic, greens and cheeses that Lynne gets from her neighbors. "I love telling someone, 'If you like the garlic, it comes from my friend on Stony Brook Road,'" she says, referring to one of the farmers whom she also counts as friends.
To weather the quiet times, Lynne has set up what she calls a community-supported bakery, or CSB. Locals can pay $18 to $58 a month for a weekly haul of her breads and bagels. Twenty-two people have committed so far.
"I'm trying to build a bread community here," Lynne says. "My mission is to gradually educate people as to why they need to buy locally made, fresh bread, not bread from the store with 25 ingredients in it."
Her breads, which are shaped like traditional slicing loaves (with the exception of challah and baguettes), contain no more than five ingredients each — water, King Arthur Flour, salt, yeast and the occasional extra grain or seasoning.
As Lynne talks, Donna Brennan-Gallant stops in to pick up a loaf — her first CSB order. "Have you tried Heather's bagels?" Brennan-Gallant asks with genuine excitement. They've attracted a loyal following, as have the Wild Fern's pizza nights.
Another resident of Stony Brook Road, Brennan-Gallant owns land on which several locals grow vegetables and keep cows and chickens on homesteads with such idyllic names as Simple Livin' Farm and Timeless Wisdom Farm.
Lynne swears by her neighbors' food, such as the supremely fresh Timeless Wisdom egg that she puts in a Hezzie's Hurricane. The grilled sandwich, which she offers to this reporter, oozes with melted Cabot cheddar and a barely fried egg; pickles jut from either side. The first bite yields a surprise: the heat of Sriracha sauce. "You like it?" Lynne asks a little nervously.
The sandwich was born in Lynne's kitchen one rainy evening as she talked on the phone with the former owner of Teenie Toziers. "It was so good, I decided that it would become a special sandwich using my mother's nickname, Hezzie," she says.
The Hezzie's Hurricane is sumptuous, and so unusual that it seems like a perfect signature sandwich for this idiosyncratic café. Daily bread may be the stuff of life, but at the Wild Fern, it will probably always come with a twist.
The Wild Fern, 1731 Route 100, Stockbridge, 746-9119. BYOB. wildfernstockbridgevermont.blogspot.com
The print version of this article was headlined "Slices of Life".