James Buck
Burlington teachers and their supporters last Thursday
Burlington teachers strummed guitars, banged on bongos and sang "We Shall Overcome" as they waited last Thursday night to see if their protracted contract talks with the school board would yield an agreement.
The protest song didn't help. The school board ended negotiations and imposed a one-year contract shortly after midnight, angering the union. The move followed closely on the heels of similar action in neighboring South Burlington on August 29.
In both cases, the boards rejected the recommendations of neutral fact finders, consultants who are hired to propose compromises that rely heavily on comparisons of teacher pay and benefits in neighboring districts.
The use of "comparables," as they are known in the labor bargaining process, dates back at least 40 years. But the practice is under fire from some school board members who feel that the unique conditions in their own districts should hold more weight.
For example, Burlington has lower average incomes and a higher poverty rate than suburbs such as Shelburne and South Burlington, according to Mark Porter, chair of the Burlington School Board. Last year's maximum teacher salary of $84,750 — roughly $5,000 less than South Burlington's — reflects what the community can afford.
"I do not believe that fact-finding should include the comparables," said Porter, "and that they should have such a weight in the negotiations."
The South Burlington board, too, is critical of comparing salaries and percentage raises district by district. In a July press release explaining why it rejected a fact finder's report regarding the city's 2017-18 teacher contract, school board chair Elizabeth Fitzgerald and member Martin LaLonde said the recommendations were based largely on pay and benefits enjoyed by teachers in other districts — specifically Chittenden South Supervisory Union.
"The board believes that our ability to maintain broad-based community support is significantly undermined when a fact finder believes the district's largest single expense — compensation and benefits for staff — is driven more by the actions and decisions of other school districts than by thoughtful, respectful and cooperative consideration of local school district priorities, needs and financial capacity," Fitzgerald wrote. She and LaLonde did not respond to requests for comment last week.
The imposed contracts in Chittenden County could lead to organized walkouts. Burlington teachers picketed Tuesday and planned to meet Thursday to discuss options, including the possibility of a strike. South Burlington teachers planned to meet Wednesday.
While some school board members liken comparables to a straightjacket in the bargaining process, teachers' unions defend them.
"I know for some folks it's inconvenient, but it's enshrined in our law," said Darren Allen, communications director for the Vermont-National Education Association, the state teachers' union. "It's something that needs to be considered."
The Vermont School Boards Association wants that law to change. In February, the association called on the legislature to modify state labor law to reduce the use of "comparability patterns" and regional teacher pay trends. Fact finders should "consider only a statutory list of legitimate measures of a community's ability to pay," the association said in a statement outlining its position.
The Vermont-NEA opposed the proposal, and the legislature took no action.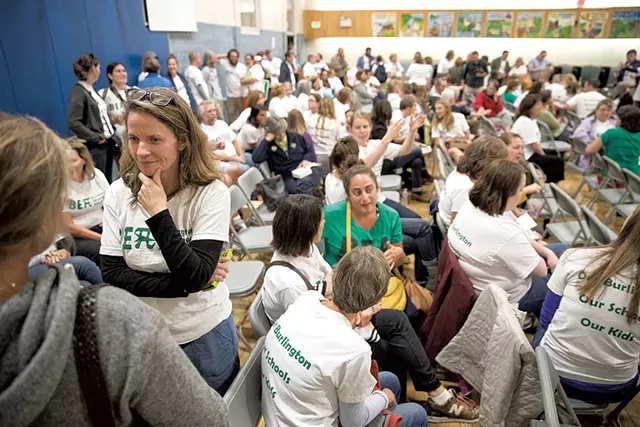 James Buck
Teachers waited for updates during negotiations last week
Meanwhile, due to heated political debate about teacher health care costs and other factors, roughly 160 of the approximately 200 Vermont-NEA teacher and school staff contracts around the state are still being negotiated. Most of the contracts expired on June 30, and teachers are working under provisions that extend the terms.
It's unprecedented to have so many contracts in the air at once, according to Allen. With all those protracted negotiations, more communities are likely to reach the fact-finding phase in the legally scripted bargaining process. It comes after both sides declare impasse and before a union can strike.
Use of comparables is standard in most hiring venues, said Ira Lobel, a veteran, Albany, N.Y.-based mediator who wrote the fact-finding report used in this year's South Burlington teacher contract talks. Whether the job is NBA basketball coach, corporate CEO or garbage truck driver, almost every employer and prospective employee takes into account what other people make for similar jobs, Lobel said, adding: "Why shouldn't a teacher do it in the same way?"
Plenty of reasons, according to those who aren't fans of the process.
In South Burlington, the school board emphasized that voters defeated two budgets earlier this year, which is virtually unheard of in the district. Last school year, the starting pay for teachers was $43,418, and the top pay was $89,788 — with extra earnings possible for coaching and extracurricular duties.
The board insisted that the budget defeats reflected a unique local scenario: extreme taxpayer fatigue with school costs. The union argued that the defeats were a political reaction to the board's decision to drop the Confederate-tinged Rebels school nickname, a response that would soon blow over.
The South Burlington board rejected comparables when it proposed phasing out the "step" system that confers automatic pay increases based on seniority and graduate education — the model in most Vermont teacher contracts.
In addition to so-called "step raises" based on each year of service or new graduate credits, teachers' unions negotiate for increases in base pay. So, there are two factors that affect what both sides refer to as "total new money" in a proposed salary negotiation. In South Burlington, the board attempted to move away from this complex system and a percentage-based raise. Instead, it wanted dollar increases to be negotiated annually.
The union — and Lobel — opposed the loss of the step plan, arguing, among other things, that dropping it would be out of line with other Chittenden County teacher contracts. Lobel did, however, side with the board on several points, including its bid to reduce teacher sick days from 25 per year, with accumulation of up to 180 days, to 20 annually, with accumulation of up to 80 days. Lobel agreed that benefit was out of step with nearby districts.
On salary, the union asked for a 4.9 percent raise, which would have brought top step pay to $92,729. The board proposed an across-the-board raise of $1,250, which equated to an average 1.6 percent raise.
Lobel noted that the top wage in South Burlington is about 6.1 percent higher than the average maximum teacher salary in the county. He acknowledged that most local districts have not finalized contracts for the new school year but noted that the Chittenden South school board gave its teachers a 3 percent raise. He proposed a 2.5 percent raise for South Burlington teachers.
The school board rejected it. In the end, the school board imposed a contract that provides an average salary increase of $1,679 — around 2 percent — for teachers and no increase in their contribution to health care premiums, which stands at 17 percent.
As Lobel sees it, comparing contracts can work to the advantage of a school board in some situations and to the union in others. And the practice doesn't totally prohibit change, though it tends to happen "slowly, over time," he acknowledged.
For instance, decades ago, teachers didn't help pay for their health insurance. But when some districts made the change, it helped others shift some costs of health insurance onto teachers.
So are rank-and-file teachers sour on comparables? No.
"It provides both sides with a framework about what would be fair, what would be equitable," said Noah Everitt, a South Burlington teacher and spokesperson for the South Burlington Educators' Association, who agreed that comparables don't always work in the union's interest.
Lobel's recent fact-finding report and recommendations weren't entirely popular with either the union or the school board, Everitt said, and perhaps that's proof that the process works — with comparables in the mix.
"Neither side really liked what that fact-finding report said," Everitt said. "That, to me, is the hallmark of a good fact-finding report."
Lobel predicted that comparables would remain an important part of the process. "They will never disappear," he said.
2016-17 Average Teacher Salaries
Burlington School District: $68,781
Chittenden Central Supervisory Union: $69,539*
Chitttenden East Supervisory Union: $61,014
Chittenden South Supervisory Union: $70,943
Colchester School District: $66,518
Essex Town School District: $70,929*
Milton Town School District: $61,255
South Burlington School District: $75,550
Winooski School District: $56,321
* These districts merged as of july 1.
Source: 2017 Fact Finder's Report for South Burlington School District and South Burlington Educators' Association