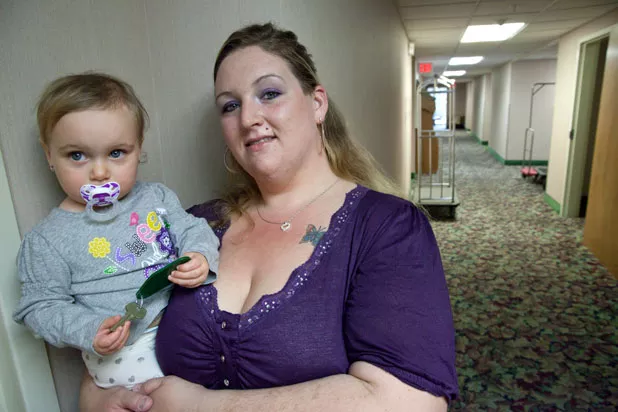 Matthew Thorsen
Ashley Sawyer and her daughter Emmie
A program that houses homeless Vermonters in motels when shelters are full is costing the state more than ever before — and critics say the money does little permanent good for families in crisis.
Last fiscal year, the Vermont Department for Children and Families (DCF) spent more than $2.2 million to house nearly 2000 homeless households in private motels, a 55 percent increase over the previous year. That money purchased 38,350 nights in motels at an average cost of $58 per night. Some families spend just a few nights in motels, while others stay for as long as three months.
Social-service providers and lawmakers are all frustrated with the stopgap program, saying it does nothing to help homeless individuals land permanent housing.
"When their stay is over, it's a bridge to nowhere," said Janet Green, the program coordinator for homeless-prevention initiatives at the Burlington Housing Authority.
For their part, homeless Vermonters benefiting from the program said that while a room and bed offer temporary relief, the motel stays are far from a free vacation.
Charles Knoll stayed twice at the Swiss Host Motel & Village in South Burlington on state emergency assistance, in 2008 and 2009. He recalled that he was on a first-name basis with local police because of how frequently law enforcement was called to the motel for disturbances in other rooms.
"It's horrible," said Knoll. "In the wintertime, I had to keep the air conditioning running to keep the smell of the mold at bay."
Motel rooms often lack food storage or preparation areas — or even a way to reheat frozen food — leaving some families to rely on fast food. Other homeless motel dwellers have complained of not being allowed to use amenities such as the pool or continental breakfast.
Ashley Sawyer, a 28-year-old mother, has been living with her husband and two daughters at Handys Extended Stay Suites in Colchester. On the day we met Sawyer last week, it was her 83rd day at the motel — one shy of the 84 allowed under the state program — and the day before her daughter Alyena's eighth birthday. Sawyer has secured a temporary extension to stay at the motel but isn't sure how long it will last.
"I search for apartments every day," she said, ticking off a long list of organizations from which she has sought assistance: Vermont State, Burlington and Winooski housing authorities; and DCF. Sawyer is ninth on the waiting list for a Section 8 voucher at BHA, where she qualifies for special assistance for homeless families.
Sawyer said Handys is a big step up from some of the other budget motels the state uses for emergency housing, and she had to fight her way "up the ladder" to get a room there. She has a small kitchen with a refrigerator and stove, so she can store groceries and cook meals for her family. During a brief stint at another South Burlington motel, Sawyer said she wasn't even allowed to use a microwave in the hotel lobby to reheat food for the kids.
Also unlike other motels, the Handys suite has a separate bedroom, where Sawyer and her husband sleep. Alyena sleeps on the pullout couch and her 15-month-old sister, Emmie, beds down in a pack-and-play — a portable playpen. There's a small playground around back. The suite is tidy, if crowded, with toys and a storage container full of clothes stacked against one wall.
Last week, Sawyer and her mother visited a two-bedroom apartment for rent in Essex Junction, not far from Alyena's elementary school. But after Sawyer disclosed her rental history, poor credit and felony convictions on her application, she never heard back from the landlord. That's been typical of her experience, she said.
Sawyer got hooked on prescription painkillers after complications stemming from the birth of twins in 2009, whom she gave up for adoption to an aunt and uncle.
"It just went downhill from there," she said. Her prescriptions ran out. She started buying pills illegally, then switched to a cheaper alternative: heroin. Sawyer got tangled up in burglaries and forgery. She sent Alyena to live with her mother.
After police raided her apartment and she lost her Section 8 rental voucher, Sawyer spent the next few years bouncing between shelters, rehab programs and temporary housing. She's been clean since March 2011, when she was several months pregnant with Emmie. Now she's slowly chipping away at classes at the Community College of Vermont toward a certificate in substance-abuse services.
Sawyer's family has called the Handys suites home since September. Each day, Alyena rides the bus from the motel to her Essex elementary school and back again. On the day we visited, Alyena popped through the motel door at around 3:30 p.m., dumping her backpack and pink-and-purple parka on the floor.
Sawyer greeted her daughter with a bright smile. "Your birthday is tomorrow!" she reminded her, before asking the girl to head next door and visit their neighbor, a mother of 17-month-old twins who is also at the motel on emergency assistance.
"I don't discuss this stuff in front of Alyena," Sawyer said once her daughter was gone, moving the girl's coat and backpack to a door handle. "I keep things as stable and secure for my children as possible, because of the pieces of this I can't control."
That means Emmie sleeps in the same pack-and-play every night, with the same blankets and stuffed animals. "I don't care if we sleep in a car," Sawyer said. "I'll find a van and set the pack-and-play up in the van."
The family rises and heads to bed at the same time each day. With so little control over what happens next in the their life, Sawyer said the least she can do is stick to a routine.
With motel spending at the highest it's ever been, policymakers are calling for change to avoid prolonged motel stays like Sawyer's.
"The state's approach to date has been skewed toward crisis management and not crisis prevention," said state Sen. Tim Ashe (D/P-Chittenden).
The number of households tapping the motel benefit has shot up in recent years, from 548 families in 2008 to nearly 1954 last year. DCF Deputy Commissioner Richard Giddings attributes the increase to the recession, which left more families homeless, and to a loosening of eligibility rules under the Douglas administration.
"We wanted to serve more people," Giddings said of the relaxing of rules prior to his time at DCF. "The challenge is that the budget itself didn't increase."
Last year, Ashe cosponsored a bill with Sens. Ginny Lyons (D-Chittenden) and Sally Fox (D-Chittenden) that would have transferred funds from the state's motel program to the federally funded Burlington Housing Authority. The goal was preventing homelessness by providing direct-cash assistance — as well as counseling services — to people at risk of losing their housing due to unpaid rent or utility bills.
"Regularly I'm hearing about people who are in really precarious situations, and we don't have enough staffing capacity at this time to really address that the way we would like to," explained BHA's Green. "It's a really strange thing to be watching someone at the precipice of homelessness and feel pretty helpless about it."
But the bill met with stiff resistance from organizations that provide homeless services and shelter, including the Committee for Temporary Shelter (COTS) in Burlington.
"The bill blew up because of fears that the money would be taken from other worthy state investments," said Ashe. "In the time that we had, we just couldn't overcome that misconception."
COTS Director Rita Markley saw it differently. She said COTS already has programs in place that provide short-term interventions for families in crisis. In 2008, COTS drummed up $250,000 in private donations for a homeless-prevention fund, which the state then supplemented with an additional $80,000. That money helped COTS keep 351 people in their homes who otherwise might have become homeless in 2008 and 2009, according to Markley.
Asked why COTS objected to the senators' bill, she said, "To have funding to duplicate at the housing authority what COTS had already been doing with private and public funds seemed unfortunate. We didn't inherently oppose the concept, we just thought, Why do what COTS has already built five blocks away at the housing authority?"
Even if organizations can't agree about how best to fund homelessness-prevention programs, there's little disagreement about the motel program itself.
"You wonder, what are we actually getting for this other than the obvious value of a safe and warm place to stay?" asked Ashe. "Once we make that one-night investment, that money's just gone."
Homeless individuals such as Knoll and Sawyer are equally skeptical about the usefulness of the motel money. Knoll suggested spending the funds to build transitional housing, while Sawyer said it could be better used for rental subsidies.
"That money could be used in a permanent sense," she said.
In the short term, however, it's not clear where else the homeless could go. Affordable housing is in short supply, and Markley said 25 families are waiting for space in the 15-bed COTS family shelter. COTS closed a second family shelter earlier this year after Champlain College — which temporarily loaned the downtown building to COTS — began construction on new student housing. The waiting time for Section-8 vouchers, the federal rental subsidy offered through BHA, is five to seven years.
At the state level, Giddings said the state is trying to shift its focus "upstream," with the goal of preventing rather than responding to homelessness. He talked up the state's rental subsidy program. It costs between $7200 and $7500 per family per year, Giddings said. While that price tag is slightly higher than an 84-day motel stay, the difference adds up to another nine months in stable housing.
It might be slow going, but Giddings said the state is firmly committed to shifting spending from crisis management to prevention.
"I really believe that if you invest money in preventing a family from becoming homeless, it's a wise investment," he said. "We are definitely continuing down that path."
What happens to families like Sawyer's after their motel stays expire?
It's hard to say. The state is doing little tracking or data collection about families who end up in motels, and where they go after their stays.
"At present, it's a little bit of a Wild West," said Ashe. "People will scrape and scrap to survive."
Sawyer said she'll make it work. She just doesn't know how. But on day 83 of her motel stay, as she made plans for a makeshift birthday party for her daughter, she insisted she'd get by. "The bottom line is, I will figure it out," Sawyer said.
Disclosure: Tim Ashe is the domestic partner of Seven Days publisher and coeditor Paula Routly.
Correction: An earlier version of this story incorrectly stated that the state of Vermont gave COTS $800,000 for homeless prevention initiatives in 2008. In fact, that amount was $80,000.