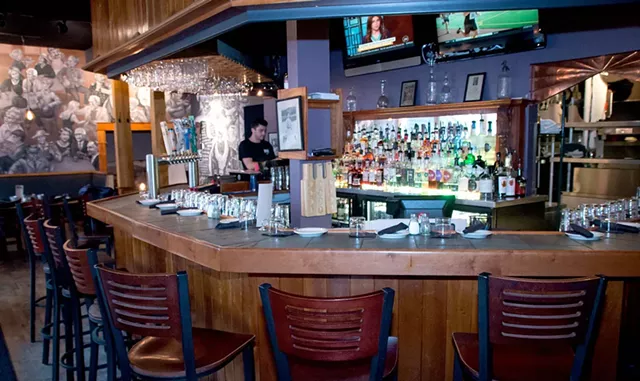 Courtesy Of Arvads Grill
Arvads Grill
In 2014, Arvads Grill in Waterbury got an upgrade to its look and menu. Now the eatery has new owners, Jason Palmer and David Hubbard, who plan to take the evolution further.
Both business partners went to Colchester High School. Palmer is leaving his job as food and beverage director at Trapp Family Lodge to spearhead the operation, while Hubbard, who now lives in San Diego, will assist from afar.
Although the name won't change for now, Palmer said, the duo plans to reinterpret the spot as a "Belgian brasserie," which he describes as "a friendly, welcoming environment." They'll emphasize excellent beverages, seasonal creative food and good value, he continued, to make Arvads "a place you'd want to dine multiple times per week."
The new menu will launch in about a month, with ingredients drawn from the "best purveyors in the area," Palmer said. Provided they can source excellent local lamb, he'll make a dish he's dreamed up: lamb-belly sliders with sweet-and-spicy jalapeño sauce and cucumber mayonnaise. A pork chop entrée will be served with shaved fennel, charred-peach-and-rhubarb gastrique (a sweet and tangy sauce) and sides. Desserts will be made on-site, and vegan options will be available.
Among the nods to Arvads staples will be calamari, which is currently served with a classic remoulade sauce. Soon it will arrive with a housemade malt-hop mayo for a perfect pairing with one of the craft beers on draft.
Those will vary — to keep things interesting, the owners will change the dishes and drinks frequently. "We're not fans of fixed lists," Palmer noted. "In general, we want it to be a constantly refreshed experience for guests."