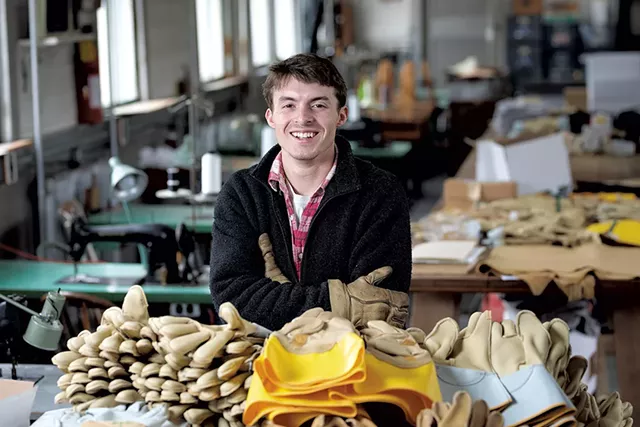 Ben Deflorio
Sam Hooper
Walking into Green Mountain Glove, you might think you're on a film set depicting an early-20th-century factory, save a few modern details. A bank of beautiful sewing machines dates from the 1920s on. A scuffed wooden chair, bathed in light from large windows, sits beside a cabinet full of shiny thread. A scarred worktable is laden with creamy, newly made work gloves.
These rugged goatskin gloves are the bread and butter of the Randolph company, founded in 1920. Sam Hooper, the new, 24-year-old owner, likes to say it will be around for another 100 years if all goes according to plan.
Hooper bought the company from third-generation owner Kurt Haupt in January and now runs it with Kurt's daughter, Heidi Haupt, who is co-owner and operations manager. In the early days, Green Mountain Glove made silk riding gloves for women. Today, heavy-duty protective gloves for electrical linemen make up a hefty portion of the five-employee company's output of 250 pairs per month; it also makes medium-weight work gloves suitable for other professions.
Hooper is open about the business' current "hand to mouth" status. The primary focus, he says, is making sure everyone gets paid and the lights stay on. But Hooper touts the company's product as one that has remained top-notch for almost a century. And he has high hopes for its future.
Why did a recent Connecticut College graduate with degrees in government and American studies take on a small manufacturer in Vermont?
"I started wearing the gloves," Hooper explains simply. He grew up working with his hands "on a big cow dairy in Brookfield," he relates. One of his brothers runs a goat dairy, and his mother, Allison Hooper, is a cofounder of Vermont Creamery.
Growing up, he and his brothers would "blow through a lot of gloves all winter long," Hooper says. "Then we started wearing Green Mountain gloves and couldn't wear them out."
He holds up worn, supple gloves as evidence: "This pair is two years old, and they're just starting to come into their own."
After falling in love with the product, Hooper realized the company that made it was right down the road from his hometown.
"I started digging and doing the market research," he says, "and it's no joke that nobody makes gloves in the United States — they're very few and far between."
Hooper claims the U.S. census stopped counting the import and export of gloves in 2004 because "98 percent was being imported. That gives you a snapshot of the industry," he says ruefully.
For Hooper, the decline of the American glove industry was one more motivation to purchase Green Mountain Glove. He says he's inspired by some of Vermont's newer textile manufacturers, citing Darn Tough Socks in Northfield — owner Ric Cabot is an adviser. Smaller textile operations such as Queen City Dry Goods, Red House bags and New Duds have emerged in recent years to capitalize on the Vermont-made brand.
Cabot says an operation like Hooper's still has a place in Vermont. "I'm encouraging him to create a brand that people want to buy into," he says, "to make it all about quality, and to tell the [company's] story truthfully. And I have a feeling that he's going to ... go down that route."
Cabot has also advised Hooper to expand the product line. "The electrical lineman channel is a good one for him," he says. "It's not one he should abandon; it gives credibility to [Green Mountain Glove] that the end users want something in the trades. But I think he should develop other lines, as well, and he's got to reach the end user."
After a few months of an unpaid apprenticeship, Hooper took over the glove factory from Kurt Haupt, who still drops by occasionally to help out.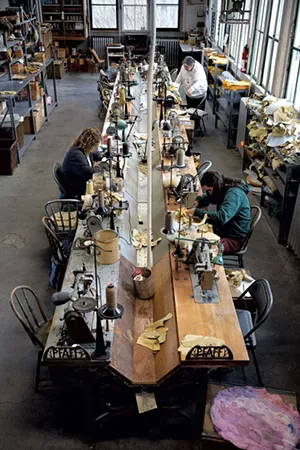 Ben Deflorio
Green Mountain Glove
Hooper says Heidi Haupt has been invaluable "to stay and take on some ownership in the business, and really want to be in charge of the quality of the product."
"My father was definitely ready to retire," Haupt says, and "the option was there for me to take over, if I wanted to purchase the business and take it on, [but] it's a huge responsibility."
Though Haupt wasn't ready for that risk, she wanted to stay with the company she had worked for since she was 16. "I know how the business operates, and I know the customer base and the product," she says. "I'm not a salesman in any way," she adds, noting that Hooper has a knack for it.
He'll make use of that ability as he strengthens relationships with long-standing clients, such as Green Mountain Power, and scouts for new ones.
A few changes are already under way. Green Mountain Glove has a new website with a contact form. It's a way to gauge interest and interact with potential customers, says Hooper; he personally reaches out to them and explains that the gloves could take two to three weeks to make, since wholesale accounts take precedence. Once he's able to increase production, Hooper notes, the e-commerce site will evolve into a direct-ordering system.
He's also exploring new materials to enhance cost-effectiveness and safety. Last weekend Hooper attended a trade show to scope out materials that could make his gloves warmer in the winter.
One thing that won't change, he maintains, is the product's quality. Most Green Mountain Gloves go to electrical linemen who deal with high-voltage materials; a hole in a glove could be a fatal flaw.
On a recent factory tour, leather cutter Daphne Herwig, who has worked there for 27 years, hands Hooper a piece of fresh-cut goatskin to inspect. She cuts each piece by hand on a massive, early-20th-century "clicker" made of cast iron.
The two muse over a tiny scratch in the hide and decide the piece is unfit to be sewn into a glove.
Hooper says such conversations typically take place every half hour. Quality assurances crop up every step of the way; pieces that don't make the cut are used as practice for new hires.
Those rigorous standards help explain the gloves' cost — $85 a pair, though Hooper says wholesale accounts get a better deal.
One reason for the decline of U.S. glove manufacturing is an influx of less expensive protective wear from overseas, but Hooper argues that cheaper doesn't mean better. While most of his wholesale orders currently come from some "20 steady customers" in Vermont and across the country, he estimates that about 30 individual linemen contact the company directly.
"We'll often have a lineman call us and say, 'Hey, I used to get your gloves,' or 'My grandfather had your gloves ... [and now] my company gets junk gloves, but I want to buy yours,'" Hooper recounts.
Ben Deflorio
Daphne Herwig
Burlington Electric Department exclusively uses Green Mountain Gloves, and has for as long as Jeffry Turner can remember. The supervisor of general services and purchasing for the past 22 years, he estimates that BED annually orders three or four dozen pairs of leather protectors, which are worn over heavy-duty rubber gloves, for their 15 to 18 linemen.
"There's a couple reasons" for ordering Green Mountain Gloves, Turner says. "We put a big emphasis on safety; it's our No. 1 priority for everyone at the company. We found that Green Mountain Gloves is a nice, small mom-and-pop operation, and the quality control is there ... And also [we're] keeping our money and funds within Vermont."
Turner notes that he would save only $1.50 a pair by ordering imported glove protectors. And he says he's experienced problems with foreign companies: The product might not run true to size, the leather may be too stiff or too thin. "We've looked at other brands, and the quality and workmanship just isn't there," he says.
The light beige goatskin used in Green Mountain gloves comes from Gloversville, N.Y. Though goatskin is more expensive than cow hide, Hooper says the company uses it for its superior texture and comfort.
"The quality of the product is the most important thing to us," Hooper says. "We stand by the product we make."
And they want to make more of it. Hooper is currently hiring for a few sewing positions. New employees generally take about a month to get comfortable with the equipment and attain the level of expertise necessary, Hooper said. Having more employees will mean they can make and sell more gloves.
Hooper also hopes to "add some levels of optimization and efficiency" by streamlining the production process. Currently, each sewing machine has a slightly different feel and purpose, and employees grow attached to particular machines.
"As we grow, we'll bring on equipment that will allow our process to be more trainable," Hooper says, the aim being to "standardize the learning curve."
Another of his planned strategies is to "poke our head into new marketplaces and see how we can do." That might include partnering with a retail store that focuses on American-made products and serves an upscale clientele.
Despite the challenges, Hooper believes Green Mountain Glove will be able to reach a broader audience.
"It may be hard to tell when you walk in the building — it seems quiet and not very many people and like a big empty space," he says. "But we're flat out trying to fill orders. We're very optimistic about our future and where we're going."